May 2022
Track star Sadam eyes Commonwealth Games after medal success in new event
By Darren Campbell
Share post:
A University College Birmingham athlete is hoping to follow his Olympic debut by representing England at this year's Commonwealth Games – after winning a medal on one of his first attempts at a new event.
Sadam Koumi surged to a silver medal in the 800m at this year's British Universities and Colleges Sport (BUCS) Outdoor Athletics Championships, held in Essex earlier this month.
It was the very first time the second year Sports Management FdA student had ever competed in the 800m outdoors, having previously specialised in the 400m – an event in which he represented Sudan at the Tokyo Olympics last year.
He has set further lofty targets for 2022, including a bid to reach the World Athletics Championships in the USA before the potential opportunity to race at Birmingham's Alexander Stadium (pictured above) in this summer's Commonwealth Games.
"I wanted a new challenge... I felt like I had ticked a box by realising my Olympic dream"
Born in Sudan but eligible to represent Team England as a British citizen, Sadam is hoping to compete on the very same track where he trains regularly as a member of Birmingham's prestigious Birchfield Harriers athletics club.
"The Commonwealth Games have always been an aim for me," he said. "It would be an honour for me personally, and this may be my last chance to compete at a Commonwealth Games before I retire. It would be a good story to tell one day to my kids!"
The 28-year-old, who is one of University College Birmingham's current sports scholars, revealed he had been inspired to take up the 800m as a new goal after finishing fifth in his 400m heat at last year's Olympics.
Sadam receiving his silver medal at the BUCS Outdoor Athletics Championships
"I wanted a new challenge," he said. "I felt like I had ticked a box by realising my Olympic dream, so after the games I wanted to look for something alternative."
The switch to the 800m has yielded immediate success for Sadam, who saw off serious competition to scoop silver in the BUCS final, finishing ahead of the likes of Great Britain's European indoor silver medallist Jamie Webb.
"That's given me a massive boost of confidence," said Sadam. "I would definitely say this was a real test, to check on myself and my personal level of fitness."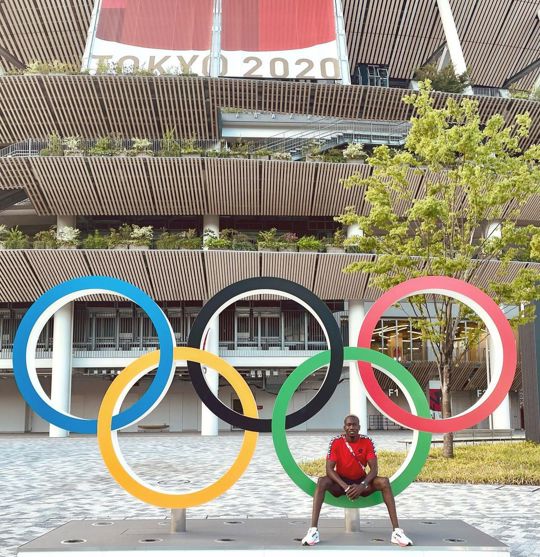 Sadam is one of several students being supported by University College Birmingham's Sporting Excellence Scholarship scheme, which provides a range of benefits to those who demonstrate outstanding sporting performance and potential, including funding towards training and travel as well as use of the University's cutting-edge sports facilities.
"The gym here is a massive help," said Sadam. "I finish my lectures, have a break and straightaway I do my gym session, which is very convenient for me.
"I also get treatment on campus from the sports therapy students – I've been seeing them every two weeks or sometimes every week.
"The lecturers are also very supportive in my athletics career because they understand how much support you need from the University as a professional athlete," he added.
"They're really helping me and they understand from following my journey."
This summer's Commonwealth Games in Birmingham is set to offer many more opportunities for our students beyond competing in events.
University College Birmingham is set to be the home of Team Scotland during the games, giving our students the chance to work with the team and its athletes.
Find out more about our partnership with Team Scotland here.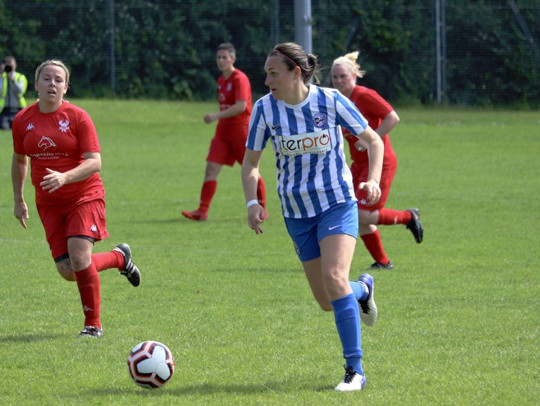 Success for sports scholars: From cup final goals to national titles
Sadam is not the only budding sports star from University College Birmingham to have impressed in action in recent months.
Also among the University's current sports scholars is Jess Fassnidge, who combines studying for her Strength, Conditioning and Performance MSc with playing and coaching for West Midlands Regional Women's Football League Premier Division side Worcester City Women FC.
Making regular league appearances recently following a spell on the sidelines with injury, Jess was at the heart of the action for her team in the final of the Worcestershire FA Sunday Women's Cup against Kidderminster Harriers earlier this month.
The central midfielder started the final and netted a second-half equaliser to get her team back in the game after going 1-0 down, but missed out on the chance to lift the trophy as Harriers went on to win 3-1.
"The cup final was a great game," said Jess. "For me personally, it was a great experience to start in front of our incredible fans.
"It was a bonus to score a goal, but more importantly we played some nice football and it's something for us to build on for next season.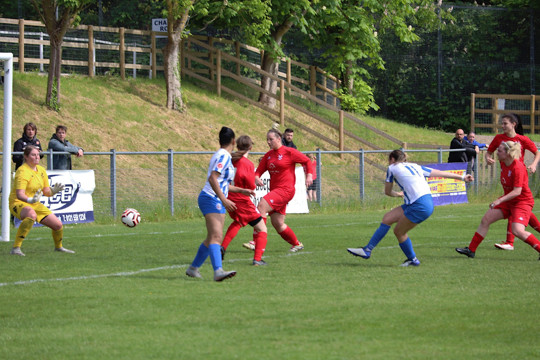 Jess scoring Worcester's equaliser in the cup final against Kidderminster
"I've been using the last few months as a step to get back into the game but my focus has always been about the new season," she added. "Our hopes next season are to challenge in the league – we want to be challenging for that title and putting Worcester City Women on the map.
"I'm going to be working as hard as possible to get into the squad regularly and hopefully try and have an impact on and off the pitch."
There was also success earlier this year for fellow scholar Kristiyan Patarov, who specialises in the hurdles.
The Bulgarian athlete, who is currently studying Business Enterprise BA (Hons), clinched his first senior title by winning gold in the 60m hurdles at Bulgaria's 2022 National Indoor Championships in February.
Find out more about our sports scholars here.
About our Sporting Excellence Scholarship
University College Birmingham's Sporting Excellence Scholarship offers a wealth of support for young athletes and budding professionals studying with us.
The scholarship provides up to £3,000 of funding towards competitions, training and equipment over three years, free gym membership and an individually tailored support programme, as well as use of the University's state-of-the-art sports facilities.
Find out more about our scholarship scheme here.
Are you interested in a career in sport? Discover our full range of college, undergraduate and postgraduate courses within our Department of Sport and Nutrition.
Check out our latest news stories