March 2022
Sports scholar eyes international success after winning national Hurdles title
By Darren Campbell
Share post:
A sports scholar from University College Birmingham is targeting a spot at this summer's biggest international athletics championships after securing his first senior national title.
Bulgarian athlete Kristiyan Patarov took the gold in the 60m hurdles at Bulgaria's 2022 National Indoor Championships, held in the capital Sofia last month.
Winning his heat with the second-fastest time among the field, he crossed the line first in the six-man final with a winning time of 8.15 seconds – less than a tenth of a second off his personal best, despite having suffered with injury problems in his preparations for the competition.
Having scooped silver in his previous appearance at the same event two years ago, it was an eagerly-awaited first senior triumph for the 21-year-old, who was formerly his country's 60m hurdles indoor champion at U20 level.
"With a scholarship programme that meets the bespoke needs of each individual, our staff and athletes work together... to ensure they have access to all the support they require"
"I'm really happy," said Kristiyan, who studies Business Enterprise BA (Hons) at University College Birmingham Business School. "There were many people counting on me and I didn't want to disappoint them."
Also specialising in the 110m hurdles as well as competing in relay and flat sprint events, Kristiyan is one of this year's scholars on University College Birmingham's Sporting Excellence Scholarship scheme, which provides a range of benefits for students who demonstrate outstanding sporting achievement and potential.
The scholarship offers up to £3,000 of funding towards competitions, equipment and training over three years, alongside a tailored programme covering elements including sports psychology, nutrition and lifestyle support.

Kristiyan in action at the Bulgarian National Indoor Championships in February
For multi-talented Kristiyan, who balances his athletics with his business degree studies as well as part-time work as a chef, the sports scholarship provides much-needed financial support in his pursuit of elite performance on the track.
"The funding helps towards all the training camps I need," he said. "Most of the time, the only free training camps are from the national team."

Such camps play a key role in the training calendar for Kristiyan, who is aspiring to follow up his Bulgarian indoor title with loftier targets on the international stage later this year, including this summer's European Championships in Germany and perhaps even a place at the World Athletics Championships in Oregon, USA.
"I'm hoping to get into the top 40 rankings in the world," he said. "That's pretty big, but I'm hoping I can still make it."
Footage of Kristiyan's gold medal-winning performance in the 60m hurdles final can be viewed here.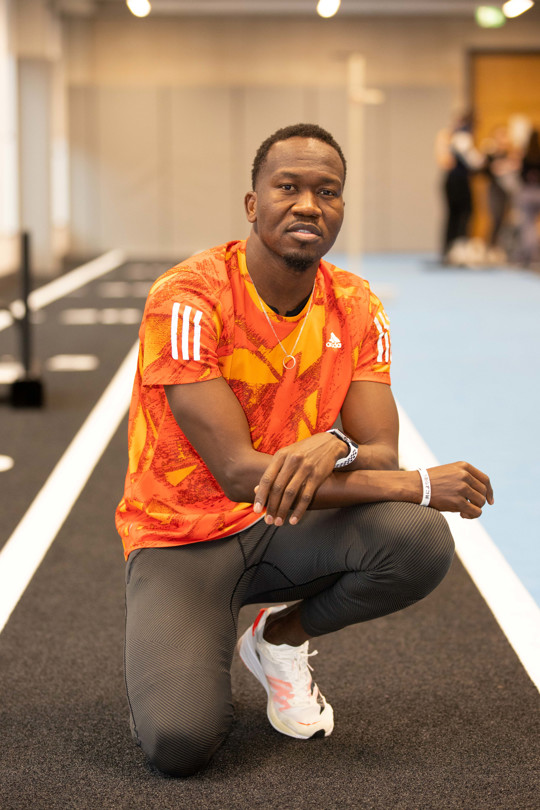 Olympic runner, basketball star, aspiring football coach: Meet our sports scholars
Kristiyan is just one of the latest group of talented young sportspeople to benefit from University College Birmingham's Sporting Excellence Scholarship.
Also starring on the athletics track is Sadam Koumi, a 400m runner who lined up against the world's best at last year's Olympic Games in Tokyo.
Representing Sudan, the Sports Management FdA student finished fifth in his heat and narrowly missed out on a semi-final place – but he is already setting his sights on another attempt at the Paris Olympics in 2024.
Hoping to join him in the French capital is Matt Parker, who plays for National Basketball League Division 2 side City of Birmingham Rockets.
Currently studying Strength, Conditioning and Sports Nutrition FdSc, Matt is on the radar of the Philippines national basketball team and is targeting a call-up in time for the next Olympics.
Meanwhile postgraduate student Jess Fassnidge has aspirations of coaching at the top level of women's football and currently plays for West Midlands Regional Women's Football League side Worcester City.
The Strength, Conditioning and Performance MSc student, who earned a number of honours playing college football in the USA, could lift silverware this season after helping her team reach the final of the Worcestershire FA Sunday Women's Cup, which takes place in May.
Find out more about our newest sports scholars here.

About our Sporting Excellence Scholarship
University College Birmingham's Sporting Excellence Scholarship offers a wealth of support for young athletes and budding professionals studying with us.
The scholarship provides up to £3,000 of funding towards competitions, training and equipment over three years, free gym membership and an individually tailored support programme, as well as use of the University's state-of-the-art sports facilities.
Elaine Limond, Deputy Dean for Strategy, Recruitment and Innovation at the University's School of Health, Sport and Food, said: "We're always keen to support our elite and aspiring athletes at University College Birmingham.
"With a scholarship programme that meets the bespoke needs of each individual, our staff and athletes work together, often using the University's specialist sports facilities, to ensure they have access to all the support they require."
Find out more about our scholarship scheme here.
Are you interested in a career in sport? Discover our full range of college, undergraduate and postgraduate courses within our Department of Sport and Nutrition.
Did you know University College Birmingham will be the home of Team Scotland at this year's Commonwealth Games in the city? Read more here.
Check out our latest news stories