December 2022
Students who overcame challenges awarded bursaries thanks to Whatuni award win 
By Melanie Hall
Share post:
Six students who overcame huge challenges to get a university education have been awarded an incredible bursary to help them out financially – all thanks to University College Birmingham's Whatuni award win earlier this year. 
Lisa Cham, Chanelle Douglas, Nona Lines and Khadijah Khatun were over the moon to receive £2,000 each from the £10,000 cashpot, as were husband-and-wife Carmen and Ionut Oprea, who shared a joint bursary between them. 
Whatuni awarded the University the bursaries to share with deserving students as its University of the Year in the 2022 Whatuni Student Choice Awards (WUSCAs), as voted for by students themselves. 
Alice Wilby, the University's Pro-Vice-Chancellor for Access, Participation and Student Experience, said the bursaries would have a real impact on the lives of the students, selected by the University through a nomination process. 
"We are so happy to be able to offer that extra bit of financial support to these students, who have strived hard and overcome lots to get to university and make a difference to their future," she said. 
"We are extremely proud of them and hope it makes a difference to their lives, especially with Christmas coming up and the cost of living crisis. Like all our students, they can also lean on our own financial support, including our Kick-Start Scheme to help with study costs and our Higher Education Access Fund."  
Our Whatuni bursary winners 
Lisa Marie Cham 
Lisa, aged 36 from Northfield, Birmingham, is studying International Tourism Management MSc at the University after completing a bachelor's degree. 
As a mature learner with autism and health conditions, study was not straightforward. But Lisa returned to education and now juggles full-time studies with a young family. She is also a key member of our Guild of Students, particularly championing the voice of those with disabilities. 
Chanelle Douglas 
Chanelle, aged 42 from Bournville, Birmingham, joined the University after 20 years working in care and is now in her final year of a Youth, Community and Families BA (Hons)* degree. 
Chanelle came to university after a very difficult family situation, resulting in her losing her job. She didn't, however, let this deter her and made it her goal to retrain. Her dream of supporting others and her community shows in her mentoring and coaching and she wants to launch her own charity one day.
*Course no longer offered - see our A-Z listings for similar courses
Nona Lines 
Bulgarian student Nona Lines, who is aged 34 and now lives in Leominster in Herefordshire, is in her final year of an Aviation and Airport Management BA (Hons) degree. 
Nona is an inspirational student and single mother of two sons who has overcome great adversity to come to university, working hard to ensure her boys have everything they need. She has become 'the mum of the cohort' who genuinely cares for her fellow students and wants them to succeed. 
Khadijah Khatun  
Khadijah, aged 19 from King's Heath, Birmingham, is in her second year of a Physiotherapy BSc (Hons) degree. Despite having to cope with some difficult family news and having to support in many ways, she remains the most diligent, conscientious and focused student.
All while dealing with the challenges of dyslexia, Khadijah has become an active student ambassador, volunteering to be involved with everything from undergraduate interviews to open days and contributing in any way she can.
Carmen and Ionut Oprea  
Husband-and-wife Carmen and Ionut, who are from Romania and now live in Staffordshire, are each studying for an International Tourism Management FdA. 
The pair met in the UK and wanted to kick-start a wonderful future for their family. However, Carmen and Ionut, who have a three-year-old and a five-month-old baby, both faced health challenges, which led to real difficulty juggling study with family life. The bursary has given them breathing space and they now plan to start their own Romanian food business.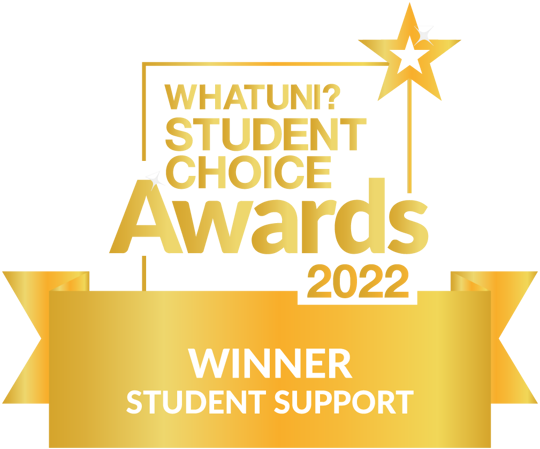 Whatuni Student Bursaries programme 
The Whatuni Student Bursaries programme was set up in 2021 to give financial support to deserving students, and to recognise institutions which were felt to have really gone above and beyond to support their students during the Covid-19 pandemic.   
The bursaries were given to the winners of the Whatuni Student Choice Awards, who had to enter via a submissions process which was voted on by a specially-chosen group of student judges.  
Each of the four winning institutions was given £10,000 to be awarded to five of their deserving students, with this year's programme helping 25 students overall across the UK.   
Our own award-winning support 
We not only won University of the Year in the 2022 Whatuni Student Choice Awards, we also won Best Student Support.
Find out more about the support we offer, from financial and learning to health and wellbeing and disability support. We even have a designated team to help you start your own business.  
Check out our latest news stories