November 2021
From dad's 50th KFC bucket cake to pastry sensations at Michelin Guide restaurant
By Melanie Hall
Share post:
An award-winning graduate chef who decided against A-levels in law or politics to follow her deep passion for baking has been snapped up by a Michelin Guide restaurant run by another former University College Birmingham student. 
Rebecca Bourne, who completed a Professional Chef foundation degree and then graduated with a first-class BA (Hons) in Hospitality Business Management this year, is now creating sweet sensations as a pastry chef at The Boat Inn in Lichfield, headed up by fellow graduate and BBC Great British Menu star Liam Dillon. 
The fine dining inn – inspired by Liam's travels in Australia where "produce and simplicity of cooking with premium ingredients is king" – not only has three AA Rosettes, but also made Estrella Damm's Top 50 Gastropubs list in 2021.
Rebecca, who is set to compete in this month's British Culinary Federation Young Chef of the Year final and is the vice-captain of the National England Junior Team for the Culinary World Cup in 2022, said it was an exciting opportunity after a difficult year for everyone in hospitality.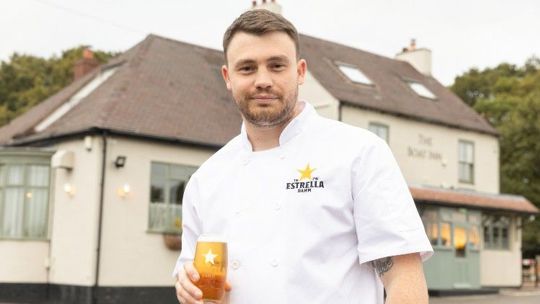 The Boat Inn is owned by former University College Birmingham student Liam Dillon
"It's an amazing place and I love the ethos of work-life balance, which is very important to me," she said. "It's great to work alongside a lot of other University College Birmingham alumni too." 
Rebecca had just finished her GCSEs and was debating studying law or politics at A-level when she toyed with the idea of turning her passion for baking into a career.  
Whipping up supermarket cake mixes at two years old, she was fully kneading, rolling and decorating from scratch by age 13 – even creating a KFC bucket-inspired cake for her dad's 50th – and the more she thought about this very hands-on, vocational path, the more appealing it became.  
"I was always an avid home baker when I was younger and really into the Great British Bake Off and other TV cooking shows," she said. "I was leaning towards going to law school one day, but was really drawn to the idea of getting into the cooking and bakery world professionally – I even went to the Cake International show five times!"    
"Watching her career develop and the high level of skills she showcases to other students at the University is brilliant"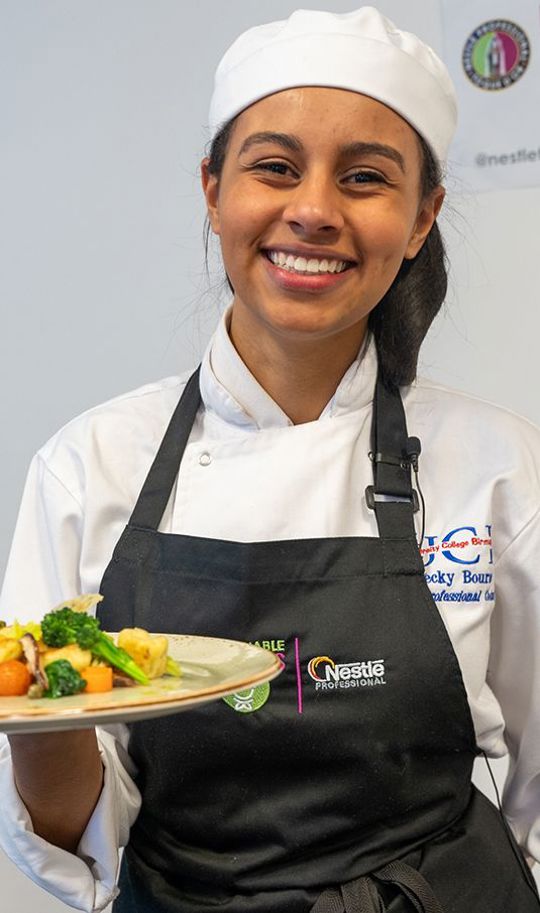 It was an open day at University College Birmingham that swung it.   
"Kali Davidson, the now head of Birmingham College of Food, gave me a tour and I was sold," she said. "I decided on Professional Cookery as it covered both bakery and cookery, which appealed to me." 
Completing her Level 2 and 3 diploma in Professional Cookery, she then completed her foundation degree and full BA (Hons). Through the University's support during her studies, Rebecca - who did placements across Europe - had the opportunity to compete in the Nestlé Professional Toque d'Or, and was one of just 12 out of 950 entrants to make the finals.  
Chef lecturer and Rebecca's BCF Young Chef of the Year mentor, Mathew Shropshall, couldn't be prouder.
"Rebecca is truly an amazing young chef and a pleasure to teach!" he said.
"Watching her career develop and the high level of skills she showcases to other students at the University is brilliant, even coming back to give masterclasses and talks. She shows total respect, which she commands in return.
"She's a real credit to her family and having met her father on a few occasions, it's clear they are all so proud of her and her willingness to succeed. I wish her all the best in the future, she deserves every success." 
Rebecca has also made the most of the fact University College Birmingham alumni can access hired@UCB resources and services to help with career progression and networking for five years after graduation. 
"My much longer term goal is to have my own relaxed, fine dining restaurant around farm to fork, and the University's Enterprise Hive has given me great advice in what that might look like as a business plan and directions to take," she said. 
"They gave me confidence that I wasn't barking up the wrong tree. If you are one of the University's alumni and want to start up on your own, this is definitely a service you should tap into."
University College Birmingham is renowned for providing specialist vocational training for students looking to enter the culinary industry, with world-class facilities and expert tuition provided on a range of college, undergraduate and postgraduate courses as well as apprenticeships.
Discover our full range of courses within our Birmingham College of Food.
Check out our latest news stories