May 2022
"Authentic" hospital placement wins at Student Nursing Times Awards
By Melanie Hall
Share post:
An "authentic" hospital placement opportunity available to University College Birmingham nursing and physiotherapy students – designed and implemented as part of a wider collaboration – has won at the national Student Nursing Times Awards.  
The student-led clinical learning environment (SLCLE), spearheaded by University Hospitals Birmingham NHS Foundation Trust, won Student Placement of the Year: Hospital 2022 at the Grosvenor House Hotel in London in front of nearly 500 student nurses, education providers and mentors.
The innovative placement at surgical ward 12 at Solihull Hospital sees nursing students run real bays, giving them first-hand experience in running a ward and caring for patients as part of their clinical practice training. 
University College Birmingham, University of Birmingham and Birmingham City University are all university partners of the scheme, with representatives from each university having significant input into its development.
"Authentic, bespoke student-led learning initiative with dedicated staff support"
Scores of students from the three universities – including those on University College Birmingham's Nursing (Adult) BSc (Hons) degree – have already completed the placement, working with their peers to take responsibility for the assessing, planning and delivery of care to an identified group of patients. 
Second year University College Birmingham student nurse Gabriella Drysdale-Reid was one of the first students to pilot the placement in 2021.
"The practice placement team have worked so hard and it shows," said Gabriella. "It's been my favourite placement, the one that has grown my confidence the most. I hope SLCLEs become more popular now so more students get to have this great experience."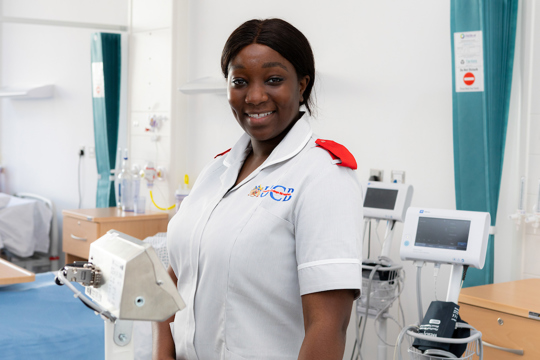 Nursing (Adult) BSc (Hons) student Gabriella Drysdale-Reid was among the first to pilot the placement
Following a rigorous judging process with an independent panel of judges as one of 12 placements to make the shortlist, the SLCLE was described by judges as an "authentic, bespoke student-led learning initiative with dedicated staff support, which was co-produced using an interdisciplinary student group.
"It has impacted on positive outcomes for students and patients. It has transformed staff, student, and patient experience."
Kathryn Riley, Head of the Department of Health (Nursing and Physiotherapy) at University College Birmingham, was the University's representative on the project design and implementation group.
She said: "This is an incredible achievement, especially as we developed this approach as part of a wider collaboration in the very first year of offering nursing at our University in 2020, a year with tremendous challenges.
"This way of working has increased placement capacity significantly with a 'one student to two patient' ratio, with excellent feedback from patients about their care. We will be utilising three additional SLCLEs at Good Hope and Queen Elizabeth Hospitals for student placements over the coming year."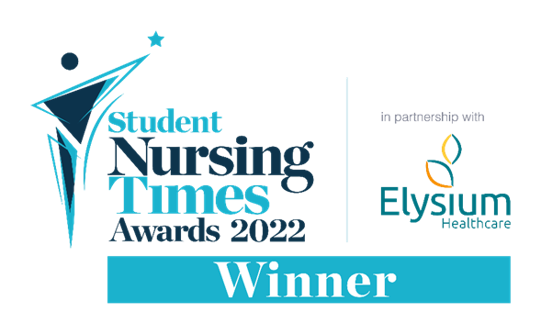 Editor of Nursing Times, Steve Ford, said: "Congratulations to all our winners at the Student Nursing Times Awards 2022. Once again, I was really impressed by the strength of entries that we received this year.
"Our awards recognise a group of outstanding students on their journey to entering the nursing profession, as well as all those who support them along the way, including lecturers, universities and healthcare providers.
"They celebrate students from all over the UK and at different stages of the nursing education journey, from first years to those who have recently qualified. Their innovation and achievements so early in their career already mark them out as sources of inspiration and rising stars for the future.
"Meanwhile, the winning higher education institutions and placement providers demonstrate the constant evolution and development in the way the next generation of nurses are educated, equipping them to deal with the challenges they will face and to provide the best care possible."
The Student Nursing Times Awards celebrates the very best in nurse education, recognises and rewards brilliant educational establishments and honours those who are committed to developing new nursing talent as mentors, lecturers and providers of placements.
The awards also pays tribute to students who have demonstrated the academic achievement, clinical prowess and personal qualities that will make them brilliant nurses.
Investment in nursing training
Being part of the SLCLE is just one of the ways University College Birmingham is working towards producing the best trained nurses in the UK. 
For example, the University has invested £44 million as part of a wider £140 million investment into its nursing training facilities at its Moss House campus, giving students access to a cutting-edge Health Skills and Simulation Suite. 
This learning environment includes a purpose-built, six-bed hospital ward with simulation manikins and immersive learning through virtual reality technology.
And this year has seen the launch of a Nursing Associate Apprenticeship to expand the nursing offering further.
University College Birmingham offers a range of industry-led college and degree-level courses within our Department of Health.  
About the SLCLE
• Six-bedded bay and five-bedded bay operating from Monday to Friday
• Students are allocated a clinical educator and have protected learning time in which they have greater control of their education
• Supervised by a registered practitioner acting as a coach, they steer their learning based on what they feel they need to improve
• A unique learning experience, enabling students to develop their confidence and leadership skills by learning together for a better sense of belonging and value


Check out our latest news stories