May 2022
New nursing associate apprenticeship offers specialist skills boost for healthcare 
By Darren Campbell
Share post:
A new apprenticeship programme at University College Birmingham is set to provide a boost for the health sector by developing skills for specialist areas of the nursing profession.
The University has worked in collaboration with a range of healthcare organisations to develop the new Nursing Associate Apprenticeship, which is being run for the first time this month.
The Level 5 foundation degree (FdSc) apprenticeship will welcome several cohorts over the course of the year with each dedicated to a different specialism, enabling apprentices to gain essential skills and knowledge specific to their area of work.
Working in partnership with University Hospitals Birmingham (UHB) NHS Foundation Trust, the University's first cohort will be trained for specialist work in critical care, providing practical training for the unique challenges of this field.
"Our staff have worked on the programme together in order for it to be what the employer wants, which is what a true apprenticeship should be"
The apprentices will have the chance to hone their skills in a controlled environment, running simulations in a dedicated critical care bay within the University's cutting-edge Health Skills and Simulation Suite in Moss House.
Leoni Allen, clinical educator for UHB NHS Foundation Trust, said: "This is the first time we have partnered with University College Birmingham and we wanted to do specialist recruitment, going into critical care.
"The apprentices will have a bed space where we can set up scenarios they might experience out on the wards and in critical care. They will be hit with a lot of things working on an ITU, so it's really important to simulate here so that they can practise within a safe environment."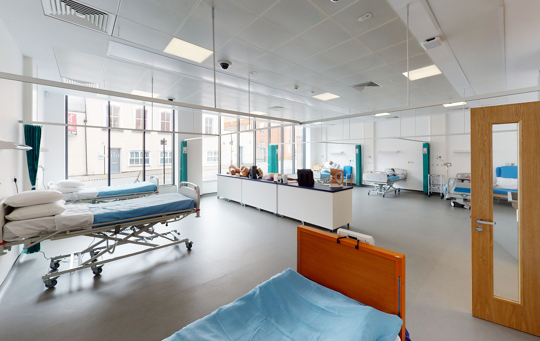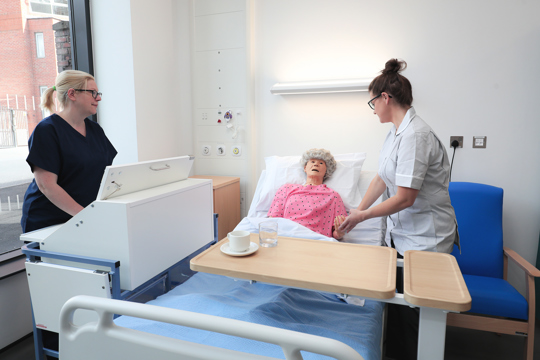 Our Health Skills and Simulation Suite offers a safe environment for apprentices and students to hone their practical skills
Introduced within the sector to boost the capacity of the nursing workforce and help bridge the gap between healthcare assistants and graduate nurses, nursing associates provide care and support to service users within a variety of settings.
Combining training on campus with a circuit of diverse placements as well as three days per week in the workplace, University College Birmingham's two-year foundation degree apprenticeship is approved by the Nursing and Midwifery Council (NMC), enabling apprentices to formally register as a Nursing Associate on completion.
Opportunities are also available to progress onto further study and training, including 'top-up' degrees at the University such as Health and Social Care BSc (Hons) or our Adult Nursing BSc (Hons) course, the latter enabling completing graduates to attain Registered Nurse status with the NMC.
Following on from the first cohort training in critical care, future Nursing Associate apprentices will be able to train in other specialist areas ranging from mental health to working in prisons, with the University having developed further partnerships with organisations including Cygnet Health Care, Practice Plus Group (Health in Justice) and Birmingham Community Healthcare Trust.
Marina Kendrick, Head of Healthcare Workforce Development and Apprenticeships at University College Birmingham's Department of Health, said: "We have partnered with UHB and other organisations to look for these specialist cohorts.
"Our staff have worked on the programme together in order for it to be what the employer wants, which is what a true apprenticeship should be, and all within the guidelines of the NMC."
'Following my dream': What our apprentices say
University College Birmingham welcomed more than 30 apprentices this week on the first cohort of the Nursing Associate programme specialising in critical care, all with a variety of backgrounds, experience and career aspirations.
Having previously worked as a medical assistant and within the military, apprentice Sarah Townsend said: "I realised there was a gap between what healthcare assistants can do and what nurses can do. When this opportunity came up, it seemed an obvious way to progress.
"The team have been really supportive and I'm looking forward to it, given they've already shown from the beginning about how caring they are."
Jamie Hardiman, who has ambitions to work in cardiology or anaesthesiology, explained how the Level 5 apprenticeship would help him continue progressing within the healthcare sector.
"I'm just following my dream," he said. "Working in critical care is important, especially in the cardiac critical care unit, so this combines two of the things I want to do.
"I didn't go to college – I went from school to an apprenticeship, did a year with the ambulance service then worked with NHS Test and Trace. Now I'm here and I'm trying to level up."
3D Tour: Explore our healthcare facilities
Meanwhile Ugochi Ijoma, who aspires to become a nurse, said: "When I saw this opportunity to progress my career, I decided to jump on it.
"I'm looking forward to my time studying with University College Birmingham and the collaboration with UHB, and learning all I can to be the best in my profession. That's the driving force, to give out the optimal care that I can."
New to the healthcare sector having previously worked as a teaching assistant, Rhiannon Chisholm said she was excited by the prospect of building new skills through practical learning.
"I'm looking forward to the fact it's completely hands-on, which is what I prefer," she said. "I've no healthcare experience prior to starting so it's completely new and I'm throwing myself in at the deep end with critical care – it's mind-blowing but really exciting."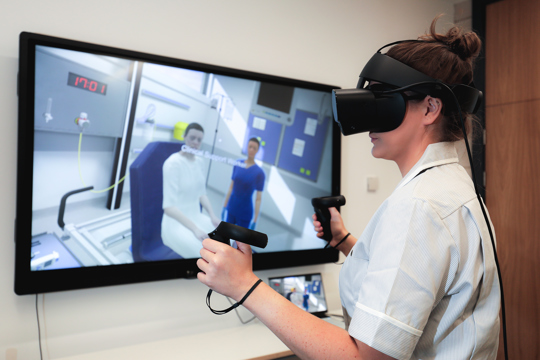 About our Department of Health
University College Birmingham offers a range of courses for anyone looking to work in the health and care sectors, from T-level or Access to Higher Education Diploma courses to undergraduate degrees and higher apprenticeships.
Students have access to a range of state-of-the-art practical training facilities in our Health Skills and Simulation Suite on campus, featuring a six-bed ward with simulation manikins and audio/video equipment.
The facility also features a simulated community care environment, virtual reality technology and an immersive learning environment, with virtual video walls enabling learners to experience what it feels like working anywhere from a crash scene to incidents in the community.
Discover our range of courses in nursing, physiotherapy and healthcare within our Department of Health.
Find out more about apprenticeships at University College Birmingham here.
Check out our latest news stories