November 2021
Student nurses run hospital ward bays in innovative new approach to clinical practice training
By Melanie Hall
Share post:
Student nurses at University College Birmingham are among the first to pilot an innovative new approach to NHS clinical practice training at a Midlands hospital.  
Those on the University's Nursing (Adult) BSc (Hons) degree will get hands-on, first-hand experience in running a ward and caring for patients at the new student-led clinical learning environment (SLCLE) at Solihull Hospital. 
A surgical ward has dramatically had to change the way it works to facilitate the new approach, with two of its bays now being run by students. 
"Healthcare all over the world has been severely impacted by the pandemic and we need to look at new approaches to meet the needs of communities"
Students from University College Birmingham, as well as students from the University of Birmingham and Birmingham City University, will work with their peers to take responsibility for the assessing, planning and delivery of care to an identified group of patients. 
And at the SLCLE – consisting of a six-bedded bay and a five-bedded bay on the ward operating from Monday to Friday – students will be allocated a clinical educator and have protected learning time in which they have greater control of their education.  
Under the supervision of a registered practitioner, who will act as a coach, they will be able to steer their learning based on what they feel they need to improve. 
The idea is to provide students with a unique learning experience, enabling them to develop their confidence and leadership skills by learning together for a better sense of belonging and value. 
The aim is that they feel recognised and equipped for the transition into professional registration and choose to build their career at University Hospitals Birmingham NHS Foundation Trust (UHB).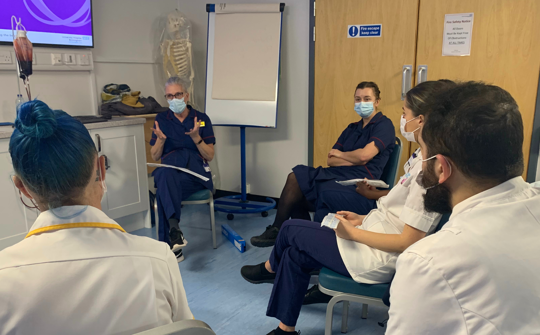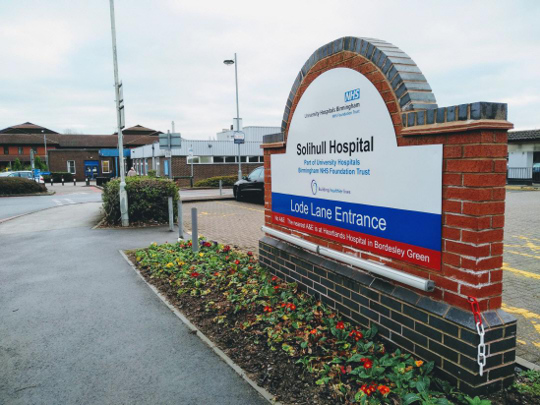 Nursing students will gain experience running a ward at the new SLCLE at Solihull Hospital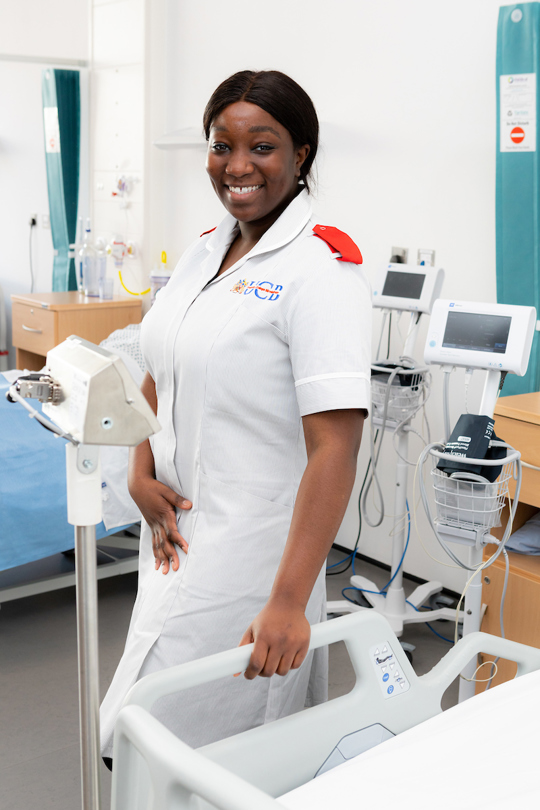 Solving the staff shortage
The new approach will also help recruitment in the nursing profession. 
In December 2020, a report by the Health Foundation – Building the NHS Nursing Workforce in England – said the government will need to exceed its target of 50,000 new nurses in England by 2024/25 if it wants the NHS to fully recover from the coronavirus pandemic. There is, however, a severe staff shortage. 
Kathryn Riley, Head of Department of Health (Nursing and Physiotherapy) at University College Birmingham, said the new SLCLE would help with the challenges in attracting qualified, competent staff with an increased range of critical thinking skills, all while meeting recruitment targets. 
"Healthcare all over the world has been severely impacted by the pandemic and we need to look at new approaches to meet the needs of communities," she said.  
"The SLCLE is a more sustainable clinical practice learning model, and our students are thrilled to be in the first cohort." 
The innovative project has been developed by UHB's School of Nursing, AHPs and Midwifery, who have been working closely with the university partners to bring the project to life. 
The Trust recently secured a sum of money to support the development of three additional SLCLEs over the next eight months, with plans to open them within its other hospitals in different clinical settings. 
Facilities for future nurses
Being part of the SLCLE pilot is just one of the ways University College Birmingham is working towards producing the best trained nurses in the UK. 
For example, the University has invested £44 million as part of a wider £130 million investment into its nursing training facilities at its Moss House campus, giving students access to a cutting-edge Health Skills and Simulation Suite. 
This learning environment includes a purpose-built, six-bed hospital ward with simulation manikins and immersive learning through virtual reality technology.
Accredited by the Nursing and Midwifery Council (NMC), our adult nursing degree is led by expert clinical practitioners and developed to today's gold standard in line with the NMC's 'Future nurse: Standards of proficiency'. 
University College Birmingham offers a range of industry-led college and degree-level courses within our Department of Health. 
Check out our latest news stories