Welcome information for new undergraduate students enrolling in September 2023
The information below will help you prepare for enrolment and the start of your course. 
Step 1 – Complete your online registration
If you have been offered a place at University College Birmingham, you will be sent an email and text message from our Admissions team to complete your online registration. The email you receive will provide you with your own unique link to do this if needed, and the text message will contain your UCB Student ID, which you will need to register. It is very important that you complete your online registration, as this is the first part of your enrolment.
If you forget your password, you will need to email itsu@ucb.ac.uk stating the following;
Your full name
Your UCB student ID number
Your address
Your chosen course
How to complete online registration?

 
The link provided will require you to input your personal details; as the link is individual, the information has to match what has previously been provided within your application. Followed by this, you will select your subject area and then continue to create a password. 
Important - If you have not received your email or text message, call our Admissions team on 0121 604 1040 or complete our enquiry form here, and we will help you to activate your account and complete your online registration. Please make a note of your student ID and your password. 
Doing this now will save you a lot of time later!
Step 2 –

Upload your documents
Once you complete the online registration, you must upload your documents to the Student Dashboard. You will need to navigate to My Dashboard > Enrolment > Task > Upload ID Card Photo & Identity Documents. Make sure you upload ALL documents that are relevant to you, including:
your chosen photo for ID (no Snapchat filters, please, let's keep it professional!)
your proof of ID – see below for the list of acceptable identity documents
any residence evidence – e.g. your passport/residence documents, if relevant
scans/clear photos of qualifications for any outstanding conditions
any evidence of your name change, if your name is now different from the name on the documentation you provide to us, e.g. deed poll document or marriage certificate. All our systems will use the name on your official documentation.
As soon as your image has been uploaded, it will automatically be saved. 
A few things to note
Do not email us your documents during this time. If you are having trouble uploading them, don't worry, our Admissions team will call you to help you with this process.
The phone number we will be calling from is 0121 604 1000. Please ensure your email and phone contact details are up to date, as these are the credentials we will use to contact you. 
The Admissions team is calling applicants who have not yet uploaded their documents. We will continue to call throughout the month to ask you to upload any missing documents. Don't worry if you miss our call; we will send you an email to say that we've called and will call back later.
Before we can complete your enrolment, we require confirmation of the following:
You have sufficient funding (SLC) in place to cover your course (home students)*, or
That you have paid 100% of your first-year fees (international students)
You have completed any in-person identity ("Right to Study") checks as required
All that's left is for you to do after this point is collect your ID card.
* Remember that it is YOUR responsibility to ensure that your student loan is in place. If your loan is not fully approved at the time of enrolment, or we are not clear on how you intend to pay your tuition fees, we will charge the cost of the tuition fees directly to you and you will be informed of the dates that payment is required. If your tuition fee loan is approved at a later date and you have already made payments to UCB in respect of your tuition fees, we will refund you upon release of payment from the Student Loans Company.
Acceptable Identity documentation – UK/EEA Nationals
British or EU Passport
European Identity Card
If you do not have a passport, please upload your:
AND
Another form of photo ID, such as a driving licence or proof of age card*
*Please note that we may require additional evidence before we can complete your enrolment.
EU nationals must also provide a valid share code in order for UCB to verify your residency status in the UK.
Acceptable Identity documentation – Non-UK/EEA Nationals
AND
Your Biometric Residence Permit (BRP)
OR
OR
Home Office letter confirming your residency status in the UK
If you are an asylum seeker, please upload your Application Registration Card.
If you don't have any documentation to confirm your immigration status in the UK, University College Birmingham will ask for your permission to request this information from the Home Office.
Step 3 - Enrolment and ID card collection
If you are struggling with any part of the enrolment and feel you need support, you can enrol in person. See the location and timing below:
Location: Camden House, East Parade, Birmingham, B1 3PY
Dates: 11 September 2023 – 27 October 2023
Time: 9:00 – 16:00
ID card collection
You can collect your ID card in Camden House between 11 September 2023 and 27 October 2023. If we require further information from you before that, we will contact you by phone or email to discuss. You may be asked to provide further evidence before your enrolment is considered complete.
What if I've changed my mind and don't want to enrol at University College Birmingham? 
If you have changed your mind and no longer wish to enrol, you must let us know as soon as possible so we can offer your place to someone else. Please call 0121 604 1040.
Induction and course-specific information
Further information specific to your course, including induction timetables, any uniform/kit requirements and our Kick-Start Scheme, is available below. 
Important dates
Accommodation move-in weekend: 2 September 2023
Enrolment: 18 September 2023 - 22 September 2023
Induction: 25 September 2023 - 29 September 2023
Teaching: w/c 2 October 2023
Note: Further additions and changes may be made to these timetables ahead of induction week. Please check this page prior to your scheduled induction activities for any updates or amendments.
Campus abbreviations: MH - McIntyre House, MS - Moss House, SR - Summer Row, CH - Camden House
Disability Support
How we can help during induction and welcome week
You can contact us or come and see us regarding your support plans and support in class. We are based on the 6th floor of The Link building.
Students who have sent in evidence should have been contacted with transition information, if you haven't been contacted we will be working through your information and we will be in touch however feel free to come in and see us during your induction period.
Should you wish to amend a plan, please contact us disabilitysupport@ucb.ac.uk
If DSA providers are requesting a timetable from you or proof of timetable changes you can notify us, and we can co-ordinate updates. We do not put DSA support into place so you will need to contact DSA and external providers yourself.
You will meet members of our CASE team during Welcome Week and on the CASE stand on the 29th of September during Welcome Fest.
For reasonable adjustments, you will need to provide evidence so please contact the disability inbox with this evidence for more information about what is required of you please click here.
We also have study skills support for students not in receipt of DSA for more information about what is available click here.
Our CASE team will work with the teaching team for your course over the coming months to ensure reasonable adjustments will be put into place for you to have the best teaching experience at University College Birmingham.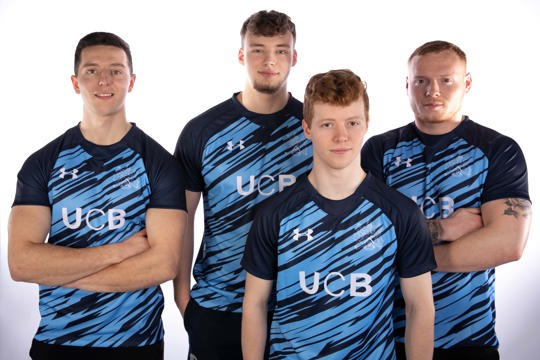 Team sport
University College Birmingham is happy to have several sport teams. These teams compete in the BUCS (British University & Colleges Sports) leagues against other universities. Being a member of a sport team can enhance your time at university by keeping you physically active and helping you meet new friends.
Basketball (men's)

Football (men's)

Jiu Jitsu (mixed)

Netball (women's)

Rugby (men's)

Volleyball (men's and women's)
Each team will have weekly training per week with a professional coach, with competitive matches being held most Wednesday afternoons.
Accommodation
Friendships the world over are formed in university halls of residence, undoubtedly the best place to be in your first year. You might be learning to cook, budget and pay your own bills for the very first time and halls are the perfect place to learn these skills alongside students in the same boat.
Applications for our student accommodation are still open!
Meet other students on your course
Starting university is an exciting time, but we understand that it can sometimes feel a little daunting. To support you, you will be invited to join our Unibuddy Community, where you can meet other students who have applied for the same course at University College Birmingham, before you start studying here.
As soon as you have been made an offer, you will be sent an invitation email to complete your registration and join the Unibuddy Community. For more information, check out our Unibuddy Community page.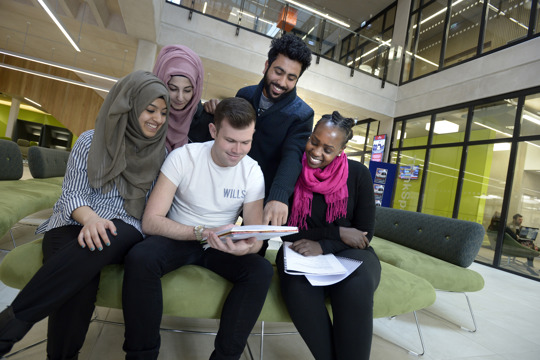 Preparing you for study
Whether you are new to University College Birmingham or returning from placement, the Preparing You for Study courses will introduce you to (or refresh your memory about) the academic skills you will be expected to learn and practice as a student at the university. There is one course for undergraduates (levels 4, 5 and 6) and one for postgraduates (level 7).
The courses include videos from staff and students telling you what to expect from your time at University College Birmingham. They also include lessons about a range of academic skills with a chance to check your understanding as you go. You'll also learn more about the support available to you during your studies.
Each course takes about 60-90 minutes to complete, but you do not have to do it all in one sitting. You can complete a few lessons at a time and come back to the course later.
If you have your student login, you can access the Preparing You for Study Canvas course here. We're looking forward to meeting you soon!