The Library Service
'We Will Help You Achieve Your Best'
When you are enrolled and ready to go, you will have a lot of questions; such as:
How do I achieve a good grade?
Where do I find out about my module reading?
Where can I study quietly or in a group?
How and where can I access a laptop/computer?
The answers to these and many other questions can be found in the Library.  Please note that the main Library is based on the Fourth, Fifth and Sixth Floors of The Link building.
We can help you by:
Providing expert staff to assist you with using and finding information and using resources;
Showing you how to evaluate quality information for your assignments;
Helping you to access your module delivery scheme which shows you all you need to know about your module, your assignments and the core reading;
Providing study spaces and PCs to suit your study needs.
Digital Library
Google can only show you so much. You have a much greater chance of achieving a better grade if you read reliable, academic information. The Library has print and online collections which encompass books, e-books, electronic journals, newspapers, multimedia and a range of other e-resources such as marketing reports. All online resources are available to you, 24/7 on- and off-campus.
Assignment Assistance
Our team of Subject Librarians are qualified Library and Information professionals and subject specialists. They are available to provide you with support when you are researching your assignments. They deliver sessions in class and during tutorials to provide invaluable advice regarding sourcing information and to help you develop your information-searching skills. These skills are vital during your studies and also when you are searching for jobs and begin working for an employer. Come and see us to find out more. Students can book appointments to see a Subject Librarian for research and referencing assistance.
The Library Space
The library is a quiet study area where you can concentrate on your research and assignment work using individual study spaces close to the book collections.
The library is wifi enabled so you can work on your own laptop or mobile device and re-charge it.
Where to find us
Our main library is based across the Fourth, Fifth and Sixth Floors of The Link building on Summer Row. 
You will be introduced to the library service during your induction at University College Birmingham. You can also ask for a library orientation tour with one of our library team at any time. They are always on hand to help with any aspect of our service.
Find out more
You can explore our library web pages and find out all you need to know about the library by visiting the Portal.
Library Services can also be found on Facebook, Twitter and Instagram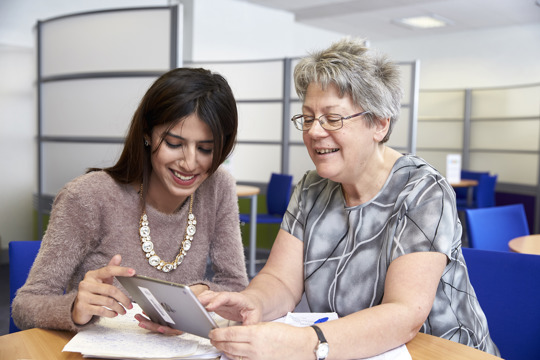 Centre for Academic Skills and English (CASE)
CASE is open to all students and is there to develop academic skills as well as improve students' coursework and examination outcomes. CASE offers five main services:
The ASC (Academic Skills Centre) is located on the Sixth Floor of The Link. One-to-one appointments and drop-in sessions are available. The ASC can be contacted by email or calling us on 0121 604 1000 ext. 2243.
Grammarly Workshops – all students at University College Birmingham can create Premium Grammarly accounts. To further support students with their use of Grammarly, Grammarly Workshops are available in the ASC. Please contact us or call us on 0121 604 1000 ext 2243 for further details.
CASE SENsitive – offering support and guidance for students with special learning needs. This may include information regarding the funding or in-house assessments. Queries can be directed to our Academic Skills Centre email
The possibility of in-class sessions taught as part of Graduate Advantage
Access to the CASE Toolkit for HE. This high-quality online resource allows you to access academic skills information 24/7. Please accept the invite for this to appear on your CANVAS dashboard.
For further information regarding CASE, please check their dedicated page on the University College Birmingham site.
The Resource Centre (Lower Ground Floor, The Link)
Please see the Student Portal for opening times.
Computers, Printers and Photocopiers
There is a number of computers in the Resource Centre for quiet study or work, some of which are bookable in advance or on a drop-in basis, depending on availability. The printing facility offers photocopying, emailing and printing. Students are allocated a printing allowance at the beginning of the year. Additional printing credits can be purchased if required.
Assignment Tracking Service (ATS)
Non-electronic assignments can be submitted between the hours of 9:00am and 5:00pm Monday to Friday. The ATS is not available at weekends. The deadline for all students is 5:00pm. Students can track the progress of their assignments through the ATS and can collect them once marked.
Help Desk
There is a Help Desk situated on the Fourth Floor of The Link. The staff provide basic IT support and general help and guidance.
Sales Counter
There is a wide range of stationery available for purchase. Laminating and binding facilities are available.
IT Facilities
There are other wi-fi enabled areas in University College Birmingham with IT facilities and charging points:
Laptop loan service in The Link;
PCs in the Sixth Floor ThinkSpace;
PCs in McIntyre House student social learning spaces;
PCs in Moss House student social learning spaces.
Personal Employability Development Plan (My PED Plan @ UCB)
All Universities and Colleges have to provide students with support in analysing and recording what is being learned across the course as a whole and in planning how best to prepare for a career.
You will be focused on planning your professional and personal development because the degree for which you are studying is designed to lead directly to employment and the degree has been developed to provide you with evidence of skills that will be valued by employers. Your electronic 'My PED Plan @ UCB' is the medium for you to reflect on the ways in which you are learning and to document your developing Personal and Employability Learning skills.
The sorts of skills employers want when they employ graduates in our sector is clear and all our courses have been designed to give you plenty of opportunity to rehearse and demonstrate these employability skills.
Employers are more interested in your skills and competencies than in your knowledge, the workplace is constantly evolving and a successful worker knows how to continue to learn about current issues and trends.