The IT support Unit, DICE, Web Developers and AV teams are all located in the ground floor of Camden House. Together they provide an improved, more complete service all in one central location. Students are welcome to drop in or call without an appointment for support, advice or feedback at any time.
Computing Facilities
All students have access to computers throughout University College Birmingham's Campuses. The University College Birmingham Portal offers students a "Find a PC" feature, which provides live information about the availability of computers for use across University College Birmingham's Campuses.
There is now 1050 PCs, Laptops, Apple Macs and iPads available for students across campus.
IT facilities are based in the following locations:
Camden House
The popular quiet study area previously situated within the library has now been expanded to a much larger and comfortable space with over 100 PCs, group study areas and dedicated booths for private laptop work. Along with full colour and black and white printing facilities, this is an ideal study area alongside the full support of the new Technology Hub.
The Link
Top spec computers are available in our extensive library spanning floors 4, 5 and 6 of The Link. Sitting alongside group study areas, workspace pods and personal laptop study spaces, this fantastic facility gives you the opportunity to work late into the night at times to suit you.
McIntyre House
Ideal for study within the many breakout spaces and glazed study pods across the campus, a new £45,000 worth addition of laptops were added to the laptop loan lockers. These complement the existing student computers in the following locations:
Laptop Loan Lockers, Ground Floor (80 laptops)
ThinkSpace, Ground Floor (32 PCs)
Postgraduate Centre, First Floor (40 PCs)
Room 232, Second Floor (45 PCs)
Summer Row
ThinkSpace, Sixth Floor (31 PCs);
All computers have access to:
Microsoft Office
Internet
E-mail
Access to Student OneDrive
Student printing service
Please note that students are able to print/photocopy 500 sheets free of charge. Any sheets in excess of this are charged at 5p per side of mono A4, to minimise waste and speed up printing. All proceeds from charges on paper go towards improving printing services.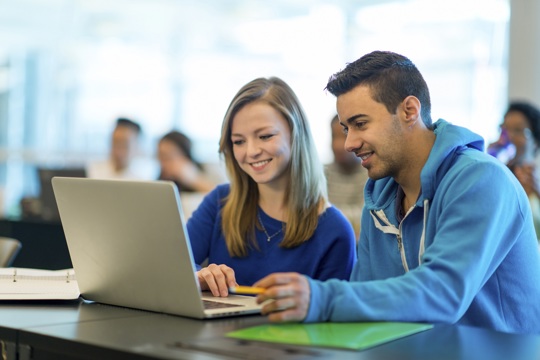 IT Support
IT Support is available from the IT Support Unit, which is situated on the Ground Floor of Camden House East, the Ground Floor at McIntyre House and in the Resource Centre at Richmond House. Any student enrolled at the University may go to the ITSU for technical support concerning any of the following problems:
Software/hardware faults
Data recovery
File conversion
Virus detection and clearing
Printer faults
University College Birmingham wireless internet access
Internet connection at Student Halls
ITSU opening times (term-time) are:
Monday to Thursday: 8.45am - 5.15pm
Friday: 8.45am - 4.45pm
Please note that ITSU staff cannot assist students with their assignments or teach students how to use word processing, spreadsheets, presentation software or databases. There is, however, a great deal of support elsewhere, in particular, IT workshops and the Centre for Academic Skills and English (CASE).
Using UCB computers
It is important to make sure that you know how to access the University computers so that you can store and print documents correctly and check email on a regular basis. Every student is allocated individual space in the cloud as part of the University's Office 365 subscription to store documents as well as being entitled to a quota of free printing. In order to make use of these facilities, it is necessary to log on and off the computer using your own username and password.
To access the computer systems you will first need to swipe your Student ID card at one of the Login.Point terminals, which can be found at the following locations:
The Link - Resource Centre
McIntyre House - ThinkSpace
After swiping your ID card a receipt is printed, showing your username and a temporary password. You will be prompted to change your password the first time you log in. You should do this, as you will find a personal password easier to remember, while at the same time keeping your work more secure.
For first year students, accounts will be live as soon as your card is swiped through a Login. Point terminal.
Always remember to keep backup copies of your documents on portable memory sticks or cloud storage.
In the Login box, type your Student ID
Press the Tab key
Type your Password
Click OK. On first logging on to the computer, you will be prompted to change your password.
At the prompt type in your NEW PASSWORD.  It must be at least 5 characters long.
Now click on the CONFIRM PASSWORD box.  Retype your new password and click OK.
The password change confirmation box should appear. Click OK.
Remember that you will need to log off the computer each time you have finished to prevent other students from accessing your work:
Right click the lower left-hand corner of the screen
Select Shutdown or Sign Out
Click Sign Out
Student email is available through the University's Office 365 subscription. To access your University email, click on the Office 365 icon and enter your student ID in the format: studentID@student.ucb.ac.uk. Entering your University password will grant you access to Office 365 where you will be able to use Mail, Calendar, OneDrive (your personal storage area) and familiar Office applications. Office 365 can be accessed outside of the University by accessing the Office 365 Portal.
Please note that when you leave University College Birmingham, all email and server privileges will be removed. Therefore you need to ensure that any work you want to keep has been saved to a memory stick.
Canvas @ University College Birmingham
Canvas @ UCB is University College Birmingham's Virtual Learning Environment. It is a learning support system, accessible via the internet, that is used by your lecturers to make learning resources and other information available online. In order to log in to Canvas, each student can use their University College Birmingham username and password to provide them with access to the course areas they are studying.
To Access Canvas @ UCB
Canvas is accessed via the University College Birmingham Student Portal.  Please note that your Canvas username and password are exactly the same account details that you use to access the University College Birmingham network.
Viewing Your Course and Modules
Once you are logged in to Canvas, you will find a link to the course you are studying as well as a link for each of the modules that you will study during the course of the academic year.
To view information about your course, click on the title of your course, e.g. Hotel Business Management, from the Dashboard page. To view information for a module, select the relevant module name (e.g. Business Operations) on your Dashboard page. You can then use the module navigation menu to access resources such as assignments, module resources, quizzes, reading lists, etc.
Accessing Canvas @ UCB on Mobile Phones
You can access Canvas @ UCB on your mobile device by downloading the "Canvas" app from your device's app store. The app will help you stay up to date with your course whilst on the move. Once downloaded, open the app, search for "University College Birmingham" and then enter your usual login details.
Support with Canvas
If you experience any issues or have any queries regarding Canvas @ UCB and/or the Canvas app, dedicated support (via live chat, e-mail or telephone) is available via the "Help" menu within Canvas. Alternatively, speak to a member of the DICE e-learning team who are based on the Ground Floor of McIntyre House within the ThinkSpace area.
You may also visit their support site (available via the University College Birmingham Student Portal), email dice@ucb.ac.uk or phone 0121 604 1000 ext. 2437.