December 2021
Yasmine serves up university exam menu to bag MasterChef quarter-final spot
By Darren Campbell
Share post:
A University College Birmingham student has wowed the judges on TV show MasterChef by preparing for them the same menu that helped her complete her foundation degree.
Yasmine Selwood secured a quarter-final spot on the latest series of the BBC's MasterChef: The Professionals last week, recovering from a difficult start in the opening technical challenge by perfectly preparing the two dishes from the final exam of her Professional Chef FdA course.
The mum-of-four, who is now studying the final year of a Culinary Arts Management BA (Hons) degree at the University, was also dubbed "Superwoman" by judge Marcus Wareing during her first appearance on the show for her ability to juggle her busy family life with work and her studies.
"The one thing MasterChef has done for me is really allow myself to see what I'm capable of"
Yasmine's two-course menu for the signature dish round featured pan-seared brill with fresh podded peas, runner beans and asparagus, served with a white wine and miso fish sauce split with a dill oil – described by Marcus Wareing as "the dish of the day, because she got every element right".
Her dessert consisted of a caramelised white chocolate mousse with blood orange jelly and an orange butter biscuit, with judge Monica Galetti praising her dish for having "the most flavour, taste and texture" of the round.
That performance saw Yasmine progress through to last Friday's episode – and although the quarter-final proved to be the end of her MasterChef adventure, she revealed how the experience has provided a big boost for her future.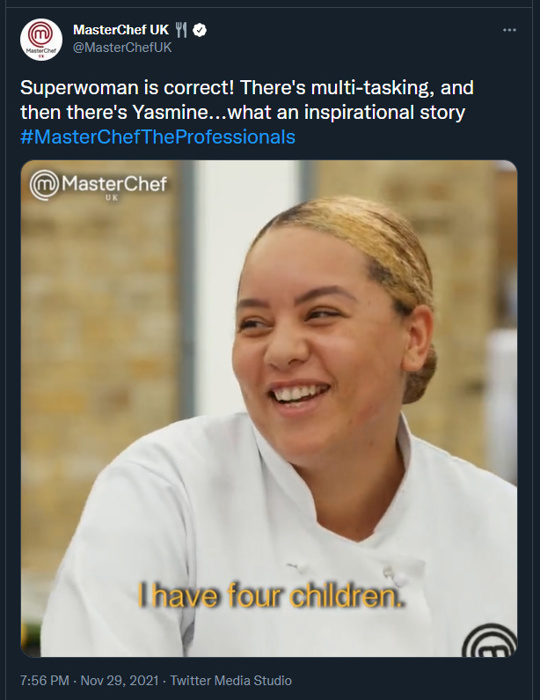 "The one thing MasterChef has done for me is really allow myself to see what I'm capable of," she said.
"Now that I've tasted that, I don't see how I could possibly go back!"
Yasmine was supported throughout her MasterChef journey by chef lecturers from the University's Birmingham College of Food, as well as being able to train within the specially-designed competition kitchen at Summer Row, which is also used by contestants preparing for the prestigious Bocuse d'Or contest.
Reflecting on Yasmine's performance in the series, chef lecturer Mat Shropshall said: "Yasmine produced her own food on MasterChef to the standards our chef lecturers teach in the kitchens, but she has added her own style and influences.
"I thought once the nerves had gone from the first challenge, she went for it!"
Chef lecturer Richard Taylor added: "Yasmine has been an excellent student and a great ambassador for the Professional Chef FdA course.
"She has always given 100%, been inspirational for all students and a true professional in all she does. She fully deserves all the success in life whatever path she now takes, and I wish her all the best for the future."
Yasmine follows in the footsteps of many other former University College Birmingham students to have appeared on MasterChef: The Professionals over the years, including 2019 contestants Monty Stonehewer and Alice Tapiwa Makahamadze, as well as former finalist Claire Hutchings, winner of the MasterChef: The Professionals Rematch special two years ago.
You can watch back Yasmine's winning performance in the MasterChef heats on the BBC iPlayer website here.
University College Birmingham is renowned for providing specialist vocational training for students looking to enter the culinary industry, with world-class facilities and expert tuition provided on a range of college, undergraduate and postgraduate courses as well as apprenticeships.
Discover our full range of courses within our Birmingham College of Food.
Check out our latest news stories