November 2021
Student chef Yasmine set to appear on BBC's MasterChef: The Professionals
By Darren Campbell
Share post:
A talented chef studying at University College Birmingham is set to appear on the new series of MasterChef: The Professionals – and has encouraged fellow students to embrace such opportunities in the culinary industry.
Yasmine Selwood is among the contestants appearing in series 14 of the hit BBC cooking show, which begins airing this evening (Monday 8 November).
The final year Culinary Arts Management BA (Hons) student revealed she had been encouraged by family to apply for the competition following a difficult year in which the coronavirus pandemic had impacted upon her work opportunities in the industry.
"I made it a dream of mine to get on MasterChef," she said. "I had a talk with my mum and she convinced me to apply!"
"I have done so many amazing things and it's because of this University, being in the right place and having the right attitude"
Yasmine, who previously studied Professional Cookery Level 2 and 3 at University College Birmingham and worked as a commis chef at the city's Michelin-starred Adam's restaurant, explained how her studies and experience had helped her prepare for such a challenge.
"Being at University College Birmingham, you get a rich and broad culinary education," she said. "It's been invaluable in everything I've done to date.
"It puts you in the mindset to go out and dominate. Just look at restaurants around Birmingham – they are full of University College Birmingham students!"
Yasmine is no stranger to the rigours of culinary competition, having been part of the triumphant trio from the University to win the prestigious Nestlé Professional Toque d'Or title in 2019 – an achievement which saw her and her team-mates bag a prize gastronomic tour of Spain.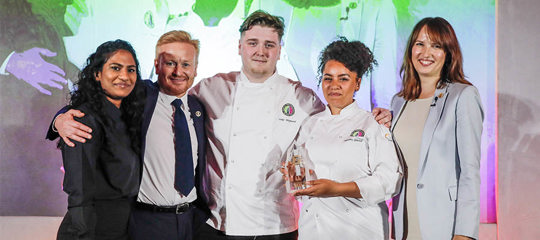 Yasmine was part of University College Birmingham's winning Toque d'Or team in 2019
Now working as a personal chef for high profile clients alongside her studies, she encouraged other budding chefs at the University to take on similar opportunities to develop their skills and test their talents.
"University College Birmingham is a hub for opportunity," she said. "Put your reservations aside, try your best, let your personality shine through and make the most of your time.
"I have done so many amazing things and it's because of this University, being in the right place and having the right attitude.
"You don't grow by staying in your comfort zone. Get out, put yourself forward and grow – that's how you become a really good chef."
Series 14 of MasterChef: The Professionals begins tonight from 7:35pm on BBC One.
Picture credit: Shine TV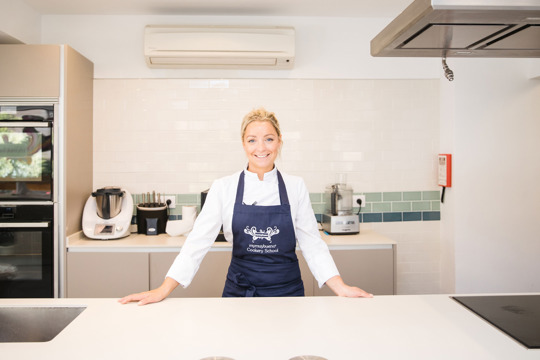 More Master Chefs
Yasmine is the latest in a string of University College Birmingham students and alumni to appear on the BBC's MasterChef: The Professionals over the years.
Former Professional Cookery student Monty Stonehewer reached the knockout stages in the 2019 edition of the contest, which also saw ex-student Alice Tapiwa Makahamadze appear in the heats.
And the previous year saw Culinary Arts Management graduate Claire Hutchings win the MasterChef: The Professionals Rematch special, having previously appeared as a finalist on the main series back in 2011.
University College Birmingham is renowned for providing specialist vocational training for students looking to enter the culinary industry, with world-class facilities and expert tuition provided on a range of college, undergraduate and postgraduate courses as well as apprenticeships.
Discover our full range of courses within our Birmingham College of Food.
Check out our latest news stories