September 2022
 University College Birmingham experience for Indian students.
By Karan Mohan
Share post:
My name is Karan and I am from India. I have been working as a chef for four years now, across four different countries. I began in the United States, then jumped to Australia and from there back to India's capital, New Delhi.
It was that time when Covid had just begun its reign, and the entire hospitality industry was sinking like a stone in the sea. The market had little to offer, and money was too low. Then my consultant showed me the two-year Culinary Arts Management master's programme at University College Birmingham (UCB).
To be honest, after working for four years, I was fixated on the idea that university provides knowledge in return for money, and I could easily work at a good restaurant to gain the same knowledge while earning money. Well, the past two years at University College Birmingham show that I was wrong – it has been a right and profitable step in my career.
So if you are like me, who has travelled (or plans to travel) to the UK to study a master's either in culinary arts or hospitality and tourism at University College Birmingham, let me tell you that you are at the right place. It's not just the degree and knowledge you will get, there are also some amazing restaurants that reside in the very bustling city of Birmingham. Those restaurants offer you a job which pays for you and the experience that you desire.
And now it's time to address the elephant in the room: "PSW", the post-study work visa. The name explains it all, but if you are still confused about it, it is a two-year work visa that the UK government provides if you study full-time in the country.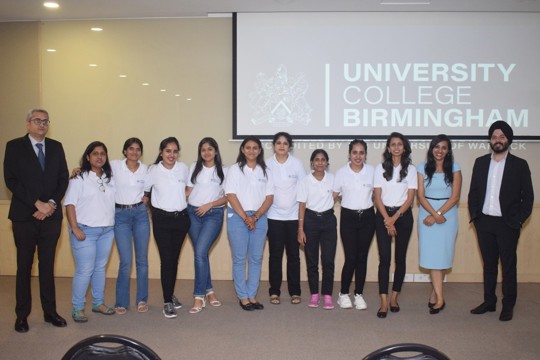 Indian students at a University College Birmingham pre-departure briefing in Mumbai in August
Now, about University College Birmingham itself: I am not going to tell you about the campus and the plethora of celebrity chefs and entrepreneurs as their alumni, as you can find all that on the University's website. I will simply tell you what to expect and how the course will benefit you.
The course is designed while keeping Level 7 difficulty (i.e. master's level) in mind, and the study pattern and curriculum will be completely different from what you have been taught back home. Extremely helpful and educated staff and teachers with multiple supportive departments provide you with all the tools to complete your master's degree.
A mix of practical and theoretical subjects specifically designed to improve your academic skills, cooking skills and new product development skills are included in the modules. If you are hoping to open a restaurant in the future, University College Birmingham's curriculum has it all. The course focuses on academic development and the operational side of hospitality and restaurants, which is of great value when owning a business. Although the practical modules are few, they all thoroughly address the creativity and innovation that a chef requires.
Moving forward, a lot of you might be wondering whether spending a significant sum of money on a two-year degree away from home is worth it or not. Simply put, 'yes, it is', and it is the right step in your career.
To put things in perspective: suppose you spend an average of £16,000-£18,000 on your tuition fees, airfare and initial accommodation, let's call that the initial capital investment. What do we get in return for our initial investment? A degree, 20-hour work permit, experience abroad and 4-year work time (2-year visa+ PSW) in the country to squeeze money out of your initial investment. Jobs are plenty in the city with a plethora of options, from Michelin-starred restaurants to casual dining, all paying a minimum of £9.50 per hour (minimum skilled wage).
If you work out the maths, you would earn about £800-£1,000 per month, which gets doubled during holidays because the 20-hour work limit gets lifted and you can work full-time. In my personal experience, it's a great time to gain profit to cover your initial investment. And to further top it off, University College Birmingham offers the opportunity for a full-time placement during your course, which may last for 3 or 6 months depending on your month of admission. On average, you can potentially earn about £18,000 pounds in a year – that's half of your course time.
To conclude, I would say that this might be the opportunity you are looking for. I came in as a student, and since then, I have worked with Raymond Blanc, James Goodyear and Adam Stokes. My only advice to you would be while you are studying, don't let work overwhelm you. Your visa is tied to your degree, so if you mess up your studies, you mess up your visa.
I wish you all the best, and if you have any further questions, don't hesitate to ask!
Students from India make up a significant proportion of our international community at University College Birmingham. Find out more information about joining us from India here.
View our list of courses on our Indian website here.