March 2022
Staff's 24-hour sports endurance challenge raises thousands for charity
By Darren Campbell
Share post:
Determined staff at University College Birmingham have sweated it out for a full 24 hours in an endurance event on campus to raise thousands of pounds for charity.
Lecturers from the University's Department of Sport and Nutrition rowed, ran and cycled their way through day and night as part of the UCB 24-hour Endurance Challenge last week in support of Diabetes UK.
The gruelling challenge was held at the cutting-edge Human Performance Centre in Moss House, with the team jogging ceaselessly up and down the facility's 35m indoor running track as well as burning up energy on the rowing machines and exercise bikes.
Starting at midday on 15 March, the participants took it in turns to maintain the three activities throughout the duration of the challenge, with many staying on campus overnight, while others joined in along the way.
"We want to thank everyone at University College Birmingham... It was amazing to see them taking on this physical feat to support us"
Boosted by a range of sports drinks and food items donated by sports nutrition firm Nutrition X, the athletes were further helped by students on the University's Sports Therapy BSc (Hons) course, who were on hand to help with much-needed massages and treatment to help everyone over the line.
Meanwhile Sports Management BA (Hons) students constructed and managed the social media marketing of the event, which was livestreamed on Facebook, with many members of the University's community sharing dozens of comments in support of those taking part.
And having initially aimed to raise £1,000 for Diabetes UK, the team's incredible efforts had already attracted almost double that target by the time the final whistle sounded at midday on 16 March – and have so far raised more than £3,500.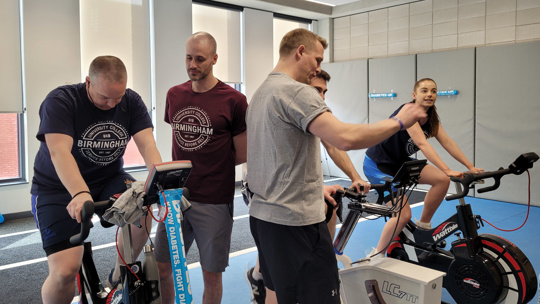 Sports lecturer Carl Bennett, who oversaw the organisation of the challenge, explained the inspiration behind the event.
"The aims were to provide opportunities for our students to support a real-time event, create a team-building experience for lecturers and raise awareness of the University, all while raising money for a worthwhile cause," said Carl. "The support from everyone was overwhelming."
The whistle to start and finish the event was sounded by Vice-Chancellor and Principal Michael Harkin, who praised the team on their achievement.
"I was delighted to set the timer going on the amazing 24-hour sporting endurance event being undertaken by our staff, raising funds for such an important cause," said Michael. "All of the staff participating trained incredibly hard for the event.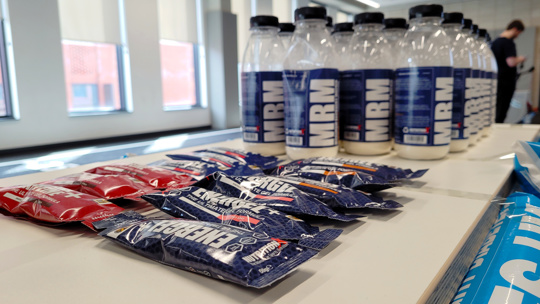 Nutrition X provided a range of food and drink items to support the athletes completing the challenge
"I and everyone at the University are extremely proud of their commitment to such a great cause. They are a great example to all of their students, whom they support so brilliantly in the wonderful Human Performance Centre where they undertook the event.
"Unsurprisingly there were some very sore and aching bodies emerging from the 24 hours, so it was very helpful that our excellent sports therapy students were there on hand to support in the final hours, working their magic on the team.
"Thank you also to the many staff who supported on social media, with food and refreshments and giving support and encouragement throughout."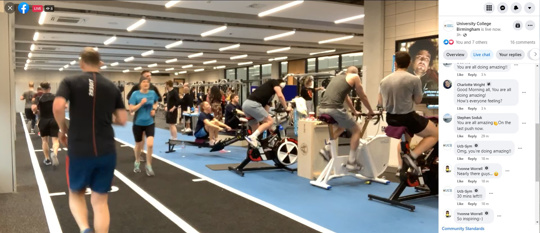 The event was livestreamed on Facebook, where members of the University community shared their support for the team
Charlotte Wright, from Diabetes UK, commended the team for their fundraising efforts.
"We want to thank everyone at University College Birmingham for taking on this incredible challenge," she said. "We were watching online and it was amazing to see them taking on this physical feat to support us – thank you so much from everyone at Diabetes UK.
"Over the last two years, we have seen demand for our services reach record levels, while our own funding has been significantly impacted. This challenge continues and, more so than ever, people with diabetes need us, but we need support to be able to continue fighting their corner.
"Without the help of generous supporters like the Endurance Challenge team, we simply would not be able to offer support to the thousands of people with diabetes contacting our helpline, the millions at risk of type 2 diabetes, campaign to keep people with diabetes safe in the places they work and learn, or to invest in vital research – taking us a step closer to our vision of a world where diabetes can do no harm."
Donations can still be made to the UCB 24hr Endurance Challenge page on JustGiving here.
Watch the moment the final whistle sounded at the end of the challenge on our Instagram page.
UCB 24hr Endurance Challenge: The Athletes
Ben Franks
Carl Bennett
Georgi Babalev
Kayleigh Jones
Mark Godwin
Mark Newman
Matthew Holmes
Megan Dixon
Nicky Millard
Sasa Bobic
Will Crossen
In pictures: 24-hour Endurance Challenge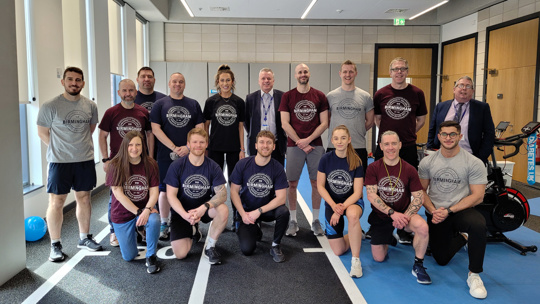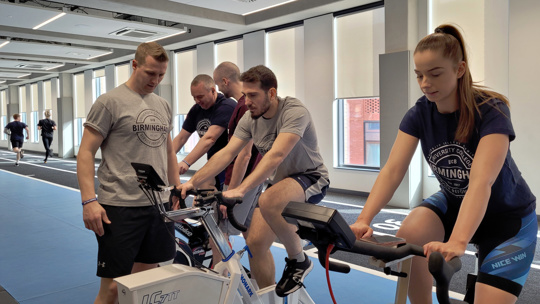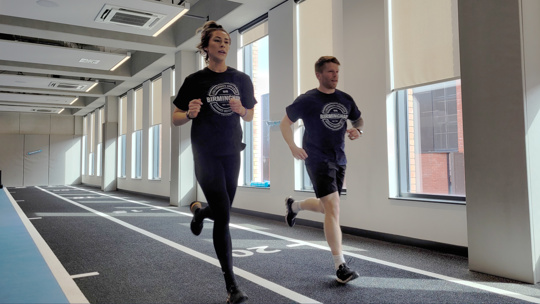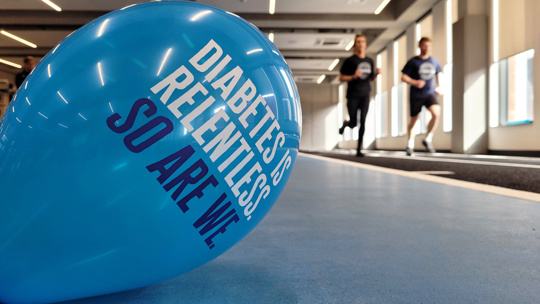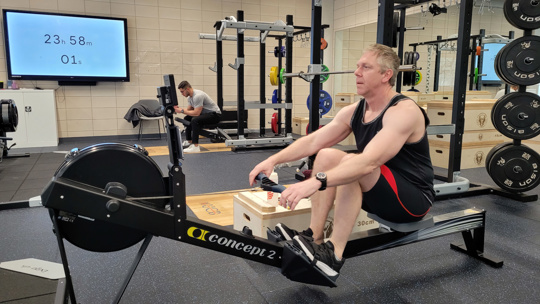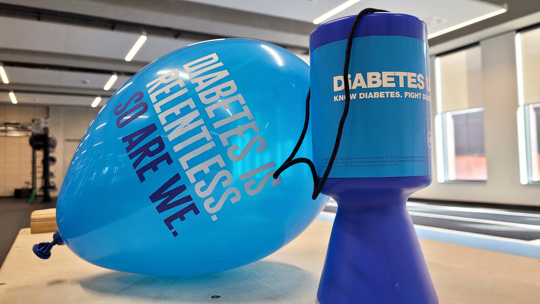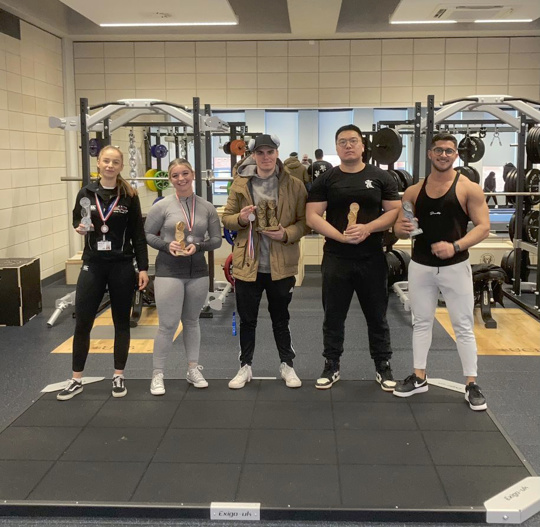 Powerlifting competition gives students' confidence a lift
The 24hr Endurance Challenge was not the only event taking place within University College Birmingham's Human Performance Centre last week.
Equipped with eight lifting platforms, the modern facility also hosted this year's annual UCB Powerlifting Competition, making its return after a two-year break due to the disruption of the Covid-19 pandemic.
Now in its third year, the competition was open to both staff and students from all undergraduate and postgraduate courses across the University, with everyone welcome regardless of build or experience of weightlifting and competing.
Supported by officials from local gym partner MSC Performance, this year's event welcomed 19 competitors completing a range of different lifts, with scores calculated using the Wilks formula to determine their eventual ranking.
Separate prizes were given for male and female entrants, with Zhengyi Huo taking the men's gold after registering a 240kg squat, a 180kg bench press and a 270kg deadlift.
Idan Shamel and Ethan Miles took silver and bronze respectively, with Ethan also claiming the special 'best lift' award for his final deadlift.
Meanwhile in the women's rankings, Corine Willis won gold, with Kayleigh Jones taking the silver.
Watch: Men's gold winner Zhengyi Huo's final deadlift (270kg)
Overseeing the competition, sports lecturer Matt Holmes explained how the event served as a fun way for students across courses to get together, as well as providing experience of competitive weightlifting.
"We have a lot of courses that don't often overlap, so it's a good opportunity for our students to meet different people with similar interests, because they all enjoy exercise and lifting," he said.
"They get to learn about competition rules and settings, they gain the experience of competing and get a confidence boost as well. You notice how much encouragement they give one another."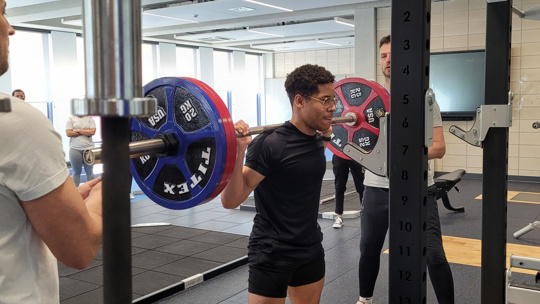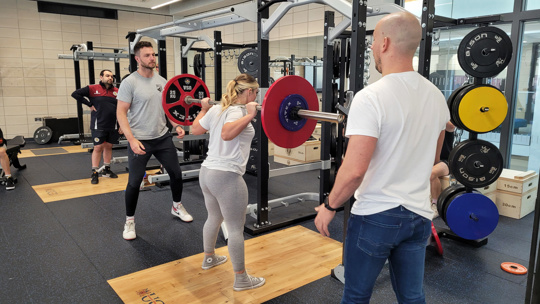 About our Human Performance Centre
Based at our £44m Moss House campus, University College Birmingham's Human Performance Centre is a state-of-the-art facility offering a wide range of equipment for students on our sports degree courses.
Opened in 2020, the centre features a 35m indoor running track with force plate, lifting platforms, rowing machines and 84-inch screens for teaching.
The centre is also the home of our dedicated Human Performance Laboratory, boasting specialist industry equipment including an AlterG anti-gravity treadmill, isokinetic dynamometer, Monark LC7 cycle ergometer and SECA body composition analyser.
In addition to supporting our students with their practical learning, the centre is also used by professional athletes and sports teams for training purposes.
Want to know more? Explore University College Birmingham's cutting-edge sports facilities in depth here.
Are you interested in a career in sport? Discover our wide range of undergraduate, postgraduate and college courses within our Department of Sport and Nutrition.
Check out our latest news stories