June 2021
Simpsons master Luke Tipping shares expertise with student chefs on running Michelin-starred restaurant 
By Darren Campbell
Share post:
Food students at University College Birmingham have had the chance to gain expert insight from a top chef at one of the city's most prestigious restaurants. 
Trainees on the University's Professional Chef foundation degree were paid a visit earlier this week by Luke Tipping, chef director at the Michelin-starred Simpsons Restaurant in Edgbaston. 
Luke – who received a Professorship of Culinary Arts from University College Birmingham in 2010 in recognition of his efforts to promote the next generation of kitchen stars – met with students at McIntyre House on Thursday to discuss his culinary journey, his influences and passion for running a local Michelin-starred establishment.
"Luke is a truly amazing Birmingham chef who inspires young talent"
The former Midlands Chef of the Year also answered questions from the group and inspired them to follow in his footsteps with the secret of his success: "Push to be the best". 
Mat Shropshall, chef lecturer at University College Birmingham, said: "It's been a real honour to welcome Chef Tipping to the University to give an inspiring talk on working within a Michelin-starred restaurant and his journey to date.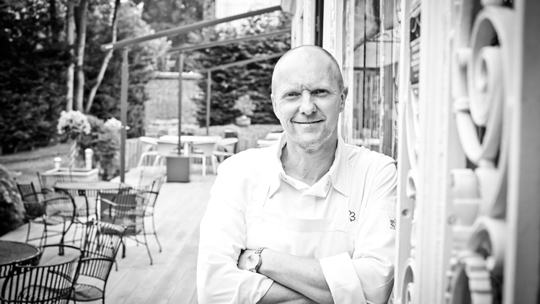 "Our FdA group rep Thomas asked some fantastic questions on behalf of the chefs, from 'What do you look for in a CV' to 'What advice would you give to aspiring chefs'. 
"Luke is a truly amazing Birmingham chef who inspires young talent."
Chef lecturer Richard Taylor added: "This was a fabulous opportunity for the FdA Professional Chef students to hear Luke's interesting journey to date – a very informative and inspiring talk for all who attended."
Long established as one of the world's leading providers of specialist culinary arts training, University College Birmingham has an extensive network of industry contacts offering outstanding learning and work opportunities for students within our celebrated Birmingham College of Food. 
The University regularly welcomes top chefs and restaurateurs to meet and talk with students. Recent guests include BBC MasterChef: The Professionals champion Stuart Deeley as well as renowned chef Marco Pierre White. 
Find out more about the full range of courses within our Birmingham College of Food. 
Check out our latest news stories