December 2020
MasterChef champion and entrepreneurial ex-student share stories with Professional Chef trainees
By Darren Campbell
Share post:
A former MasterChef champion and an entrepreneurial College of Food alumna came onto campus to share their experiences with future chefs studying at University College Birmingham.
Birmingham chef Stuart Deeley, winner of the 2019 series of BBC One's MasterChef: The Professionals, met with students on the University's FdA Professional Chef course at McIntyre House earlier this term.
The former head chef at The Wilderness, located in the city's Jewellery Quarter, gave a talk and presentation for the students discussing his career in food and hospitality as well as the challenges facing the industry.
He was joined by Angelina Adamo, a former Level 3 Professional Cookery student, who shared her story about working for Birmingham's Michelin-starred Simpsons Restaurant before writing her own blog on food and wine and starting her own catering business.
"Nothing is just going to come and hit you in the face – you've got to go and get it, if it's what you want"
Launched earlier this year, Tutto Apposto provides private catering for events along with bespoke cake selections and afternoon teas around the Midlands and beyond.
"It was so lovely coming back to my old stomping ground to tell University College Birmingham students what I would have liked to hear at that stage of my career," said Angelina.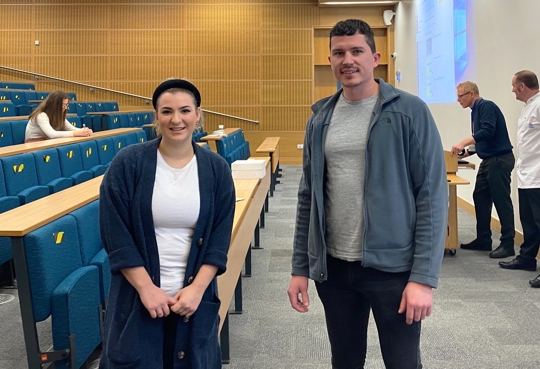 "Let all the bad and all the good happen to you. Nothing is final, nothing is set in stone. Nothing is just going to come and hit you in the face – you've got to go and get it, if it's what you want.
"Creating Tutto Apposto wasn't my original plan, but it happened and I'm making the most out of being my own boss."
University College Birmingham chef lecturer Mat Shropshall said: "It's a real pleasure to have industry chefs talk with our students during these difficult times.
"Both Chef Deeley and Chef Adamo gave inspiring talks about the positive future and industry opportunities. They are two great chefs and it was a great day for our students at University College Birmingham."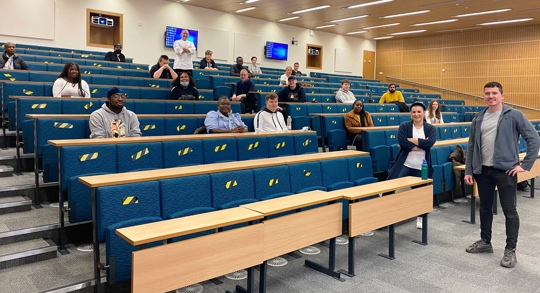 The duo are lined up to return to the University for another day of talks with the foundation degree students in the new year.
University College Birmingham's acclaimed College of Food has long-established links in the food and hospitality industry, with students on our courses benefiting from insight and expertise from a wide range of leading professionals.
Last December saw renowned chef and restaurateur Marco Pierre White meet with students on the University's BA (Hons) Culinary Arts Management degree and hospitality courses, while the likes of Birmingham chef Glynn Purnell and former student Rosie Ginday MBE have also delivered talks on campus in recent years.
Find out more about our range of courses at the College of Food here.
Check out our latest news stories