December 2019
Star chef Marco Pierre White shares wealth of experience with students on special UCB visit
University College Birmingham students had the chance to gain unique insight into the world of food and hospitality during a special visit from one of the UK's most celebrated chefs.
Renowned chef and restaurateur Marco Pierre White addressed an audience of more than 200 students on UCB's Culinary Arts Management and hospitality courses as part of a talk and Q&A session at McIntyre House.
Students had the opportunity to pose questions to Marco and hear first-hand about his culinary journey – including how he attained three Michelin stars by the age of just 33 – while he also offered his top tips for pursuing a career in the industry.
"I'm asked many times what advice I would give a young chef, and what I always say is the same," he said. "Be punctual, stay focused and disciplined, and think about the job in hand.
"Reading books is also really important. But the most important thing is to stay focused."
In addition to the event at McIntyre House, Marco also met with student chefs and staff in the Brasserie kitchens as part of a tour of UCB's Summer Row, where he visited the University's training facilities.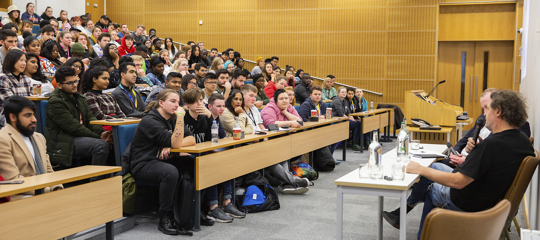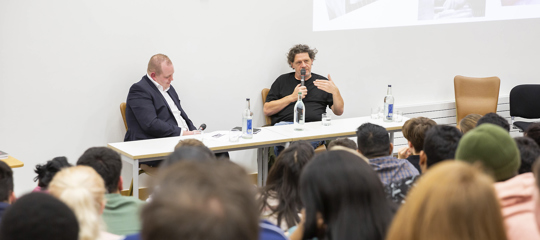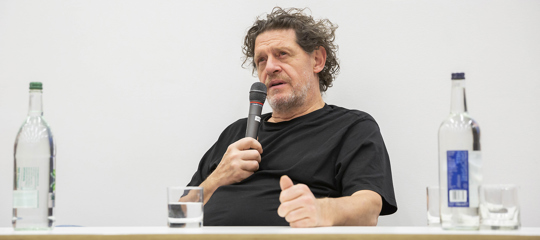 Later in the evening, a number of students also had the opportunity to work at a special dinner event featuring Marco at Canalside At The Cube, where they served in the kitchens and front of house.
Black and White Hospitality CEO Nick Taplin, who joined Marco at the Q&A session at UCB, commended the University's facilities and emphasised the importance of gaining real practical experience, with several previous students having undertaken placements at The Cube.
"The facilities here are outstanding," he said. "It's great to give the students the opportunity to practise service before they go out into a real-life environment.
"It's always great to work with UCB, and the students we've had at The Cube have been fantastic."
UCB offers a range of highly respected courses for those wishing to pursue a career in the food and hospitality industries, with two award-winning training restaurants on campus, industry standard kitchens and other specialist facilities as well as tuition from expert chef lecturers.
Find out more about the range of courses and placements provided through our College of Food and Hospitality Management here. You can also follow the latest updates from the school on Twitter @ucbfoodcourses.