March 2021
Rising to the Covid challenge: Food and hospitality students share success stories of learning in lockdown
By Darren Campbell
Share post:
It's been a year of unique challenges, but that hasn't stopped dedicated students at University College Birmingham forging their way towards exciting futures in the food and hospitality industry.
With the coronavirus pandemic sparking huge changes in the way students learn, the University has worked hard to adapt the delivery of its vocational degrees in order to ensure learners continue gaining the essential skills and knowledge to provide a welcome boost to sectors hit hard by the effects of Covid-19.
Here we take a look at two current food and hospitality students who have shared their experiences of learning in lockdown: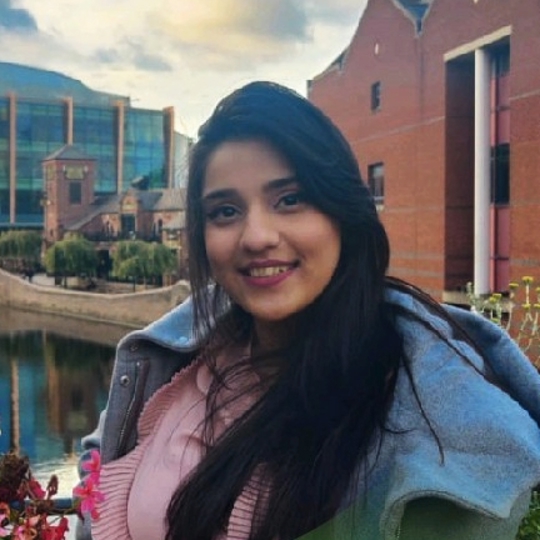 Vaishnavi Vora
Bakery student and Dawn Foods ambassador
Alongside studying for her BSc (Hons) Bakery and Patisserie Technology degree at University College Birmingham, Vaishnavi Vora has already been making an impact in the industry.
Although the restrictions imposed by the pandemic prevented her pursuing a planned internship with a bakery manufacturing company last summer, she found an alternative way to gain valuable industry experience thanks to the University's partnership with bakery products supplier Dawn Foods UK.
Shortly after the first UK lockdown began in the spring of 2020, Vaishnavi was appointed a student ambassador by the Evesham-based firm, supporting them in developing new ideas around seasonality trends with a focus on bakery application for vegan and gluten-free diets.
Now approaching the end of her degree, Vaishnavi explained how University College Birmingham had provided alternative learning opportunities to help overcome the restrictions on practical training.
Speaking to British Baker in February, she said: "All our modules have been modified to be taught online and most practical assignments were converted to theory assignments.
"For example, the Contemporary Patisserie module required us to develop a complex dessert in the bakery suite, but we ended up making a blueprint of the dessert.
"University College Birmingham has supported us in navigating our way through this new way of learning as much as possible," she added.

"Our modules were planned in a way where we finish off the theory in the first semester and hope that we get back on campus for the classes that require practical things in the next semester."
She also explained how her fellow students had been able to continue learning together and supporting one another in spite of limits on face-to-face contact.
"My classmates have a WhatsApp group where everyone discusses any issues they may be having with assignments and deadlines," she said.
"It is wonderful to see everyone helping each other and encouraging when someone is feeling lost during these difficult times."

Jake Armston
Hospitality student and Institute of Hospitality associate member
While Vaishnavi approaches the end of her studies during the lockdown, Jake Armston's learning journey only began after the pandemic had already taken hold.
Starting at University College Birmingham last summer, Jake is currently a first year student on the FdA Hospitality with Events Management foundation degree, which is accredited by the Institute of Hospitality.
And he has now become an associate member of the Institute, supporting his learning with mentoring and networking opportunities as well as access to additional learning resources.
In an interview for the Institute of Hospitality's website last month, Jake said: "During the pandemic, I decided to leave my bar manager job and start university. I wanted to progress my theoretical hospitality knowledge while the industry, in many cases, is relatively stagnant at present.
"Through the first lockdown I was still at work one or two days a week, but since being at university I have joined the Institute of Hospitality mentoring scheme as well as taking part in its webinars and weekly coffee and conversation with the aim of networking more within the industry.
"The connections I have built up in the last year have helped me significantly."
Jake also said the University had helped him to cope with the fluctuating impact of lockdown restrictions upon his studies.
"Not being able to do most of the practical tasks, have trips out and all the lectures being online has certainly been a massive adjustment for me," he said.
"Combine this with the ever-changing situation with tiers and lockdown makes it unstable and ultimately difficult. The University have provided great support though which has really helped."
"It's been tough, but they have learned a huge number of really useful skills, particularly digital skills, which is going to be really helpful for their future"
University College Birmingham is committed to providing the best possible learning experiences for all our students in the face of the unique challenges presented by Covid-19, with blended course delivery and a wealth of remote support services.
Alice Wilby, Pro Vice-Chancellor for Access, Participation and Student Experience, told BBC Radio WM last week about how the University is supporting food and hospitality students looking to break into the industry as it strives to bounce back from the pandemic.
"It's been a challenge for all of us, and certainly our students," said Alice. "But we are doing a lot of work to make sure they have got the skills they need to graduate into what's going to be a very different industry for the first couple of months – possibly longer term – making sure they get to experience a real service in a restaurant with paying customers and real industry placements.
"It's been tough, but they have learned a huge number of really useful skills, particularly digital skills, which is going to be really helpful for their future.
"I'm optimistic for them and it will be great to get them back on campus."
Find out more about our response to the pandemic and the latest advice for students here.
Are you interested in working in the food and hospitality industries? Discover our full range of courses within our Department of Hospitality and Tourism and the Birmingham College of Food.
Check out our latest news stories