June 2022
Louis lifts the title at inaugural Student Chef of the Year contest
By Darren Campbell
Share post:
A brand new competition featuring some of the brightest young chefs in the country has been won by a talented student from University College Birmingham.
Professional Chef FdA student Louis Richards scooped the inaugural title of British Culinary Federation (BCF) Student Chef of the Year after a cook-off at Loughborough College last month.
One of eight finalists challenged to produce a three-course menu in two hours, Louis also carried off the Best Starter award for his opening dish of confit salmon, peas and broad beans, English asparagus and pickled shallot.
Devising his menu with support from chef lecturer and competition mentor Martin Hodgetts, he also had to produce his own take on the classic duck a l'orange – Loomswood duck with chicory, fennel, orange and lavender – as well as creating a dessert of his choice, a baked lemon tartlet with crème fraîche sorbet.
"The plating style that we do in lessons definitely helped me in the competition because I felt more confident putting everything together"
And Louis expressed his delight after finding out he had won the contest – his first-ever appearance in a culinary competition.
"I was loving it!" he said. "I was happy to have taken part in it, then after the result, I thought 'I'll take that!'
"I'm quite used to service because of working, but this felt really different being in a competition format. You're not just cooking for customers, you're cooking against everyone around you, so it felt a bit more pressured."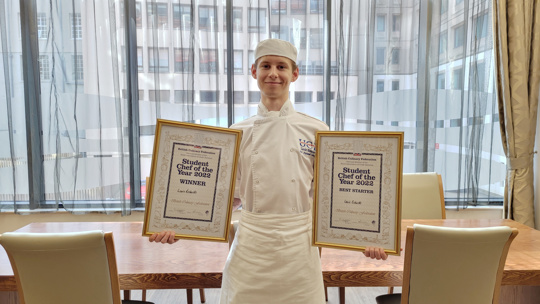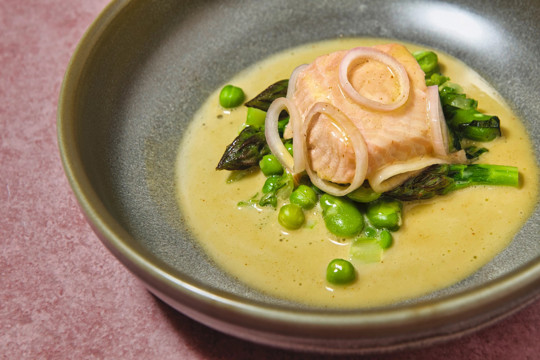 Louis also won the Best Starter award for his confit salmon dish
As well as taking home the John Peart Memorial Trophy for his achievement, Louis also won a gold medal, framed certificates, a dispenser and set of chef knives, a cookery book by Birmingham chef Glynn Purnell and a stage at a Michelin-starred restaurant – as well as seeded entry into the BCF's Young Chef of the Year competition later this year.
Louis revealed how his course at University College Birmingham had helped him prepare for the contest, along with support from mentor Martin.
"The plating style that we do in lessons definitely helped me in the competition because I felt more confident putting everything together," said Louis.
"I wouldn't have got it done without Chef Hodgetts. When I was practising, at first I forgot components or my order would be wrong, so he would ask if I'd remembered something and it would start sticking in my head.
"When I wrote my time plan ready for the competition, I'd remember what Chef had been saying and put things in the correct order. It definitely helped when I was in practice and then the actual competition."
In pictures: Student Chef of the Year Louis Richards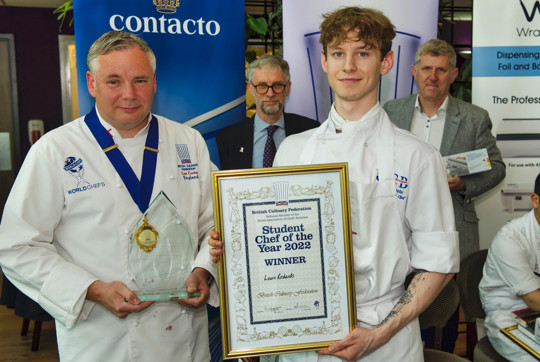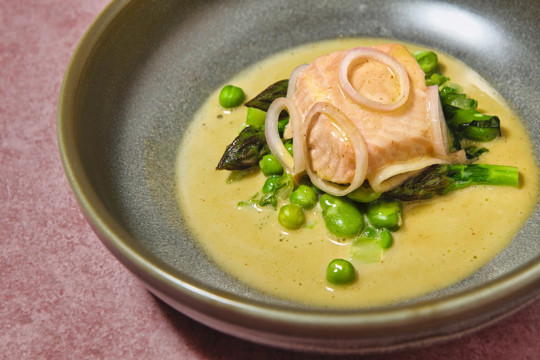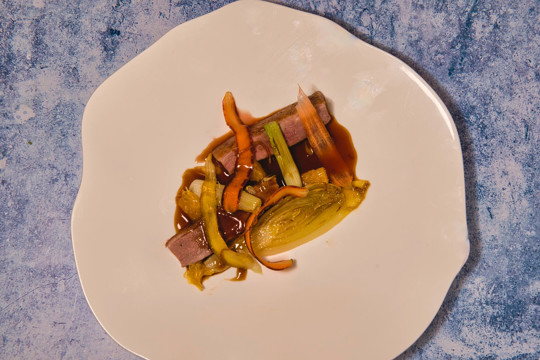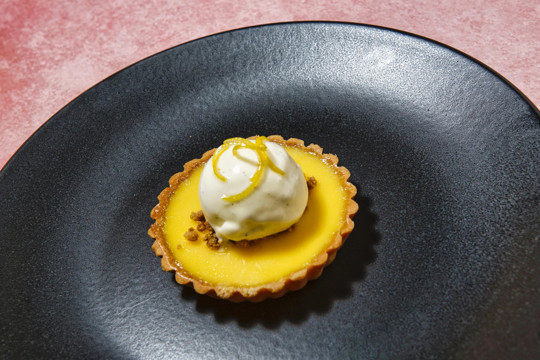 Chef lecturer Martin Hodgetts said: "I am very proud of Louis for taking part and winning this competition – it is a real achievement and something that he should be extremely proud of.
"He demonstrated drive and determination and really tried his best when practising and developing the dishes. He was a real pleasure to work with and mentor.
"Louis' first and second year of study was impacted by Covid and the lockdowns, but he hasn't let that stop him at all and he continues to push himself here at University College Birmingham."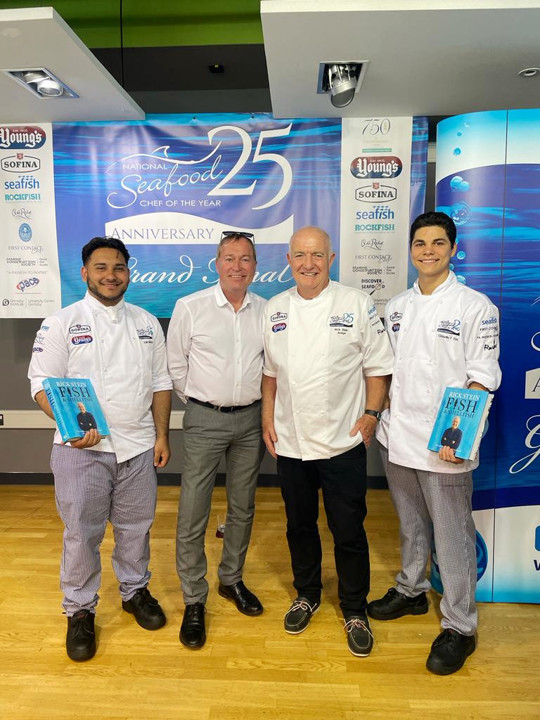 Duo scoop placement prize at seafood chefs final
The BCF competition was not the only culinary contest involving our Professional Chef foundation degree students in recent weeks.
Two second year students, Claudiu Zlate and Zain Tahir, represented University College Birmingham in the grand final of the National Seafood Chef of the Year competition last Friday.
Having impressed in their heat held in Wales last month, the duo went head-to-head with young chefs from eight other institutions at the final in Grimsby.
The contestants had to produce a three-course menu using specially selected seafood species, hoping to impress a judging panel of celebrated chefs including Rick Stein, Nathan Outlaw, Mitch Tonks and Mark Hix.
Claudiu and Zain served up a starter of 'Alfred Enderby style' smoked haddock with mustard cheese sauce and leek and spinach straws, before preparing a 'Dish of the Day' intermediate course of turbot ragout with asparagus, peas and courgette in a chicken broth and white miso.
This was followed by the main course of monkfish 'saltimbocca' with tomato, fennel, puy lentils and sweet potato.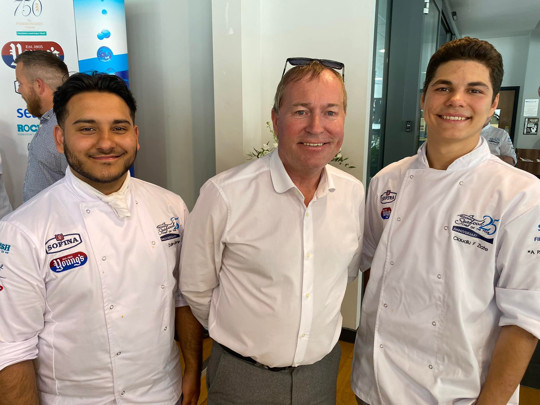 Finishing in fourth place overall, the pair received the special Best Main Course prize for their monkfish dish, earning them a two-week placement at Rick Stein's famous Seafood Restaurant in Padstow.
Chef lecturer John Penn, who supported the team through the competition, said: "I am extremely proud of Zain and Claudiu's result.
"From day one on practice to heats to the final, they have remained totally professional and focused. They are a credit to the school."
This year's National Seafood Chef of the Year competition was the first for three years after the disruption of the Covid pandemic, with University College Birmingham having won the contest six times in its 25-year history, most recently in 2015.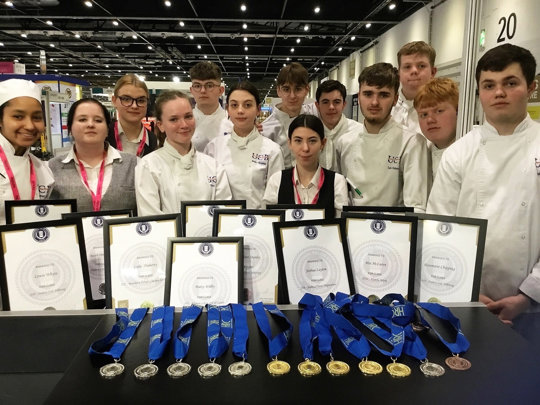 In it to win it: Competition opportunities for culinary students
Students at our Birmingham College of Food have a wide array of opportunities to take part in industry competitions, with many having enjoyed prestigious successes in recent times.
April saw 13 students on our food and hospitality college courses and apprenticeships win medals at the International Salon Culinaire Skills Theatre, with a further prize for one of their lecturers.
Teams from the University have enjoyed regular success at the Nestlé Professional Toque d'Or competition, winning the title five times since 2010, while many of our students have won medals with the National England Junior Team at the Culinary Olympics.
Current and former students have also featured in top TV competitions, including ex-Professional Cookery Level 2 student and reigning MasterChef: The Professionals champion Dan Lee, as well as ex-students Liam Dillon and Harvey Perttola appearing in the latest series of the BBC's Great British Menu.
University College Birmingham is renowned for providing specialist vocational training for students looking to enter the culinary industry, with world-class facilities and expert tuition provided on a range of college, undergraduate and postgraduate courses as well as apprenticeships.
Discover our full range of courses within our Birmingham College of Food.
Check out our latest news stories