April 2022
Awards for all  - Students and lecturer scoop honours at Salon Culinaire
By Darren Campbell
Share post:
Everyone was a winner as 13 food and hospitality stars from University College Birmingham each bagged an award at a top industry competition – and so did one of their lecturers.
Students and apprentices studying at our Birmingham College of Food entered this year's International Salon Culinaire Skills Theatre, held in London over three days in March.
The group competed against other students from around the country across a variety of disciplines testing their kitchen and front-of-house skills, with gold, silver and bronze medals up for grabs.
"It is reassuring to know that the future of the industry is in safe hands"
Ten apprentices on the College's Royal Academy of Culinary Arts (RACA) Apprenticeship competed in a variety of butchery and fishmongery categories, winning four golds, four silvers and two bronzes in total.
There was similar success for three food and beverage service students competing in a range of front-of-house categories, scooping one gold medal and two silver medals between them.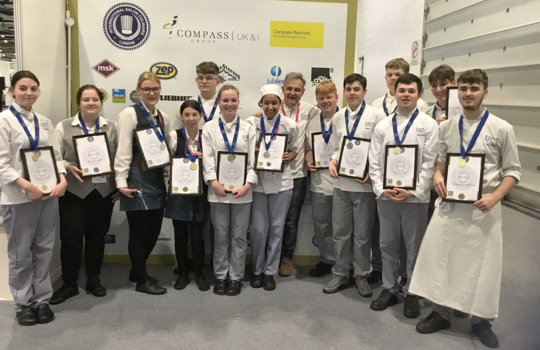 Held annually as part of the Hotel, Restaurant and Catering (HRC) Show, the International Salon Culinaire made its return to ExCeL London this year after last year's competition was disrupted by the Covid-19 pandemic.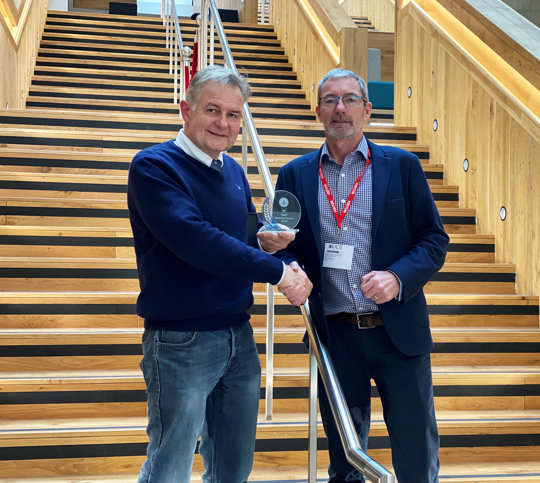 Supporting the students and apprentices throughout the competition were lecturers Tony Wright and Christine Alberto, who commended the group on their achievements.
Chef lecturer Tony said: "I am blown away by the outstanding performance of our students.
"They are a credit to University College Birmingham and their employers, and it is reassuring to know that the future of the industry is in safe hands."
Tony, who holds the prestigious title of Master of Culinary Arts (MCA), also received an accolade of his own after being given the HRC Outstanding Support Award for his efforts supporting the University College Birmingham team in the competition.
"It came as a complete surprise," he said. "I didn't know anything about this award. However, it is wonderful to be recognised in this way and I am very grateful to receive the award on behalf of University College Birmingham."
Supporting the front-of-house students, Christine said: "I am so proud of my students achieving such high accolades after the past two years of Covid disruption. It shows the young generation has not lost their work ethic and enthusiasm.
"They all worked hard during my training, attending all classes and using their initiative. During the mentoring sessions, they developed their passion and innovation, pushing themselves to do the best they could achieve. The result has shown and I am confident they will do well in their future careers."
In pictures: Salon Culinaire 2022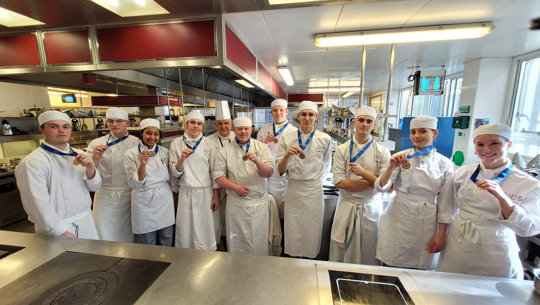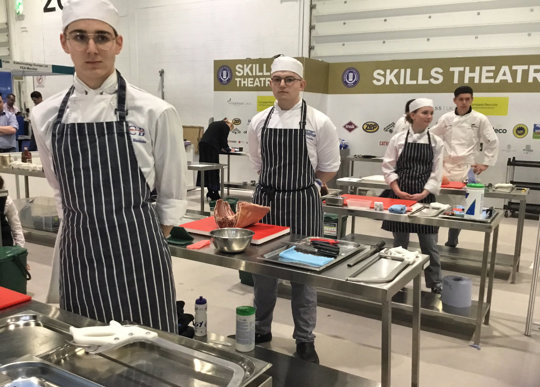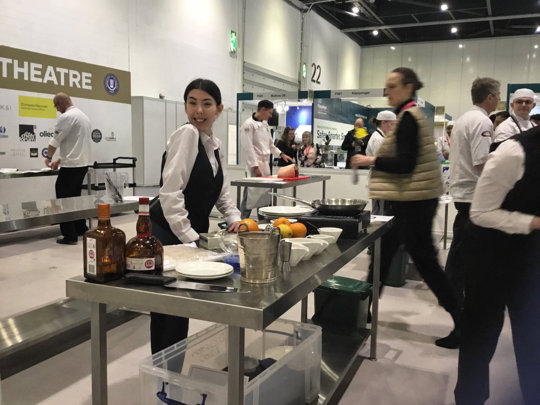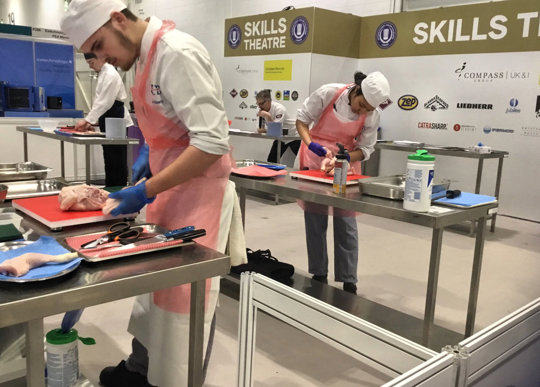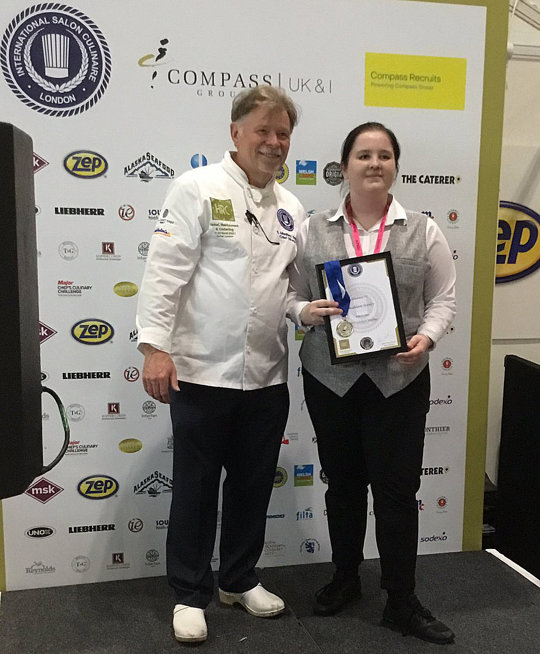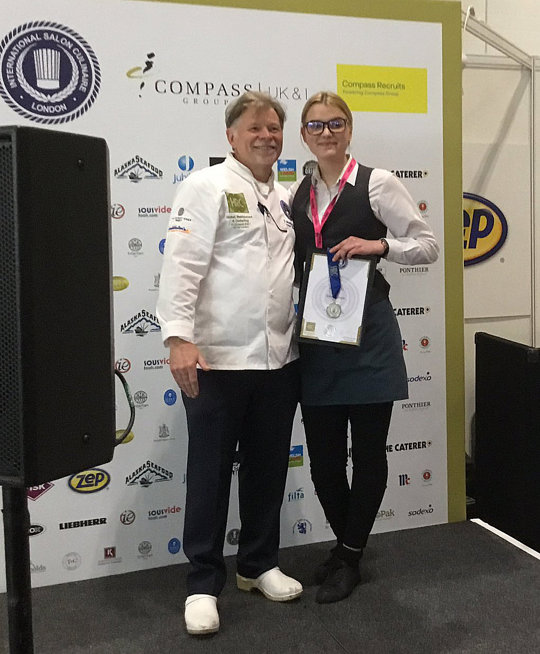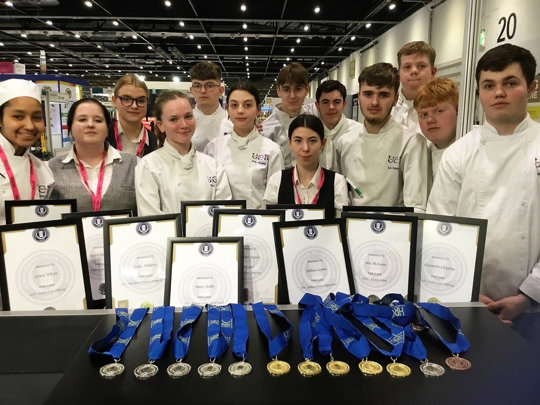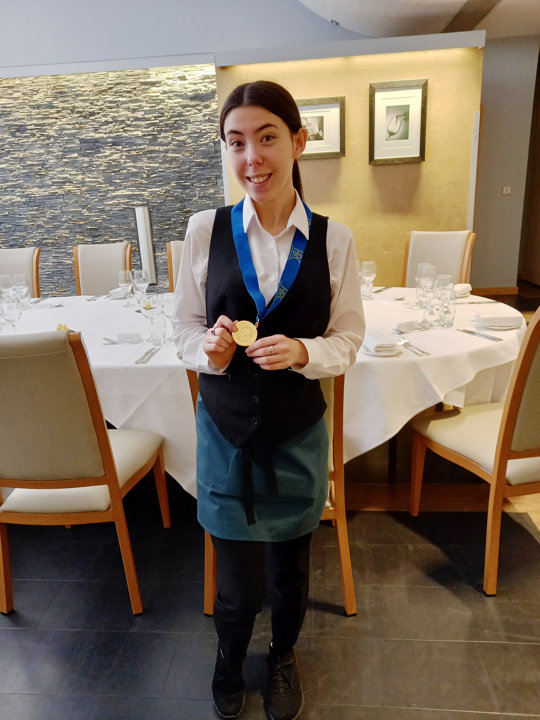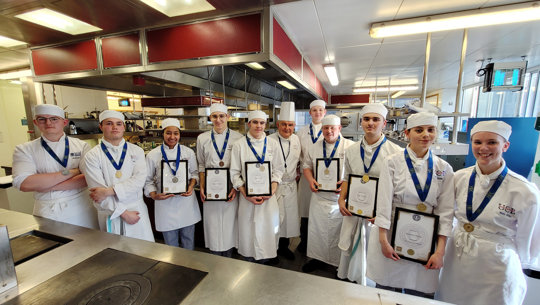 University College Birmingham has long enjoyed success at the annual Salon Culinaire, with a huge honour roll of medallists and award winners at the competition down the years.
Last year's contest – held at a variety of establishments across the country amid the pandemic – saw seven of our students win a total of 13 medals, including seven golds, while nine students took 11 medals at the competition in 2020.
University College Birmingham is renowned for providing specialist vocational training for students looking to enter the culinary industry, with world-class facilities and expert tuition provided on a range of college, undergraduate and postgraduate courses as well as apprenticeships. 
Discover our full range of courses within our Birmingham College of Food. 
International Salon Culinaire Skills Theatre 2022: Our winners
Gold medals
Rosie Chipping (RACA Apprenticeship) – Complex Fishmongery Skills (Lemon Sole)
Luke Flaherty (RACA Apprenticeship) – Complex Butchery Skills (Poultry)
Luke Goddin (RACA Apprenticeship) – Complex Fishmongery Skills (Lemon Sole)
Mia McLaren (Mixology, Advanced Wine, Supervision and Events Level 3) – Table theatre, pancakes
Maisy Wilby (RACA Apprenticeship) – Complex Butchery Skills (Lamb)
Silver medals
Bronze medals
Joshua Beresford (RACA Apprenticeship) – Complex Fishmongery Skills (Seabass and Trout)
Aleksander Maslanka (RACA Apprenticeship) – Complex Butchery Skills (Lamb)
Check out our latest news stories