July 2022
From food to face painting: Summer programme offers support to local community
By Darren Campbell
Share post:
Students and staff from University College Birmingham have been using their skills to support the local community as part of a special summer programme of events. 
Representatives from the University's Department of Creative Services and Birmingham College of Food have been taking part in a range of community engagement activities – from cooking to nail care and face painting – with more being planned across other departments throughout the summer break. 
The first event saw students on our Beauty Therapy Level 2 course pay a visit to Birmingham Children's Hospital last month, where they provided staff members from the hospital's oncology wards with a range of treatments, including hand massages, nail tidy and nourishing nail treatments. 
"The team did something truly wonderful for people who don't often get the chance for downtime and care for themselves"
Sinead McAndrew, Palliative Care and Bereavement Family Liaison Coordinator at the hospital, said: "I cannot thank the team enough for their time. 
"All of the staff absolutely loved it and were so grateful for their help. Our staff felt so cared for and I've had so much positive feedback from our ward managers. 
"Thank you so much from the bottom of my heart. The team did something truly wonderful for people who don't often get the chance for downtime and care for themselves." 
This was followed by two days at Queen Alexandra College (QAC), a specialist college in Harborne for people with disabilities, where the team attended a Jubilee celebration day and a summer fun day.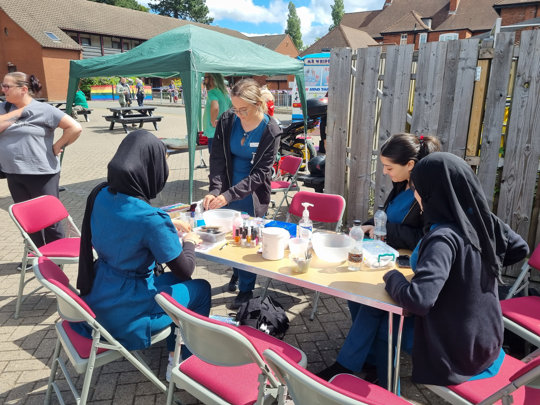 Students provided a range of services at Queen Alexandra College's summer fun day
Supervised by final year Specialist Hair and Media Make-up BA (Hons) student Caprice Whitehead, the team provided face painting and nail art at the Jubilee event, working with QAC students with various support requirements. 
"The organisers were happy with how the event went," said Caprice. "They spoke highly of our students throughout the day." 
They also provided nail treatments, make-up and face-painting for students, families and the general public at the summer fun day, helping to raise funds for QAC in the process. 
Sarah Caldwell, Fundraising and Grants Manager at QAC, said: "The team have been really great – they are stars! 
"I observed them with our QAC students, chatting with them and taking their time to make our students feel comfortable and engaged. 
"It was evident from talking to the University College Birmingham team that they had also gained a lot from the experience and had enjoyed being part of the events." 
The Creative Services students taking part in the summer programme were interviewed for their paid roles, secured through links between the organisations involved and Hired, University College Birmingham's careers, employability and placements team.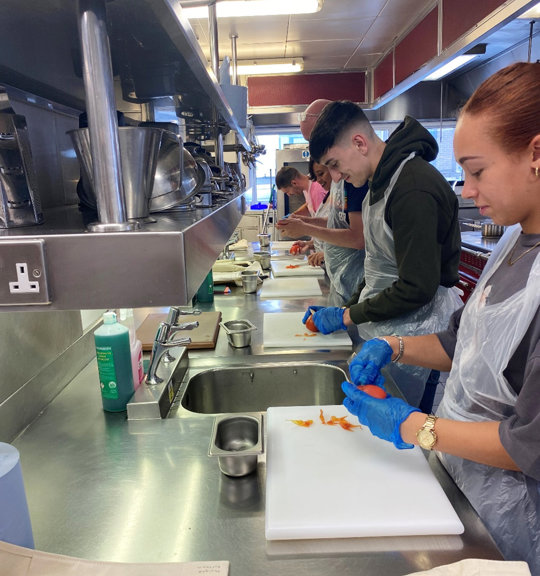 Saturday kitchen at Summer Row
Meanwhile staff from the University's Birmingham College of Food held a cook and dine event on campus in support of local organisation Incredible Surplus, formerly the Real Junk Food Project Birmingham (TRJFP). 
The organisation, which takes surplus food and goods from establishments to supply to people in need within Birmingham, operates a sharehouse in Digbeth as well as distributing food bags to the local community. 
Volunteers from the organisation were welcomed to the University's Summer Row kitchens, where they spent a Saturday cooking and working with hospitality lecturer Nicky Leach and Kali Davidson, head of the Birmingham College of Food. 
Ann Gallagher, Co-director at Incredible Surplus, said: "A big thank you to Kali and Nicky who offered a Saturday to give our volunteers a great session, cooking and eating some fabulous food. 
"We look forward to taking some more volunteers for another session soon." 
In pictures: Incredible Surplus cook and dine event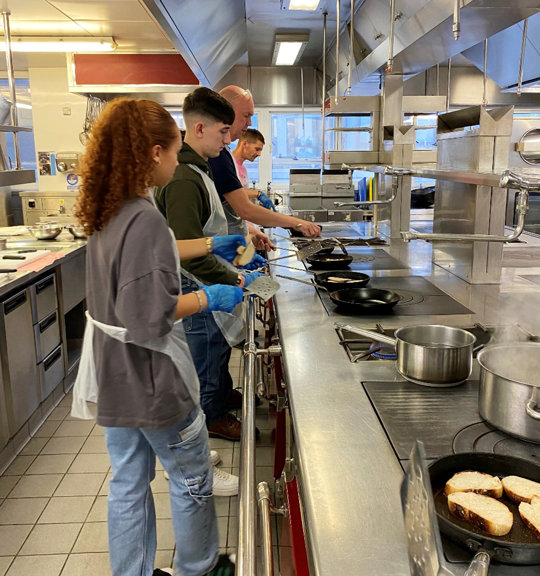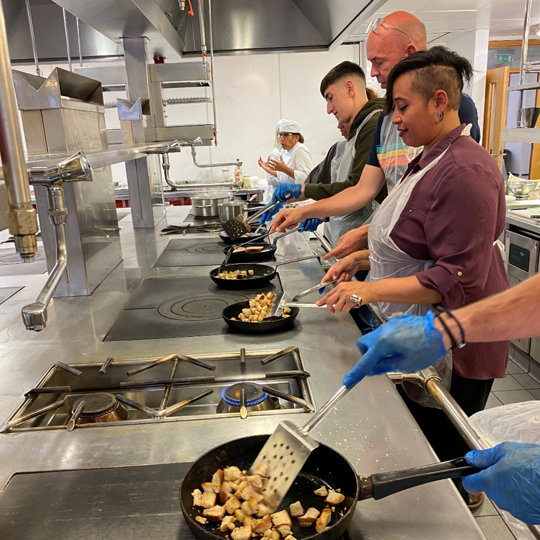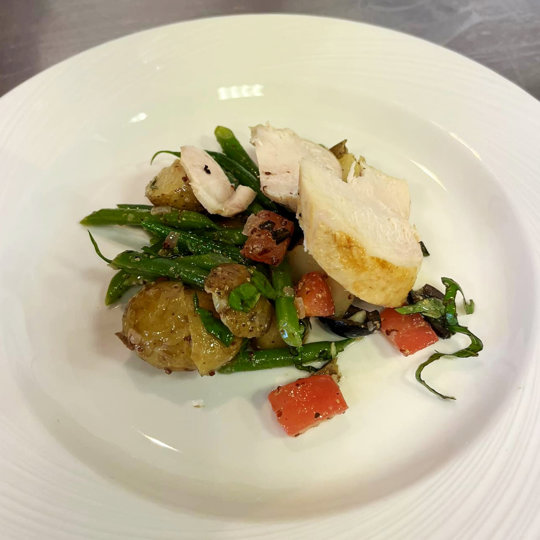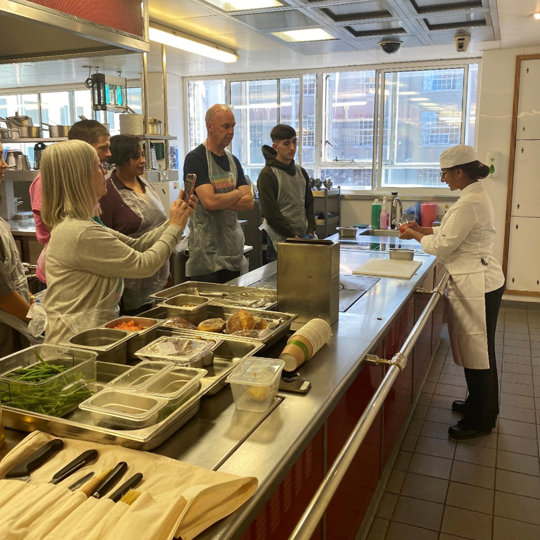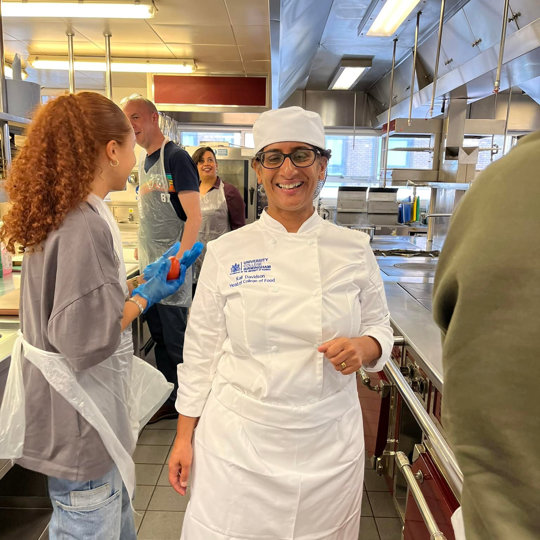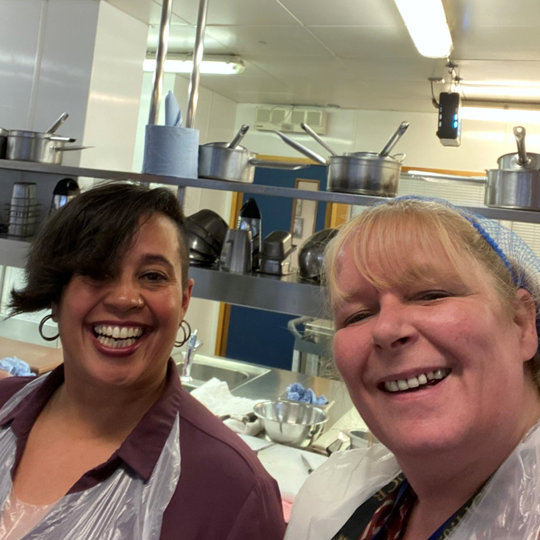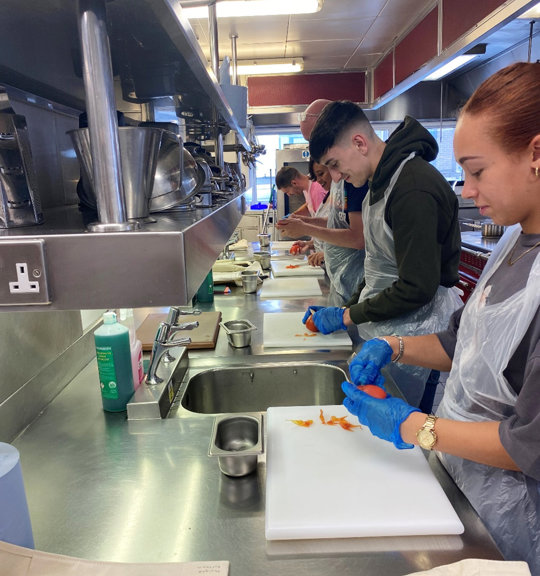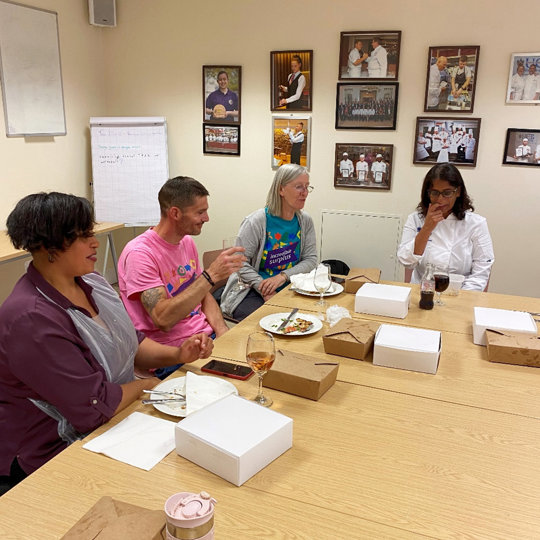 The University has supported Incredible Surplus and its predecessor TRJFP for many years, donating surplus food and drink items, excess fruit, vegetables and other raw ingredients to the organisation. 
Students have also previously undertaken placements at the organisation's community cafes, while co-director Ann has engaged with students on talks and research into community cafes. 
Further events and activities engaging with the local community are being organised by other departments across the University this summer, with programmes set to continue into the new academic year in September. 
Find out more about opportunities available for our students through Hired, our dedicated careers, employability and placements team. 
Check out our latest news stories