November 2022
College of Food assistant dean to cook up new adventures after being made Honorary Fellow
By Melanie Hall
Share post:
One of the biggest influences on the modern-day success of Birmingham College of Food at University College Birmingham has been made an Honorary Fellow of the University – and is now cooking up plans for new adventures. 
Former assistant dean John Penn has taught thousands of students their trade over the years, including the likes of award-winning Adam Pickett, Michael Edwards and MasterChef: The Professionals finalist Claire Hutchings.  
Recently hanging up his hat at the University after 30 years, John was granted the highest honour a university can bestow at this year's graduation ceremonies – complete with a big onstage Brummie good luck speech from acclaimed TV chef Glynn Purnell. 
"Students have a really great relationship with him and he is a real ambassador for the industry"
Glynn, owner of the Michelin-starred Purnell's in Birmingham, said: "I have known John for a very long time and students can talk to him person to person rather than as just a lecturer.  
"I was in New York and met two students who were taught and trained by John. One was working in a three Michelin Star restaurant, the other was about to open his own restaurant.  
"Students have a really great relationship with him and he is a real ambassador for the industry."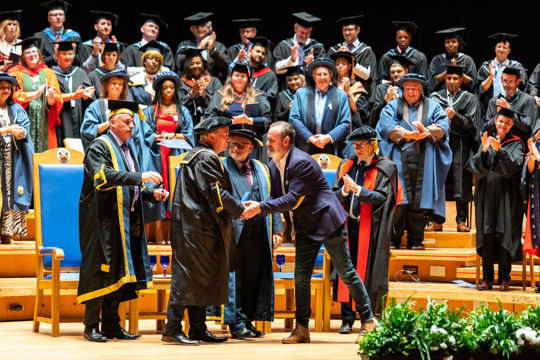 John Penn shakes hands with Glynn Purnell upon receiving his Honorary Fellowship
John started his career after catering college working at the prestigious Plough and Harrow Hotel in Edgbaston, which was the Egon Ronay Hotel of the Year in 1981 and counted many celebrities, politicians and personalities as guests at the time. He left after almost three years to be the first chef to move on to work with Michelin-starred Ian McAndrew as the chef de partie saucier garde manger at Eastwell Manor in Kent.
John returned to Edgbaston as sous chef at Sloans restaurant, which specialised in fish and shellfish, before venturing into his first teaching position for the Hotel and Catering Industry Training Board and Youth Training Scheme. A head chef role then called at the new Lombard Rooms restaurant in Birmingham.
Teaching beckoned again and after two years at Bournville College of Further Education, he joined our Birmingham College of Food, Tourism and Domestic Arts.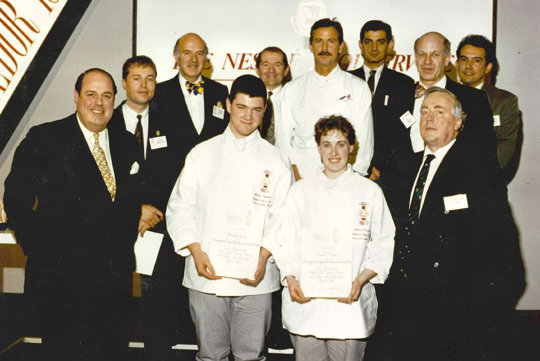 In 1996, John joined Bass Leisure retail as a trainer for specialist food offers within the pub and restaurant estate and then onto specialist training for retail within the sector. He re-joined the University in 2004 as food production co-ordinator and was recognised quickly within the department for having an excellent rapport with students and possessing outstanding industry knowledge.
Taking students on culinary tours all over the world, including three tours of Barbados and representing England in Chicago, he progressed swiftly to become assistant dean of the University's Birmingham College of Food, going on to become external relations lead at education and industry events nationwide.  
He led on organising and mentoring for competitions for students, staff and industry, including the prestigious Nestle Professional Toque d'Or – which John won for the University for the first time in 2010 – the Roux Scholarship, Ramsay Scholarship and annual Royal Academy of Culinary Arts competition.


John and the 2010 Toque d'Or winning team
Married to wife Elaine and with six granddaughters between them, John is a hardcore fan of West Bromwich Albion and proud of his Black Country roots, although he admits to being an adopted 'Brummie'.
He said: "I've always remained true to the University's motto, 'Service Before Self', and alumni and students past and present count for that.
"It's not all about Michelin Stars. I'm incredibly proud of whatever part of the industry they succeed in, from street food to new product development. To be presented with a fellowship is a great honour."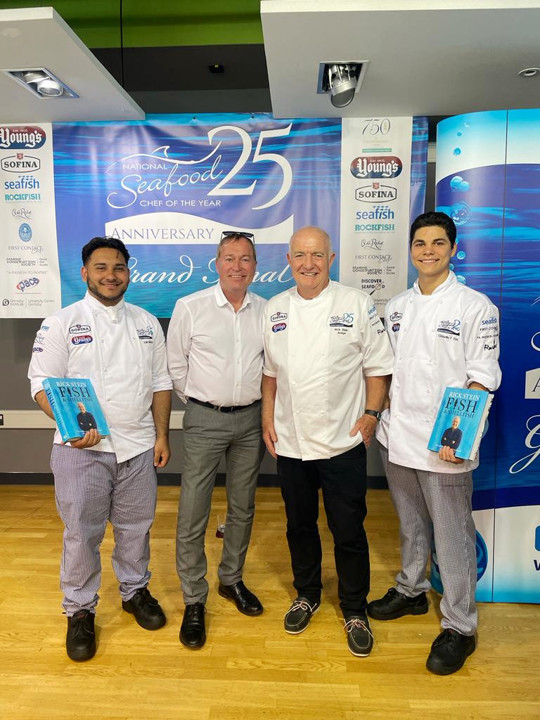 John, a specialist in seafood and larder work, is now off to explore new ventures, using his decades of experience in the food industry. 
"I'm looking at all sorts of different things, including street food," said John. "The food industry is my passion and I'm excited about what the future brings.
"Whatever that is, I will always be an ambassador of the College of Food and bringing students on to realise their potential."
The Honorary Fellowship, one of the highest honours a university can bestow, is reserved for those who have made an outstanding contribution to an institution – either as members of staff or close associates. 
John was presented with the honour at this year's university graduation ceremonies at the ICC Symphony Hall, Birmingham.  
Kali Davidson, Head of Birmingham College of Food, said: "John has been widely recognised as the ambassador of the University's food and hospitality offer and he has been such an inspiration to our students over the years. 
"We are very proud to have him as one of our Honorary Fellows, joining the likes of acclaimed chefs Brian Turner CBE and Glynn Purnell."
University College Birmingham is renowned as a leading provider of training for the culinary arts, delivered by expert chef lecturers and hosting world-class facilities including industry-standard kitchens and our award-winning training restaurant.
Find out more about our wide range of college, undergraduate and postgraduate courses here.
Check out our latest news stories