October 2017
UCB Chef Lecturer awarded Master of Culinary Arts
Anthony Wright, a senior Chef Lecturer at UCB's College of Food, was given the official title of Master of Culinary Arts (MCA) at a lavish gala presentation dinner at Claridge's Hotel last night.
He was one of just five in the UK to be awarded the title this year which also included graduate Adam Smith, a Culinary Arts Management alumnus who was just awarded a star for his work as Executive Chef at Coworth Park in Ascot. Celebrating its 30th year in 2017, the MCA award is widely recognised as being one of the highest accolades for chefs in the country, with Anthony and Adam were also joined in the final by chefs from two Michelin-starred restaurants and one of the nation's biggest food services. Described by MCA judge Brian Williams as "a turning point in the career of a chef," those who earn the title have it for life. It is a badge of honour intended to inspire the next generation of chefs to keep striving for the highest possible standards. 
The award's panel of judges featured some of the most esteemed figures in the industry, with executive chef at the Ritz John Williams MBE, and Jeff Galvin of Galvin restaurants among the star-studded panel. The gala presentation dinner was similarly illustrious, with none other than Michel Roux Snr making an appearance to hear the final winners.
After sailing through a gruelling penultimate round, Anthony stunned judges at the competition's final, held at UCB on 23 September, with two menus featuring partridge and Dover sole.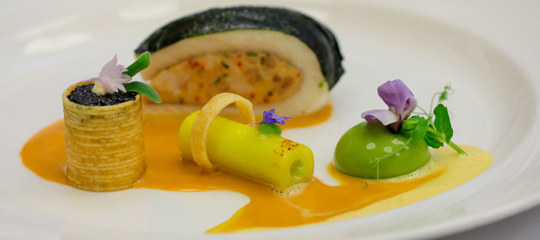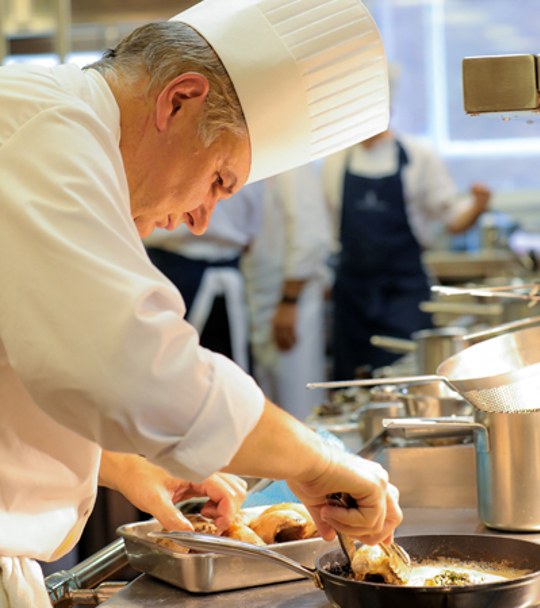 Catch of the day
Closely assisted by commis chef and current CAM-student Jack Gameson, the two menus that snagged Anthony the title are as follows:
Menu number one – this had to include not only at least one Dover sole, but also langoustines, mussels and razor clams accompanied by an 'appropriate' sauce:
Dover sole with Nori
Langoustine, salmon and shrimp farce
Sauce langoustine
Garnishes:
Tartare of razor clams and scallops with crispy potato, crème fraiche and caviar
Slow cooked saffron potato tube and mussel and leek cream
Pea sphere, pea shoots and bean blossom 
Menu number two:
Breast of partridge
Game pie with cep, ox tongue and pistachio
Sauce madeira 
Garnishes:
Slow cooked swede in carrot gel
Haggis from the House of Mac Sween
Fake truffle
Oak smoked potato and garlic puree
Glazed Williams pear and redcurrant