University College Birmingham is offering limited campus tours for prospective students who want to apply for 2021.
The campus tour will consist of a walking tour and will be undertaken by a Student Ambassador. Each tour will take approximately one hour and will include all facilities across our three sites – McIntyre House, Moss House and Summer Row.
Please note the tour will not include our halls of residence, and academic staff will not be available.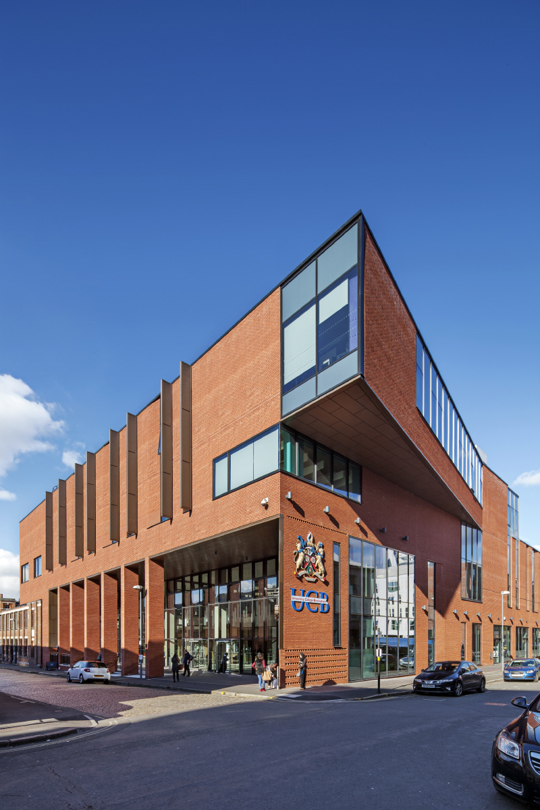 Upcoming tours
Unfortunately, our campus tours are currently suspended due to the current restrictions. We hope to be able to offer this opportunity again soon. In the meantime why not take a look at our virtual tours here.
Frequently asked questions
How long do tours last for?
Tours run for 1 hour and are undertaken by a student ambassador. Each tour will include all facilities across our three sites – McIntyre House, Moss House and Summer Row.
Can family come along too?
We know you'll be seeking the advice and guidance of your family when making your decision, but the safety of our community and visitors remains our number one priority. Therefore, our campus tours are currently limited to one prospective student per time slot, with a maximum of three guests per prospective student. All staff, students and visitors will be expected to wear a face covering while indoors on all University sites. Please follow our health and safety guidelines while on campus. 
Please note, your booking party must only contain those within your household/support bubble. If you are under 18, you will need to be accompanied by a parent/guardian.
We have designated parking available in the city centre at The Link building (Charlotte Street). Please use postcode B3 1JJ if using a sat nav. Please be aware that there are currently major roadworks being carried out in the area which may affect your journey.
Where is the nearest train station?
Birmingham Snow Hill and Birmingham New Street stations are a 10-minute walk from University College Birmingham. You can view a walking map here.
What if I am running late on the day?
Please call ahead on 0121 232 4300 to advise of any lateness as we have allocated a set tour, and this may result in your tour being cut short.
Will refreshments be provided?
Please be advised that no onsite catering facilities will be available on the day, but complimentary pre-packed 'grab bags' will be available (bottled water and biscuits).
Will I be able to see the accommodation?
Unfortunately, at present, we are unable to show you our accommodation. However, our accommodation team will be on hand to help answer any questions you may have. You can also explore our accommodation with our guided tour here.
Will I be able to speak with members of the teaching team?
Our campus tours only include a tour of our campus. If you would like to find out more about your course of interest, our student ambassadors and members of the marketing team will be happy to answer any questions you may have. You may also like to attend our next open day, where you can attend a course presentation and talks and drop-in sessions from other services within the University. To find out about our upcoming open days, click here.
Do you have support for visitors with a disability?
Yes. If you or any of your booking party have a disability, please let us know your requirements when you book by emailing marketing@ucb.ac.uk. For study-related support, please click here.
If you have any questions concerning the Campus Tours, please call 0121 232 4300 or email marketing@ucb.ac.uk. We look forward to welcoming you to University College Birmingham.