By James Whiting
Share post: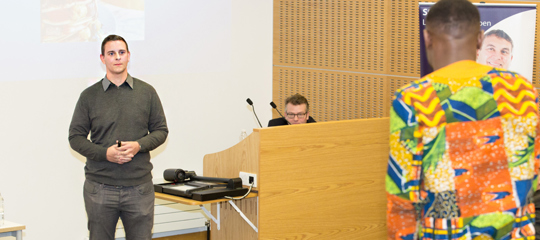 James Whiting
International Tourism Business Management BA (Hons)
Founder of The Skinny Food Company
Zero calorie sauces and syrups are a tempting diet option. But for James, they've also been the heart of a remarkable adventure in business.
James launched The Skinny Food Co in 2018 and in less than 18 months, over 1.5 million of his '#NotGuilty' sauces and syrups had been sold through the company's website and are now being sold in the likes of Holland & Barrett, SPAR and by Amazon.
Starting with a 1,000 sqft warehouse, the business, which now has hundreds of thousands of social media followers, was soon operating out of premises 10 times bigger, with ambitions to amass an eight-figure turnover in the third year.
It's an enterprising journey which all started at University College Birmingham. "I believe I learned many skills during my studies which shaped me to be the person I am now," he said.
"I had countless opportunities to enhance my employability, which I grabbed with both hands.
"The teaching was fantastic, and the courses were highly engaging and fun while developing my knowledge.
"After finishing my course, I started my own marketing company where I helped grow brands online. Now I am marketing my own company and seeing great results from it!"