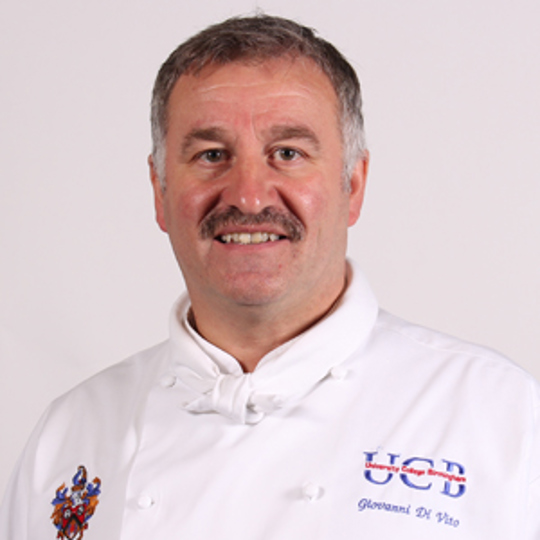 Giovanni's Profile
Academic qualifications
Cert ED, BA hons.
Professional recognition / membership
British Culinary Federation
A Classical trained Master Chef with over 30 years' experience in the hospitality industry, I spent my early days at the Savoy Hotel London with Maître Chef De Cuisine Silvino Trompetto and continued to develop my experience in France, Switzerland and Italy.
I have always been involved with competition work, both as competitor and mentor. I was successful in achieving 'Young Chef of Great Britain' (Chaine des Rotisseur), 'Midlands Chef of the Year' for three consecutive years and was a finalist in the National Chef of the Year 1991. I have been awarded numerous medals in Salons throughout the United Kingdom and Europe, during my career.
I have always been very keen to help others benefit from my wealth of knowledge and experience, I therefore joined the internationally renowned Birmingham College of Food (UCB) as a Chef Lecturer in 1995. Now known as University College Birmingham, I oversee the Universities fine dining restaurants, Innovative Teaching and Learning Enhancement and the practical Kitchen Larder Skills delivery where I ensure the development and progression of technical skills of all students in Catering and Hospitality within the College of Food. I have held the position of governor (academic staff representative), Senior Lecturer and Senior Curriculum Leader at the University for ten years. I am very keen to maintain the high level of technical expertise and skills of chefs currently in the industry and future cohorts. Last year I was honoured to be awarded the Louis Cipolla Award for Outstanding contribution to Education.
Since working within education, I have developed a number of educational learning apps, most notably – 'Classical Professional Cookery', Foundation, Intermediate and Advanced, which encapsulate basic culinary skills and techniques working through to advanced level, which have been very successful both within University College Birmingham and commercially.