June 2017
UCB Business School to drive strategy for £470 million engineering project
UCB's Business School is celebrating after being selected to strategically drive a global engineering group's £470million product innovation project.
A group of 18 postgraduates and undergraduates and three lecturers from UCB headed to Luton this week for the launch of Hayward Tyler's CRUSER® Project, a platform for the creation of new solutions for new markets from the energy engineering specialist.
As the first partnership between the two organisations, the project first came to the attention of the University following a guest lecture from Oliver Buhlinger, the firm's Group Technology Engineer, to MSc Enterprise Management students last October.
Impressed by the students' quality of engagement, Mr Buhlinger approached course manager Affi Agbodo for a potential collaboration and UCB was selected from a number of universities to lead and drive the multi-million project.
Dilshad Sheikh, Dean of UCB's Business School, said this was an enormous coup for the students.
"Hayward Tyler was extremely impressed with the calibre of students produced at UCB, emphasising their practicality and employability," said Dilshad, who is also chair of the Chartered Management Institute's West Midlands Board.
 "This collaboration between the two organisations is testament to UCB's aim of exposing our students to life changing experiences that enhance their learning and boost their employability and competitiveness in the local and international graduate markets.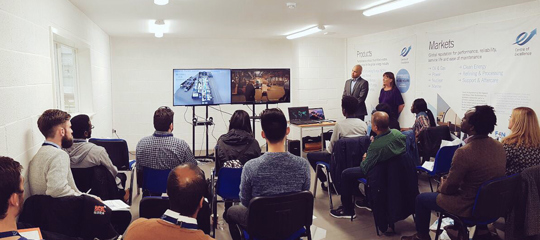 "To top it off, six students will be offered an internship with the group (three 12-month and three summer internships) with a potential for full-time employment on their graduation."
Established in 1815, Hayward Tyler is a specialist engineering group which designs, manufactures and services performance-critical electric motors and pumps for high pressure, high temperature applications in the harshest environments across the global energy industry.
UCB's Enterprise Management course is accredited by the University of Birmingham.
Find out more about UCB's Business School.