May 2021
Tourism students target plastic pollution for environmental leadership campaign 
By Darren Campbell
Share post:
Students from University College Birmingham have launched their own campaign to help combat plastic pollution as part of a national programme to produce the next generation of green leaders.
Third year International Tourism Business Management BA (Hons) students Jyoti Verma and Khushali Patel are part of a five-person team behind Swap Plastic, which aims to improve awareness of plastic usage and encourage swapping plastic items for environmentally friendly alternatives in a bid to reduce plastic waste.
The issue has made national headlines this week amid calls for the UK Government to ban the export of plastic waste and set new targets on plastic reduction – and Swap Plastic hopes to play its part in tackling the problem.
"We picked this topic because plastic is something we are very concerned about," said Jyoti. "We are all passionate and committed about it.
"We are not anti-plastic – it's about suggesting swaps people can do, especially single-use items that can be swapped easily to reduce plastic.
"Instead of having a pen that isn't recyclable, buy an eco-friendly pen. Or you can buy eco-friendly coffee cups. We're saying there are options available, even if they might be £1 more expensive."
The students created Swap Plastic as part of their participation in the Environmental Leadership Programme run by national youth leadership development organisation UpRising.
"We've built a strong connection virtually over the past few months and I'm excited to see where this campaign takes us in the near future"
Featuring a range of online workshops and sessions with guest speakers, the six-month part-time programme gives young people the opportunity to design and run an online environmental social action campaign, enhancing employability and developing valuable knowledge, skills and networks in the process.
The opportunity has been promoted by hired@UCB, University College Birmingham's dedicated careers, placements and employability service, which works closely with UpRising to enable students to join the programme and enhance their CV.
Speaking about the Environmental Leadership Programme, Khushali said: "I have enjoyed meeting and coming together with a group of people who also care about the environment, and it made me realise there's so much more I can learn from others.
"The programme has allowed me to develop deeper insights into the environmental challenges the world is currently facing."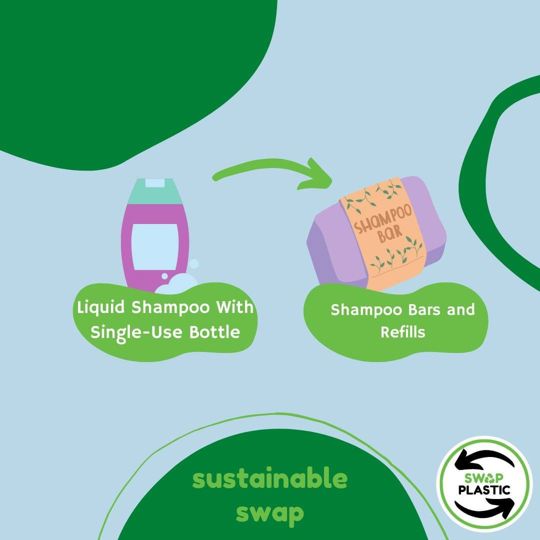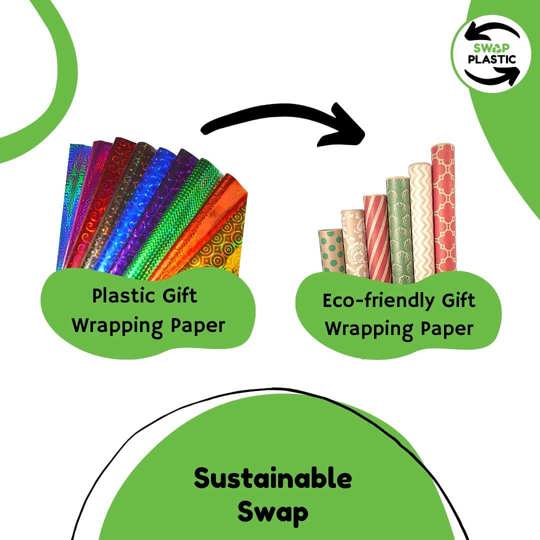 The campaign regularly suggests 'Sustainable Swaps' on Instagram
Teaming up with three students from other institutions on Swap Plastic, Jyoti and Khushali also had to deliver a presentation on the project for judges as part of an UpRising competition, scooping second place and £50 towards their campaign.
Having been awarded a further £175 of funding from US-based youth organisation Peace First, the group have since been able to boost their engagement on social media with giveaways of eco-friendly products from suppliers such as The Body Shop and Wearth London.
This month also saw the group host a webinar on microplastics with Dr Mohamed Abdallah of the University of Birmingham – and there are many more plans in the pipeline, including branded eco-friendly products, a toolkit and an official website to educate businesses on reducing their plastic footprint.
Jyoti and Khushali revealed how their tourism course at University College Birmingham had further informed their involvement in Swap Plastic, and how the campaign can support the tourism and hospitality sector.
"During our course we have learned about sustainable development goals," said Khushali. "Participating in this programme aligned with the sustainable and environmentally friendly practices which are the future of tourism."
Jyoti said: "As part of my degree, I have studied the United Nations Sustainable Development Goals and many countries that are being affected by plastic pollution, so I applied this concept to suggest more sustainable swaps for the campaign.
"We can advise hotel companies, for example, on using toiletries that don't have microplastic. The content we are sharing is very much for the industry itself."

The Swap Plastic team hosted their first webinar earlier this month
The duo also explained the wider personal benefits of running Swap Plastic and participating in the UpRising Environmental Leadership Programme.
"This has really boosted my confidence so much and improved my intrapersonal and interpersonal skills," said Jyoti. "It's really good for my CV and I think I've got a few interviews because of this."
Khushali added: "I've found a group of friends who are just as dedicated as myself. We've built a strong connection virtually over the past few months and I'm excited to see where this campaign takes us in the near future."
Sabath Shazia, Alumni and Employer Engagement Officer at hired@UCB, said: "We have enjoyed working with the UpRising team and look forward to continuing to promote their opportunities to students."
Find out more about Swap Plastic and the latest updates from the campaign by following @swapplastic on Instagram.
For more information on the Environmental Leadership Programme, visit the UpRising website.
Discover more ways to boost your employability alongside your studies by contacting our hired@UCB team.
Thinking of a career in tourism and hospitality? Discover our range of courses within our Department of Hospitality and Tourism.
Check out our latest news stories