January 2023
Stellar scores in leading postgraduate student experience survey
By Darren Campbell
Share post:
Postgraduate students have given University College Birmingham an overwhelming thumbs-up in a major survey of their study experience – with outstanding scores across the board.
The University received an overall score of 92% – ten percent above the average score for the sector – in the latest Postgraduate Taught Experience Survey (PTES), published by Advance HE late last year.
Students praised the University's resources and teaching most highly, with the institution receiving scores of 94% and 93% for these categories respectively.
"We were delighted with our results, showing our commitment to every element of the student experience"
This included a score of 99% for how enthusiastic teaching staff were about their subject, 97% for how good they were at explaining things, and 96% for support with learning – 20% above the sector average – as well as scoring 97% for access to IT facilities and resources.
There were also scores of over 90% in the skills development and dissertation support categories, while the University scored significantly above sector averages across all other categories, including student support, assessment, engagement and organisation.
Described as the closest equivalent to the National Student Survey (NSS) for postgraduate students, the PTES is the only UK higher education sector-wide survey to gain insight from taught postgraduates about their teaching and learning experience.
The glowing endorsement from students on our postgraduate courses comes following University College Birmingham's success at last year's Whatuni Student Choice Awards, winning the 2022 University of the Year award and Best Student Support award as voted by students.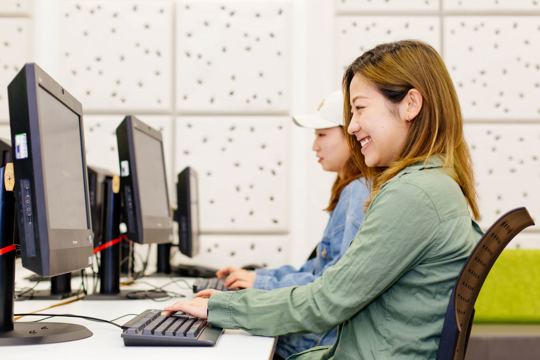 University College Birmingham scored 97% for postgraduate access to IT facilities and resources
Michelle Callanan, Deputy Dean for Quality and Student Experience, said the PTES scores were a further reflection of the efforts of staff and of students' satisfaction with their experience at the University.
"We were delighted with our Postgraduate Taught Experience Survey 2022 results, showing our commitment to every element of the student experience," said Michelle.
"Our students particularly noted the excellent quality of our teaching and learning environment, our continued investment in world-class resources, the outstanding support we provide and their overall skill development for successful employment in their relevant sectors.
"These scores align with us winning the University of the Year award at the Whatuni awards last year."
University College Birmingham offers a range of master's degrees and postgraduate diploma (PGDip) courses, with the vast majority of our programmes accredited by the University of Warwick.
Interested in postgraduate study at University College Birmingham? Find out more about our range of courses here.
Check out our latest news stories