May 2021
Minute's silence for student in first game between sports undergraduates and The Blues 
By Melanie Hall
Share post:
A minute's silence was held for a University College Birmingham student - who tragically died last month - at the first game in a new partnership between the University and Birmingham City FC.  
Blues fan Lucas Teckoe, who was in his first year of a Marketing Management degree, was found in a critical condition at The Maltings halls of residence in April, but sadly, nothing could be done to save the 19-year-old.  
Members of the team playing at today's match between students on the University's sports-related degrees and Birmingham City FC Community Trust players at St Andrews Trillion Trophy stadium had known Lucas and wanted to pay their respects.   
Lecturer Marc Brady said it was a poignant moment ahead of a game which saw the team play their first match together after lockdown put sporting fixtures on hold last year, resulting in a 10-1 win for the University side.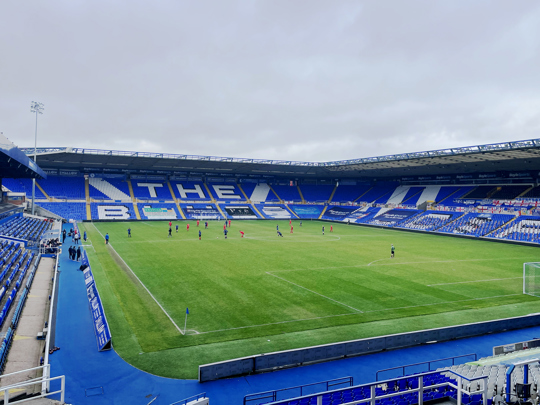 "A few of the guys were friends with Lucas and lived in halls with him, and this felt like a fitting tribute, especially as he was a Blues fan himself," he said. "It was great to see the players back out and enjoying playing football again - and to do so at St Andrews was an amazing experience for us all.
"Every player was a credit to the University, a particular mention goes to Ronee Hendricks, who scored six goals." 
The University team, which had to return negative Covid-19 tests to play in today's game, was made up of 15 players on Sports Management, Sport, Coaching and Fitness, Sports Therapy and Strength, Conditioning and Sports Nutrition BA, BSc and foundation degrees. 
Supporting the team pitchside were Sports Therapy undergraduates and students on the University's Strength, Conditioning and Performance MSc, who were tasked with preparing the players and providing medical support in the event of injury, guided by lecturer Marie Woodward. 
The game marked the official start of a new partnership between the University and Birmingham City FC, as well as Shrewsbury Town FC, to deliver a new foundation degree in Football Business Management, which starts this September. 
The two-year FdA course has been designed to support anyone wanting to pursue a more management-focused approach to the football industry, with learners studying directly at their partner club as well as gaining knowledge and experience from the University's expert sports team. 
The University and Birmingham City FC have also partnered up to deliver a new pathway to help school leavers land their dream career in sport.  
Equivalent to three A-levels and starting this September, the Level 3 Sport and Physical Activity (Football) course will give 16 to 19-year-olds the chance to gain qualifications in football coaching, personal training, analysis and psychology – and, as with today's game, play for football teams within the Birmingham City FC Community Trust. 
"It was great to get the partnership up and running at St Andrews today and we look forward to more games with The Blues teams, giving our students the opportunity to work with a professional team, both on and off the pitch," said Marc.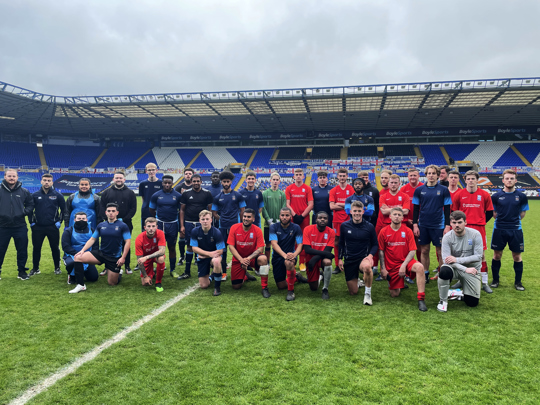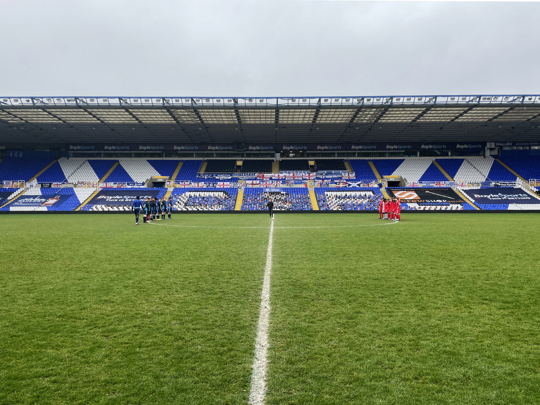 University College Birmingham team 
Players: 
Andrew Roxburgh
Charles Montgomery Ward 
Bruno Gaggi 
Ally Hassan 
Ronee Hendricks 
Taylor Hilburn 
Vinnay Patel 
Thomas Bradley 
Joe Stephenson 
Ashley Henry 
Arun Short 
Joe Gibbons 
Benjamin Thompson 
Tyreiss James 
Benjamin Brako-Hiapah
Coach:
Shaun Watson 
Strength and conditioning coaches:  

Javier Fernandez 
Anthony Seward 
Pitchside medical support:

Marie Woodward (lecturer)  
D'Mya Dale-Sander 
Denilson Dias Sousa 
Jack Gallager-Hemming 
Connor Grice 
Peter Hubbard 
Check out our latest news stories