February 2019
Jordan bags bronze as UCB duo impress at BUCS Indoor Athletics Championships
Two budding athletes from University College Birmingham put in an impressive performance at a national competition – with one bagging a bronze medal.
Sport and Fitness Studies students Jordan Broome and Psalm Roberts-Nash represented UCB at the British Universities & Colleges Sport (BUCS) Indoor Championships in Sheffield.
Jordan, who is currently in the second year of a foundation degree and already competes at senior level, came through two rounds of qualification to reach the final of the 200m.
In a very close contest, the 22-year-old clinched the bronze medal with a time of 21.28 seconds – just 0.17 seconds behind the winner.
It was a strong showing from Jordan, who had been carrying a calf injury going into the race.
"There are a lot of positives, to see that I can run that time even with an injury," he said. "I wasn't happy coming third, but in a field with those athletes it's not bad. Looking forward, there's a lot more to come."
Meanwhile Psalm, a first year BA student, lined up in the 800m final having also qualified through two rounds in his first national competition as an under-23 athlete.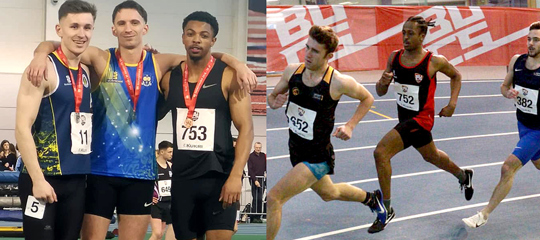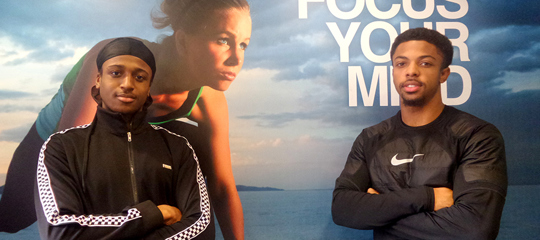 And although he narrowly missed out on a medal – finishing 4th by just 0.09 seconds – the 19-year-old came away from the event having recorded a new personal best, clocking 1 minute 51.4 seconds in the semi-final.
"I enjoyed it," he said. "I can take away more positives than negatives.
"I ran two seconds slower in the final than in the semis, but it's purely down to tactical errors and knowing when to use my energy or when to come off it. If I'd timed it right, then who knows – it's just experience at the moment."
Both Jordan and Psalm are being supported by UCB's Sporting Excellence Scholarship scheme, which provides help with costs and training for students who have demonstrated excellence in sporting achievement.
The scholarships provide up to £1,000 off the cost of tuition fees for each year of study and up to £500 in total towards travel costs, as well as a UCB branded training kit and an individually-tailored programme including support with nutrition, physiotherapy and psychology.
Nicola Brady, Assistant Dean of the School of Sport and Creative Services, said: "In his first year competing as a senior athlete, Jordan is proving that he has the ability and composure to compete at the top level against athletes who have been on the circuit for much longer.
"Likewise, Psalm showed his maturity through the rounds and was rewarded for his efforts with a personal best in the semi-finals. Competing in his first season in the under-23 age group, he is proving that he is one to watch for the future.
"It's fantastic to see both students having such a strong opening to their athletics season. They are both working extremely hard on their university studies and within their athletics disciplines, which is not an easy task to manage. We are very much looking forward to supporting them all season and following their success."
Find out more about our Sporting Excellence Scholarship scheme.
Check out our range of courses within the School of Sport and Creative Services.