September 2020
Culinary arts students rock the podium at first Zest Quest Asia online spin-off
By Melanie Hall
Share post:
Two of the four students to take the podium at the first online spin-off of acclaimed chefs Cyrus and Pervin Todiwala's annual search for young talent in Asian food were from University College Birmingham. 
Pipped to the post by Ryan Plummer of Colchester Institute, Culinary Arts Management BA (Hons) student Hannah Fisher came a close second in the Zest Quest Asia Summer Challenge for her complex Asian-inspired dessert medley, with judges describing her masterpiece as "near perfection". 
Her dish comprised a Yuzu parfait with a sesame peanut crumb and mango sorbet, green tea macaroons, mango sorbet sat on a ginger and almond biscuit, alongside sour cherries and handmade chocolate chopsticks.
"The use of textures... the recipe and method brilliant. Near perfection"
Hannah said: "I chose to create an Asian dessert as Asian cookery is a cuisine that I have a passion for. It allows me to incorporate my pastry skills and knowledge with unusual flavours.
"This is something I have always wanted to showcase and this challenge has given me the platform I need."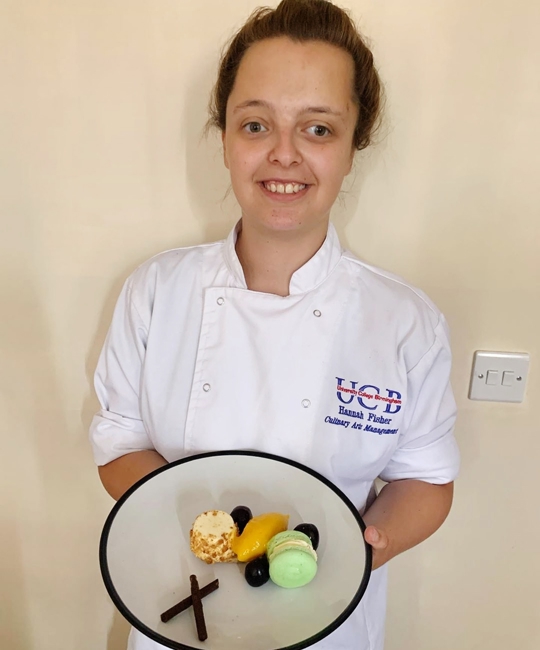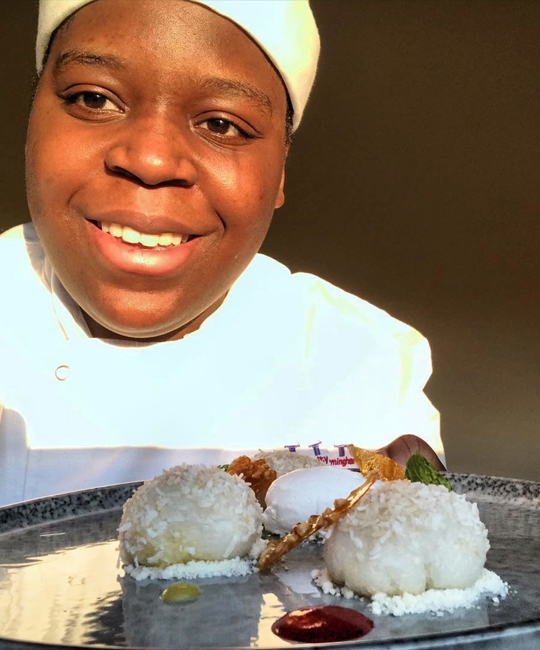 The judges said: "Wow! A lot of work and skill and thought. The use of textures... the recipe and method brilliant. Near perfection." 
Kenya Cameron, a Culinary Arts Management foundation degree student, proudly walked away with one of the two Highly Commended prizes. 
Kenya's dish comprised a sticky rice ball filled with Pomelo curd on a bed of white chocolate snow, with a raspberry and mango gel, hazelnut brittle and Chantilly cream.  
Hannah and Kenya's success comes on the back of a triumphant team of student chefs from University College Birmingham winning the full 2020 Zest Quest Asia live competition back in February. 
John Almeida, Dorottya Kalo and Gonçalo Machado were due to take their prize of a trip of a lifetime to Bangkok and have the chance to work with five of Thailand's leading chefs at Michelin-starred restaurants in the spring, which has been postponed to next year in light of COVID-19. 
University College Birmingham also won the title in 2017. 
The first Zest Quest Asia Summer Challenge was conceived by the Todiwalas with Murray Chapman, Director of Passion to Inspire and First Contact Chefs.  
Their aim was to encourage students aged 16-21 with permanent residency in the UK to challenge their imaginations during lockdown by creating an Asian-inspired dish in their own home kitchens and posting the results online. The winners were chosen from 18 finalists drawn from seven different colleges. 
Cyrus Todiwala said: "We were very impressed by the entries to our first Zest Quest Asia Summer Challenge. The talent and ambition was clear to see.
"All our winners were deserving for the obvious hard work they'd put in and their excellent entries. It was a tough decision." 
Hannah won a hamper of Cyrus Todiwala's products, including artisanal pickles, chutneys and spice blends, while Kenya won a personally-signed copy of one of his cookbooks. 
Find out more about college and degree level courses at University College Birmingham's College of Food and Hospitality Management. 
Check out our latest news stories