July 2020
Caviar and Chips encourages investment in students to mark World Youth Skills Day
By Melanie Hall
Share post:
An award-winning bespoke wedding catering company has called on businesses to invest in the next generation after a series of successful work placements with students from University College Birmingham. 
Marking World Youth Skills Day, Marc Hornby - co-founder of Caviar and Chips - said that providing meaningful opportunities for students to gain experience was key to encouraging talented young people to pursue a career in the hospitality sector - especially after Covid-19.
According to workforce development charity People 1st, by 2024, the UK will need to recruit around 1.3 million workers into the hospitality industry, with over 900,000 people needed to replace unhappy staff who've left the industry.
"We recently had this young chap who worked in operations with us who wanted to get some experience in the kitchen, but was worried that the head chef would shout and get angry with him," said Marc. "He'd been watching Gordon Ramsay and thought that was just how it is.
"We looked at taking students on work placements to invest in new talent, but also to show them this wasn't the case, that they have a voice. The sector often has a reputation for long hours and poor mental health and wellbeing and we wanted to change this, show them they will be looked after, and create future leaders with rewarding careers. We went to talk to students at an open day at University College Birmingham and it went from there."
Marc and executive chef Jonathan Carter-Morris set up Sutton Coldfield-based Caviar and Chips in 2017 after seeing a gap in the market for a bespoke wedding catering service that would "tell stories and create memories".
In the past three years, they have created everything from mini shepherd's pie canapés to recreate a couple's first dinner with grandparents at the age of 16 to a vegan black bean stew based on a Caribbean family recipe and a Prosecco and hibiscus flower toast to relive two brides' engagement.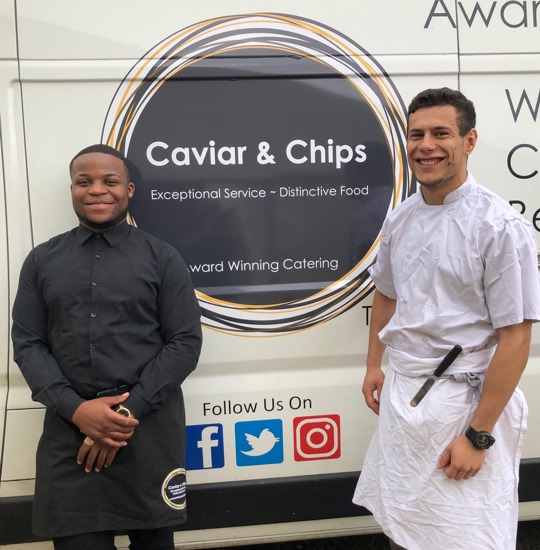 Their first work placement student from University College Birmingham was Culinary Arts Management degree student Cláudio Gonçalves last year. 
"Cláudio had come from Portugal to study in Birmingham and got to travel to events all over the UK with us," said Marc. "Because of the sheer variety of what we do, he was creating a new dish every week, working alongside the head chef in our production kitchens. This might have been a marquee in a beautiful stately garden, a barn in Staffordshire or a pop-up kitchen in a field.
"Starting out plating up, he was soon consistently creating fantastic food, even working the flames in front of guests at a barbecue in Oxford, and gaining real understanding of different cuisines. A promising chef and a great pair of hands."
Cláudio said: "This placement was a very important opportunity, really helping to improve my skills and knowledge of the hospitality industry, mainly on the kitchen and service side. I managed to sharpen the skills I acquired when I began studying and gained a greater understanding of how to efficiently apply the knowledge I learned in my first year."
Benefiting the business
Having Cláudio on board not only developedhis skill and confidence, it also enabled Marc and Jonathan to develop their own business processes.
"Cláudio was our first placement student and when he first joined us, we were making things up as we went along, we didn't have all the processes in place to develop him," said Marc, who, with Jonathan, is now also building up a pub portfolio with Leicester-based Everards Brewery.
"He was coming on so quickly, we had to involve him, ask him what our induction should look like, and we now have a process in place to help other students and trainees that has been directly influenced by Cláudio.  
"World Youth Skills Day is about supporting students and investing in them, which is especially important right now with the lack of confidence in what opportunities will be out there after Covid. And there should be plenty. We alone are looking to recruit 60 staff to deliver the events carried over to next year.
"And if the student is hard-working and adds value to what you are doing, you won't want to let them go."
Find out more about supporting students through work placements and how else we work with businesses.
Find out more about our college and degree courses in food and hospitality.