July 2019
Aviation students land new facilities as UCB flies high as Centre of Excellence
Aviation students across degree and college courses at UCB are set to benefit from exciting new simulation facilities, including a state-of-the-art, mock plane cabin.
The facilities will also include check-in areas and Galileo GDS system for training students on UCB's Aviation and Airport Management foundation and bachelor's degree and the new Level 2 in Cabin Crew and Airport Operations, as well as other travel and tourism-related courses.
The new aviation facilities are due to open in the Autumn.
The investment follows news that UCB has retained its Centre of Excellence status with the Institute of Travel and Tourism (ITT) for both degree and college courses.
The prestigious status recognises leading universities that work particularly closely with industry and was originally won by UCB in December 2015.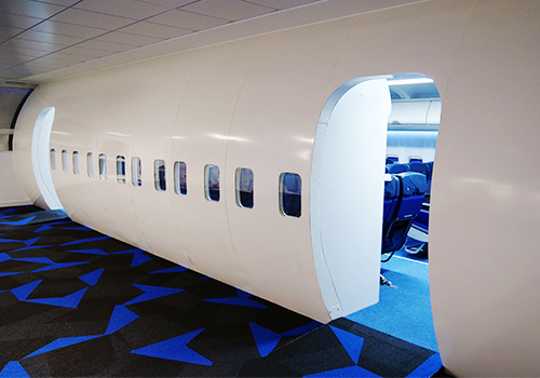 On its decision to re-award UCB with the status, the ITT said: "UCB has continued to recruit high numbers across the tourism and aviation programmes, offers industry-relevant courses, has developed a range of innovative and creative assessments and learning opportunities for students, has expanded their excellent learning resources and generated extensive employability opportunities for students."
Professor Michelle Callanan, Assistant Dean of Tourism and Aviation, said it was all-round exciting times for the department and its students.
"We are so proud to retain our Centre of Excellence status as we work very hard to ensure that our courses are dynamic and innovative and offer a range of experiential and employability opportunities for our students," she said.
"We have a number of successful graduates who are part of our global alumni 'tourism and aviation' community, which is expanding each year, and are particularly pleased with our recent work with travel management companies, Halal-tourism and family-friendly organisations, charities and digital management organisations.
"To also be able to offer new and existing students the opportunity to use brand new simulation equipment and facilities, to prepare them for real-life scenarios, is fantastic.
"As the industry grows on a global scale and the range of career prospects on graduation expands, these are very exciting times for tourism and aviation at UCB."
Retaining Centre of Excellence status has allowed UCB to nominate a student for the 2020 ITT Student of the Year award, which was won by a UCB master's student, Gillian Forrester, this year. Gillian will receive her award at the Houses of Parliament in London this month.
Find out more about travel and tourism and aviation-related courses at UCB.