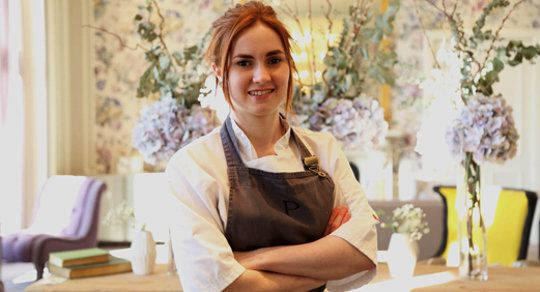 Chef Apprentice at Hampton Manor, Solihull.
I joined UCB when I was 16 just after I finished my GCSEs at school. I did a Level 1 diploma in professional cookery, then I went on to do my Level 2. I did a two-week placement at Hampton Manor in 2015 as part of the course and started working here at weekends while studying at UCB during the week. Then I joined Hampton Manor full-time to do my Level 3 apprenticeship in September.
I like the apprenticeship because I get paid and it gives me experience in industry. You get to work alongside chefs every day. At college, you learn a lot but you are only with one chef and you are in a group of 20 students. Here, there are only two apprentices and lots of chefs and they are all knowledgeable. They are always happy to help you and spend time with you. You also get to see what it is like in the real world. It's not like being thrown straight into a job. They understand that apprentices make mistakes – it is fine as long as you learn from them and don't make them again.
I do lots of different jobs as an apprentice chef. Sometimes I will be on afternoon teas. We can take up to 50 afternoon teas on Saturdays and Sundays and it gets busy. At other times, I am preparing food for weddings – that can be anything from making mashed potatoes to fancy desserts and components for dishes.
The hotel has a three AA Rosette fine dining restaurant, Peel's, which can take up to 30 covers a night. There is also the tasting room which looks into the kitchen. The dishes in the restaurant are very refined. When I am in the restaurant kitchen, I am usually working on canapés. I will also do the breads and help with desserts.
I have a tutor at UCB and he comes to see me every few weeks. Sometimes we will sit down and do theory work. The last time he was here, we did practical work so we ordered in two whole fish, a plaice and a trout, filleted them and cut them into different portions and cooked them in different ways. We photograph everything and it is uploaded on to my online profile.
My apprenticeship is for 18 months and I would like to stay here when I finish. Then I would like to travel the world because you can always find work as a chef.
Find out more about