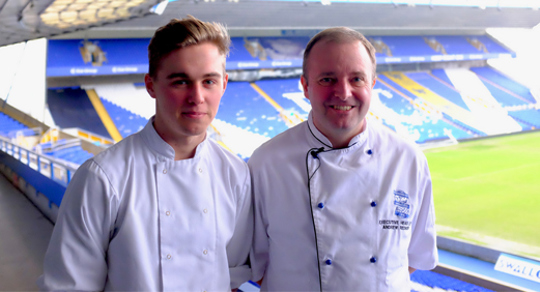 Chef Apprentice at Birmingham City Football Club
I got the opportunity to work part-time at Birmingham City Football Club just before my 16th birthday and enrolled as a trainee chef. I then became a full-time apprentice here through UCB.
I have been a Birmingham City fan since I was a boy and I love the football club. But the attraction of being an apprentice was working for executive head chef Andrew Redmond. He has looked after me and nurtured me and he said he would make me the chef I am today – and he hasn't failed me.
I have now completed my Level 2 chef apprenticeship and Birmingham City have also put me on a sports nutrition course, which is an area I am interested in pursuing.
During the apprenticeship, my tutor from UCB came out to see me regularly for assessments. I remember my first assessment was for French onion soup. On another day, I had to fillet a whole salmon and then had to pan-fry the fillet with a pea and mint risotto.
The training is fantastic, second to none. I have worked in the club's boardroom for directors and chef executives and chairmen. I get to meet lots of high-profile athletes and sportsmen. I have also cooked for the first team, which was an amazing experience, especially for a fan.
I would advise anyone to take up an apprenticeship. You get paid to do something you love and you meet so many great people along the way. Now I have got a full-time job at Birmingham City and I have got a skill for the rest of my career.
Find out more about