Our students are our best ambassadors
Our Student Ambassadors play a key role at University College Birmingham, assisting the Marketing, International and Admissions department at open days and applicant days, campus tours, summer residentials, visits by schools and colleges and many other events.
The Student Ambassador scheme provides opportunities for flexible, part-time work that will fit around your studies whilst you enhance your CV, broaden your skills and boost your employment prospects – plus, you get paid £9.99 per hour.
Applications are now closed
We will look to open applications again in February.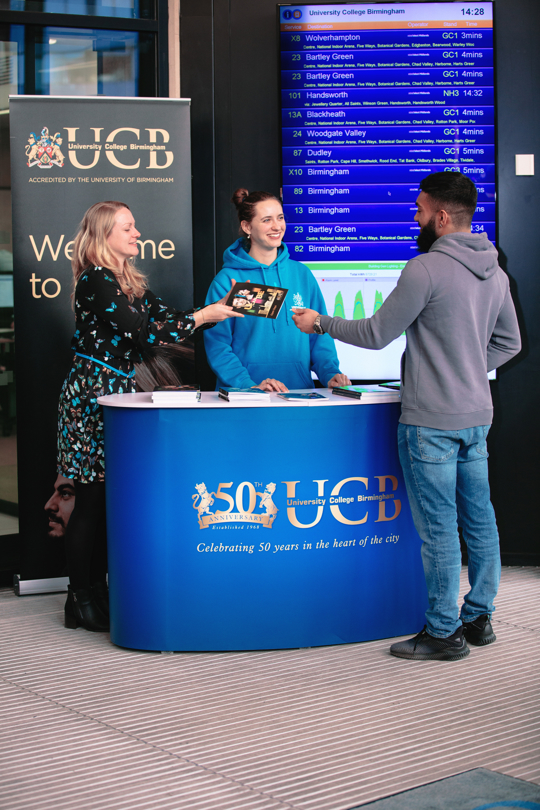 It is a really good job as it builds your people skills and boosts your confidence because of the volume of people you speak to. It is also good because you are not committed to any hours and can sign up to any events that suit you and your timetable.
Frequently asked questions
What is a Student Ambassador?
Ambassadors are current students on college, undergraduate and postgraduate courses at University College Birmingham. They are official student representatives and help to promote college and university courses to potential students and young people from a diverse range of backgrounds. The Student Ambassador scheme supports the recruitment and outreach work of the Marketing, International and Admissions department. 
What will I be expected to do?
Ambassador jobs are available throughout the year, both during and outside term-time, and events take place on weekdays, evenings and weekends. Although this is a flexible job, we expect all ambassadors to work on a regular basis. Open days and applicant days are the biggest commitment and we require ambassadors to work at a minimum of four events to ensure we have enough help for all the events. Ambassadors might be taking groups on a campus tour, registering visitors on reception, taking part in a student Q&A session or helping visitors find their way among many other tasks, adaptability is key!
Ambassadors should be passionate about University College Birmingham and excited to share their experiences with others, they have a detailed knowledge of the campus and the departments outside their own course area, although we do provide full training once employed. They are an important part of the team as both prospective students and their parents value the insight provided by real students. 
What personal qualities do I need to be a Student Ambassador?
Student Ambassadors must be reliable. When you are working, we expect you to be on time and ready to get involved. Most events have a briefing which all ambassadors must attend at the start of your shift.
Being able to work as part of a team is also really important, you'll be working alongside Marketing, International and Admissions staff as well as university academic staff and other Student Ambassadors.
You will work on a large variety of different events, so you must be adaptable and willing to take part in a range of different tasks. Everything we ask you to do will be important, no matter what role it is.
Many of our events are an opportunity for prospective students to learn about our courses and discover more about University College Birmingham and the student life here, so our ambassadors must be passionate and enthusiastic. Sharing your personal experiences and being on hand to offer help and guidance is a great way to make people feel welcome.
Student Ambassador applications are now closed
We are currently not accepting new student ambassador applications but there might be another opportunity to apply in February.
To be eligible to apply you must:
Currently be studying a college, undergraduate or postgraduate course at University College Birmingham
Meet some or all of the qualities on the personal specification
Students who are successful will be invited to an in-person interview.
If you need more information about the Student Ambassador scheme, contact the Marketing team by completing our
enquiry form here,
 by phone on 0121 232 4300 or by visiting Marketing on the 2nd floor of The Link.
What our ambassadors have to say