The Link, 65-77 Summer Row, Birmingham B3 1JJ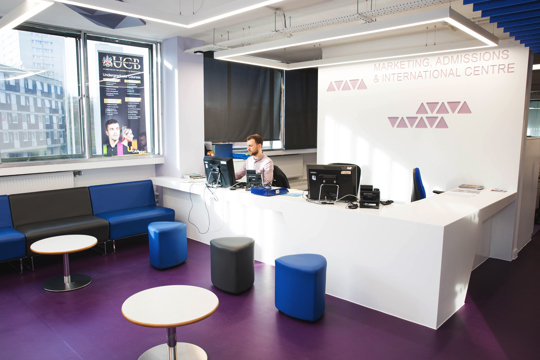 Situated between Summer Row and McIntyre House, The Link is the new home for many of the University's support services and staff departments.
Located at the end of Charlotte Street nearest to Summer Row, The Link is just a few minutes' walk from all our city centre campuses, providing a brand new base for students and staff at the heart of the University. The building features a bright modern design with services spread across eight floors. Each department's floor includes a welcome area with a reception desk and seating, as well as open plan offices and meeting rooms.
The Link is also the new location for the University Library and Academic Skills Centre (ASC). Spread over the top three floors, the facility features group study areas, workspace pods, PCs and ASC tutorial rooms, as well as a helpdesk, self-service kiosks and subject librarian office.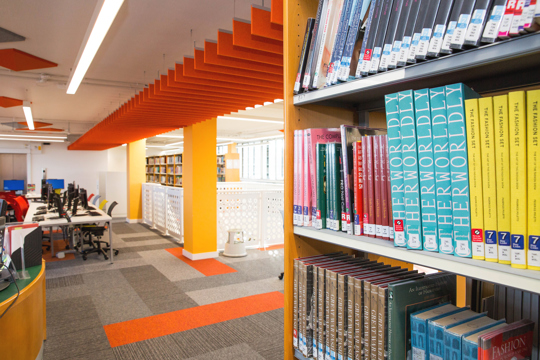 The Link is the building that houses all of University College Birmingham's administrative services
It opened in January 2020 and, across seven floors, it houses the Main Library, Academic Skills Centre, Academic Registry, including Exams, Attendance and Bursary services, Finance and Information Services Unit and Student Services, including the Counsellors and Health & Wellbeing team, the Resource Centre and space with PCs for silent study.
The following departments are based within The Link: 
Lower Ground Estates and Reprographics
Ground Floor Student Services, Wellbeing and Mentoring Team
First Floor Finance
Second Floor Marketing, Admissions and International Centre

Third Floor Academic Registry, Attendance Team and the Examinations Unit
Fourth Floor Library
Fifth Floor Library and Study Areas
Sixth Floor Library, Academic Skills Centre and Quiet Study Areas