By Phoebe Turner
Share post: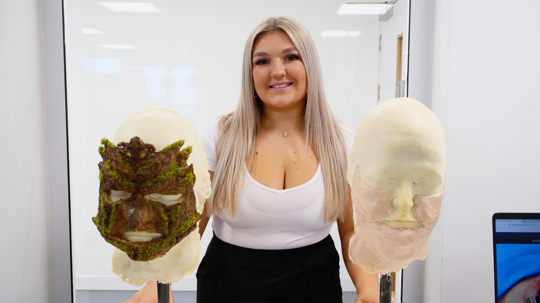 Phoebe Turner
Prosthetics for Film and Television MA
Ready to make her mark behind-the-scenes
Eager to build in-demand skills for the prosthetics industry, Phoebe was wowed by the opportunity to work with foam latex at University College Birmingham.
As part of her project work on the Prosthetics for Film and Television MA course, Phoebe challenged herself to create a variety of foam pieces – a skill she firmly believes will prove greatly valuable for her career.
"The master's at University College Birmingham was one of very few courses I found that actually teach the components of foam latex and how to make it," she said. "It's definitely sought after in the industry."
Key to developing those skills was having the chance to learn in the University's dedicated prosthetics studios, which Phoebe described as "amazing".
"We had a room specifically for foam with a number of mixers, the ovens in the classroom, plus the air vents provide great ventilation," she said.
"It's also designed to replicate the surroundings you can work in within the industry, so when do you go into the industry it's already familiar to you."
Having originally wanted to work in applying make-up on set, Phoebe now has ambitions to work behind the scenes in prosthetics studios, and believes her time at University College Birmingham has set her up well.
"This year-and-a-half has taught me so much," she said. "You learn so many skills from mould-making to sculpting and casting to application, plus you learn the theory behind it as well.
"I feel like I understand the materials in great depth, and the lecturers are great – they're really helpful if you need anything or are unsure about something and they give you the best advice.
"I'd highly recommend the course," she added. "Developing my skills was an essential part of me feeling confident going into industry, and it's been the best experience I could've asked for."