February 2021
Michael's Story
By Michael Blackham
Share post: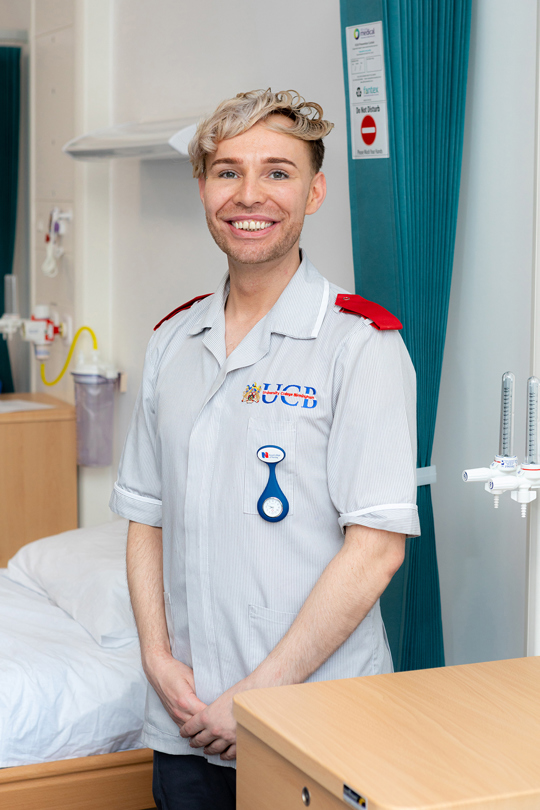 Michael Blackham
Adult Nursing BSc (Hons)
Skincare specialist to student nurse
Former skincare specialist Michael was one of the many who were spurred on to look at a career in nursing following the outbreak of the pandemic.
Impressed by the cutting-edge Health Skills and Simulation Suite with replica hospital ward, he enrolled on the new nursing degree developed to reflect a modern-day healthcare system at University College Birmingham.
To his relief, he was able to physically attend the skills laboratory workshops and most lectures, despite Covid-19, and an "exhilarating" first year placement, in Ward 15 at Solihull Hospital.
"There are no words to describe the emotions you encounter and personal depths you go to during your first placement as a student nurse," he said.
"On Ward 15, I have been able to help make patients feel comfort, warmth and heartfelt care while carrying out nursing tasks under the supervision of very respectable nurse assessors and supervisors.
"Our course group size is so small that everyone's learning needs are met, and we get 1:1 help when we need it. The teaching and learning is very interactive too.
"I also achieved 100% in my first drug calculation exam and received such encouraging and genuine feedback. It made me feel really proud of myself and was testament to the work I put in."