December 2021
Kevin's Story
By Kevin Shenouda
Share post: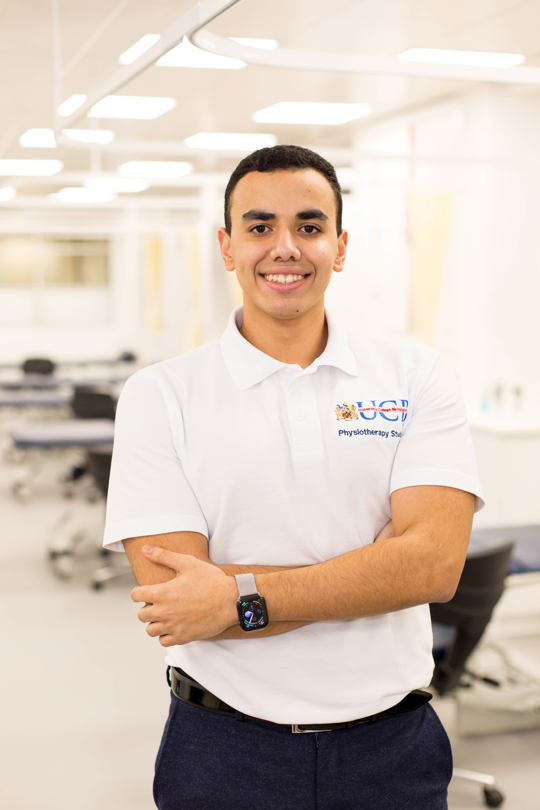 Kevin Shenouda
Rewarding career in rehabilitation
Like his dad before him, Kevin's ambition growing up was to go into the field of medicine. However, a twist of fate made him change tack. 
Born and brought up in Egypt, Kevin had been studying A-levels in biology, chemistry, physics, Arabic and core maths at sixth form when he undertook a week's work experience shadowing a consultant doctor at a local hospital. 
However, during the week's placement, the consultant couldn't make it in one day and Kevin was asked to shadow in the hospital's physiotherapy department. 
"Medicine had always been the aim, but physio was a real eye-opener for me," he said. "Working with the patients really suited me and I decided it was more of a fit for what I wanted to do and my lifestyle." 
In 2020, as the pandemic hit, Kevin started looking at universities where he could study his newfound passion. As an international student, he was able to apply to up to eight different universities and worked hard on his background research. 
"I wanted to get the very best quality education and training and applied to eight universities that met my criteria," he said. "I had online interviews with them all, but University College Birmingham impressed me most. 
"I saw the new facilities and thought they were incredible, and knew the industry experience of the lecturers would be hugely beneficial. 
"Everything about the course was perfect for me." 
Now in his first year, Kevin has a placement lined up in a hospital physiotherapy department.  
"I will be helping with the rehabilitation of people recovering from injuries, strokes and diseases, as well as doing respiratory physio," he said. "It will help me put the anatomy modules I am studying into practice and give me vital industry experience."