October 2021
Ellie's Story
By Ellie Baldwin
Share post: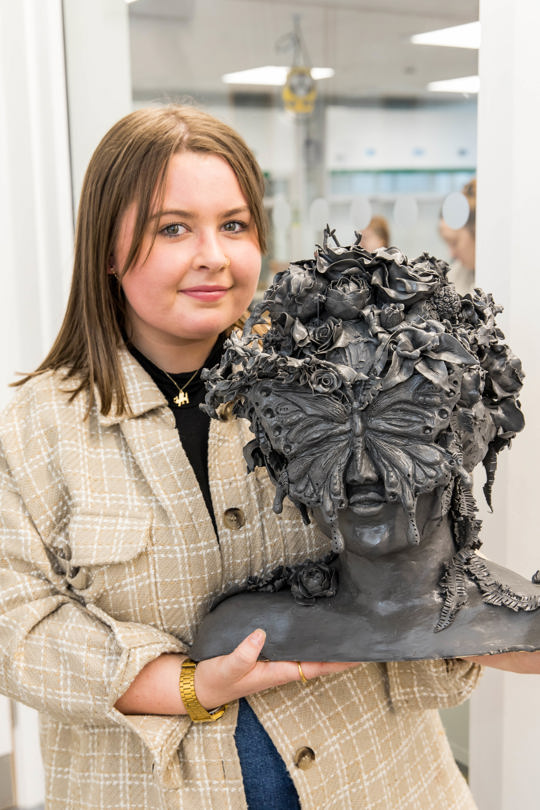 Ellie Baldwin
Prosthetics for Film and Television MA
Sculpting out a career in special effects
Drawn to the world of theatrical effects from an early age, Ellie completed her undergraduate degree in Specialist Hair and Make-up at University College Birmingham – before having the golden chance to follow her ultimate passion. 
The University launched its MA in Prosthetics for Film and Television, developed and led by Alexandra Wathey – award-winning artist on the likes of Games of Thrones – in 2020, giving Ellie the chance to up her game further.  
"I decided to study specialist hair and media make-up as I already had a passion for special effects and wanted to learn more," she said.  
"It really opened my eyes to the world of prosthetics, and after graduating with first class honours, the MA was the natural next step.   
"I already knew the lecturers well, and I knew their expertise would help kick-start my career."
Through her MA, Ellie is now a proficient practitioner in the art of industry materials such as foam latex, resins and fiberglass. And through her courses, she had the chance to undertake multiple placements, including theatre, film and music video work, as well as trauma open days at Birmingham's Queen Elizabeth Hospital and with Keele Medical School Student Trauma Society.  
"My courses have given me confidence I didn't have when I first moved to Birmingham, as well as experience and knowledge to prepare for the industry," she said.   
"The brand-new training facilities are great, whatever area you hope to specialise in, and if you are still undecided, the MA covers all aspects you need: sculpture, Z-Brush, mould-making, silicone running, blood rigs and much more. My ambition now is to become a sculptor working within TV and film."