October 2017
UCB Employer Extravaganza a rip-roaring success
Over 40 of the region's top employers descended on McIntyre House for UCB's biggest ever careers fair this week.
Attended by over 300 ambitious jobseekers, the Employer Extravaganza was for students from all courses across FE, HE and postgraduate levels. Corporations, retailers, charities and even two football teams did their utmost to grab student's attention and ensnare the best new talent.
"Today was about two things. Firstly, it was about making students aware of just how keen organisations are for graduates from UCB – all they need to do is look in the right places," said UCB's Employer Engagement Officer Sabath Shazia. 
"But it's also about showing students how many career paths with amazing potential for progression and earnings are open to them, especially those they might not have considered before. Lots of businesses here today are asking for graduates from any discipline, as long as they have the right attitude. That's why we've called it an extravaganza – it's a celebration of what's out there for UCB students."
Employers from top organisations such as HSBC, The Body Shop, Selfridges and the NHS Leadership Academy  queued up to flaunt an extensive range of positions, from flexible part-time work to 18-month graduate schemes.
"This fair is a chance to prove to UCB students just how well they could do with us," said Natalie, Recruitment Manager for the Peach Pub Company. "We have three students from the University on placement with us at the moment and they're doing fantastically. When students join our company, they receive a lot of training and can expect to progress very quickly."
What is it that makes us so appealing to potential employers? It's all in the career-focused courses UCB provides, says Kay Richardson from Café Rouge.
"Café Rouge see it as a huge advantage that students here are gaining vocational qualifications so already have masses of practical, transferable skills," said Kay. "We're here for the first time to recruit for a range of exciting positions, and we can't wait to see what students here can do.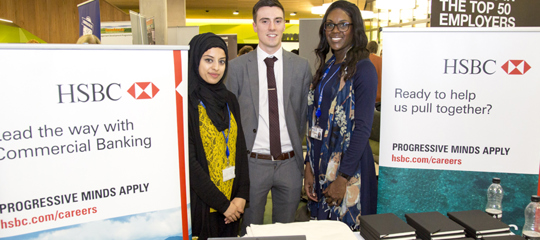 "The full list of employers in attendance were as follows – be sure to check their websites for upcoming opportunities if you missed the fair:
Enterprise Rent-a-Car
Aston Villa Football Club
Jurys Inn (East Midlands airport)
Selfridges & Co
Camp Leaders / Smaller Earth
New Heights Warren Farm Community Project
NCS - The-Challenge
Marriott Hotels
Holidays Please
Fairway
Baxter Storey
NHS Leadership Academy
Explore Learning
Focus Birmingham
Peach Pubs
Hickory's Smokehouse
Farmfoods
Orridge & Co
Off to Work
Park Regis
TARGETjobs
Amadeus Food
Exclusive Hotels and Venues
APM
Jobshop & Unitemps / Business Hive
Café Rouge
Decathlon
HSBC
Butlin's Minehead
Easy Gym
The Body Shop
Birmingham City Football Club
Hyatt Regency
Aspire Sport
Girls Friendly Society
Claridge's
DHL
Aviation UK Ltd
Holiday Inn
Spurgeons