May 2018
UCB Culinary Olympiad winner returns inspired from second India trip
Multi award-winning Culinary Arts Management student Jack Gameson has visited the state of Maharashtra in India to give fellow undergraduates a taste of life at UCB. Even better, he returned having learned just as much as those he set out to teach.
Kohinoor International Management Institute (KIMI) and UCB formed a strong partnership in early 2017, and students completing two years of study with KIMI now have the option to travel to UCB to finish their degree on the University's Hospitality Business Management course.
Jack led a series of practical sessions giving enthusiastic students a sneak peek of their future as HBM students halfway across the world. He was joined by UCB Hospitality Business Management lecturer Shivaun Caffrey, who delivered several classes exploring academic skills and methods of studying in the UK.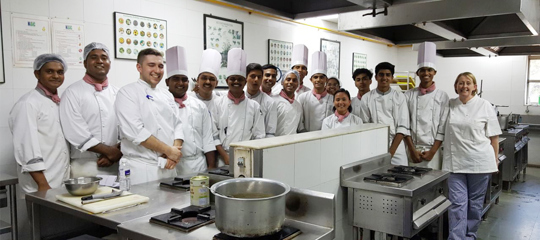 "India was amazing," said Jack, now in his fourth year at UCB. "I learned so much from being out there. The students were extremely polite and enthusiastic about both theory and practical sessions, with a real eagerness to learn new skills.
"I was so honoured that faculty members and Professor Pal, the University's Principal, went out of their way to make sure we got the most out of our trip, with evening tours of local temples, markets and more."
"KIMI's staff and students were extremely appreciative we had come to the institution to provide first-hand information about life in Birmingham," added lecturer Shivaun. 
 "Professor Pal mentioned that students were feeling better informed about the support UCB will provide them with as they embark on their new international academic experience."