March 2019
Turning 'wonky veg' into delicious dishes for Waste Free Day
Young chefs from University College Birmingham helped turn wonky-looking vegetables into a delicious free lunch for the people of Birmingham as part of a week-long sustainability campaign.
Waste Free Day saw a group of BA Culinary Arts Management students serve up a variety of soups and snacks from UCB's mobile kitchen in Victoria Square on Wednesday.
It was the latest event to mark 'Brum Goes Green 2019', a collaborative week-long programme of events between UCB, Aston University and Birmingham City University to promote sustainability.
All the food was made using so-called 'wonky veg', donated by local supermarkets and food waste charities, in a bid to encourage people to be more creative with ingredients and cut down on food waste.
The student chefs were not presented with the ingredients for the event until the day before, challenging them to work together to quickly design a range of delicious dishes suitable for serving at an outdoor event.
And in a nod to International Women's Day - which took place earlier in March - female head chefs were chosen to lead the event, which also formed part of the students' Project Management module.
Student Garima Poddar, who acted as one of the head chefs on the day, said: "The ingredients were really good. We actually wanted to cook more as we had a lot of ideas, so we had to come up with a shortlist.
"A lot of restaurants waste food and that needs to be limited. The world needs to be a tastier place, but you can't just keep on cooking and not think about the consequences – there needs to be more conscious cooking."
According to research by the University of Edinburgh in 2018, more than a third of farmed fruit and vegetables never reaches supermarket shelves purely because it is misshapen or the wrong size, with more than 50 million tonnes of fruit and veg grown across Europe being discarded each year.
But UCB's students were able to come up with a variety of dishes from their wonky ingredients, including a cream of mushroom soup and a carrot and butternut squash soup, as well as a sweet potato patty with garlic butter and parsley sauce.
Praising the work of the students, chef lecturer Rob Swinnock said: "They've done very well. These were very much their ideas about the recipes they felt they could do, how they could adapt given the resources they had available to them.
"They've not done anything like this before and this has been with two weeks' notice. It replicates a real life scenario where you'll quite often get projects at short notice and you've got to pull it together."
Other events taking place for Brum Goes Green included a Sustainable Travel Fair at the University on Monday, followed by a Collaborative Canal Clean-Up on Tuesday.
Around 50 students gathered from UCB and the campaign's other universities to help clear litter from Birmingham's canals, with approximately two tonnes of rubbish removed from just 30 metres of canal.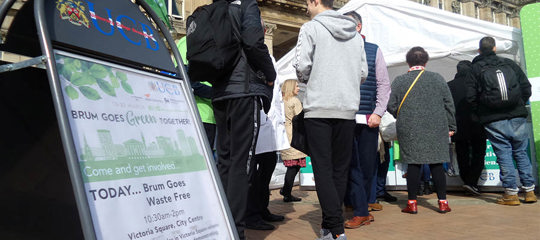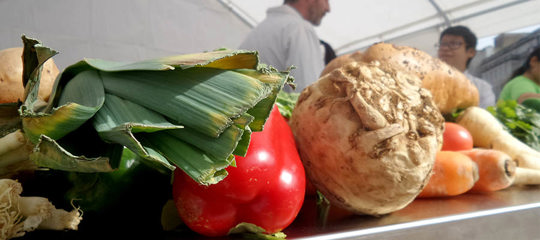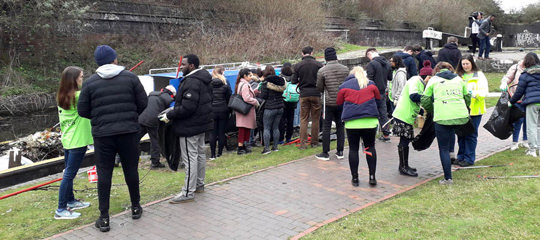 UCB Facilities Operations Officer Tom Hacker said: "It has to be acknowledged the fantastic effort made from all students and staff involved over the past week. I'm pleased that in a short period of time, we have had a positive impact on the city and the environment we share.
"Wednesday's event delivered by our talented students was particularly successful in raising awareness of food waste within society. Hopefully it encouraged the students and the local community to rethink how they shop, emphasising that despite the size and aesthetics of the vegetables, the taste is exactly the same."
It is not the only event UCB has held recently to target the issue of food waste – last week saw the University host a masterclass on creative cooking using leftovers.
The session, which took place at the Summer Row kitchens on 15 March, saw students and delegates learn how to use typical leftovers such as mashed potatoes, stale bread and overripe fruit to produce a series of creative dishes including croquettes, frittatas, gnocchi, dumplings and banana bread.
Senior chef lecturer Bernard Schumacher, who led the masterclass, said: "It's great to see chefs come together here at UCB to raise awareness of current industry challenges such as minimising food waste and network with like-minded industry professionals.
"Food waste reduction is a big issue in the UK. For a kitchen manager, avoiding food waste ultimately helps to maximise overall profits."
Find out more about our courses within the College of Food here.