January 2022
Specialist Hair and Media Make-up graduate making prosthetics and wigs for Disney film
By Melanie Hall
Share post:
A Specialist Hair and Media Make-up graduate who became a TV star for the incredible skills she honed on her degree is now working on a new Disney film. 
While the movie she is working her magic on is still a closely guarded secret, Steph Harrison – a self-confessed "rebel and eccentric" – revealed that she was working with a main character on set.   
"I am on the main prosthetics team looking after and applying wigs and prosthetics for the main character," said Steph, whose rise to stardom is particularly phenomenal considering she was told she might never walk properly again after seriously injuring her spine in a car crash in 2008.  
"I made the wig for her too, which was very exciting."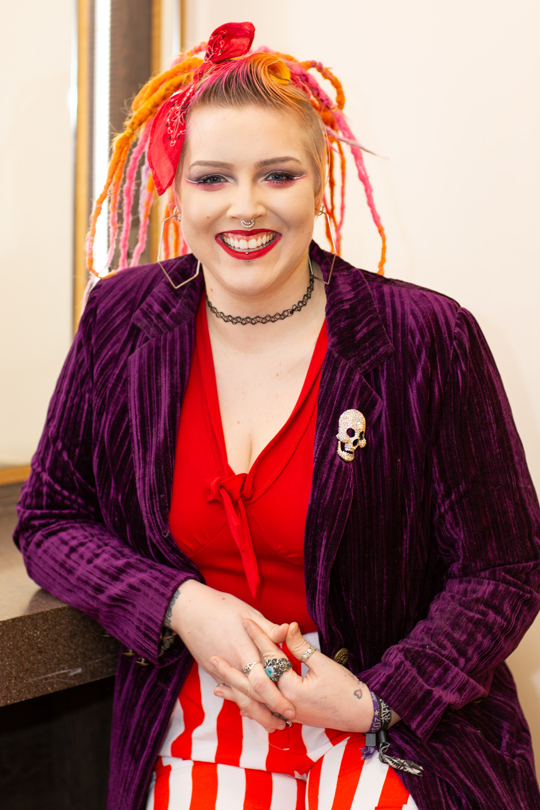 It's been a whirlwind two years for Tamworth born-and-bred Steph, who landed a dream job working on special effects for BBC show Casualty, during which time she met her future wife and featured in Outrageous Bride magazine to celebrate their engagement at Stonehenge. 
She then worked on an upcoming Amazon Prime series, The Devil's Hour – starring the 12th Doctor Who Peter Capaldi – and made imploding and exploding heads for a 'melting grandma' and a full bat costume and mask for horror flick Bats (The Awakening), available on YouTube. 
"These were all really great moments for me," she said.
"She epitomises what you can do if you take your knowledge, skills and talent and grab every opportunity with both hands"

Making the most of every opportunity 
Before graduating in 2019, Steph was thrust into the national spotlight after being picked from 2,000 hopefuls to appear on BBC TV show Glow Up: Britain's Next Make-Up Star, fronted by Stacey Dooley MBE, in 2019.  
Her 'pinch yourself' moments included doing Chizzy from Holby City's make-up for the TV Choice Awards and a prosthetics challenge at the Harry Potter studios in London. 
Even before that, she was making a name for herself, appearing on Channel 4's Extreme Makeovers: On Fleek in her first year of her degree in 2016. 
Recovering from her car crash through sheer determination, Steph first joined University College Birmingham as a Theatrical Special Effects, Hair and Media Make-up Level 3 student, hell-bent on making her mark in the industry.

Steph shared the news about her work on the new Disney film on her Instagram page
Over the years, she was supported heavily by her lecturers to go for every opportunity, including high-profile competitions. She won first prize for high fashion and was named editorial student make-up artist of the year at the National Make Up Awards 2016, winning her a place on the make-up team at the Miss England finals and a ticket to Lan Nguyen-Grealis' seminar in London. 
With a body art design incorporating LED lights, UV paint and funky foam, she then won the Warpaint Make-up Championships at Professional Beauty London. Entering her first prosthetics competition at the National Make Up Awards in 2018, Steph walked away with second and third prize for an impressive WW2 Dunkirk soldier and Marvel character Groot.
She also undertook a range of placements during her studies, which included working on Britain's Got Talent at the Birmingham Hippodrome. 
Extremely proactive and not one to rest on her laurels, she also worked as a freelance artist on photo shoots for publications and websites. 
In pictures: Steph Harrison's Make-up Masterpieces












Tsai Lovett, Deputy Dean (Teaching, Learning and Digital) for the School of Business, Tourism and Creative Industries at University College Birmingham, said: "We are incredibly proud of Steph.  
"She epitomises what you can do if you take your knowledge, skills and talent and grab every opportunity with both hands. 

"She has made use of all the industry contacts we have given her, followed so many opportunities where competition is fierce, and her career since graduating is nothing short of incredible.  
"We can't wait to see what she's done on this new Disney film." 
Steph said she couldn't have got where she was without University College Birmingham.
"The sheer opportunities we had at the University were absolutely phenomenal, be that in industry or helping to build your own business," she said.  
"They allowed me to explore my strengths and weaknesses without judgement and all of the work for the modules can be used in a professional environment too, which I jumped on to build my portfolio and land jobs. They encourage you to explore, learn and grow, and my gosh, they give you room to grow! 
"I'm enjoying my career journey so much, it truly has been a humbling and amazing ride so far."  
Tsai added: "Not only does the Specialist Hair and Media Make-up degree provide graduates with the industry-led skills they need for the freelance make-up sector, but it also widens career opportunities through digital design, the making of prosthetic pieces and undertaking final projects focused on a sector of choice." 
See some of Steph's incredible work on Instagram @the_craft_mua.
University College Birmingham offers a variety of college, undergraduate and postgraduate courses for anyone wishing to pursue a career in the professional hair and make-up industry. Discover the full range of courses within our Department of Creative Services.
Check out our latest news stories