February 2023
Best student experience and top education provider in nursing awards
By Melanie Hall
Share post:
University College Birmingham has been shortlisted for Best Student Experience in the national Student Nursing Times Awards 2023.
The University is also in the running for Nurse Education Provider of the Year (Pre-registration) for the development of its nursing courses, going head-to-head with Keele University and Anglia Ruskin for the prestigious title.
In the Best Student Experience category, University College Birmingham is up against eight other institutions, with judges recognising the University's emphasis on 'creating a holistic and positive student experience'.
"The University and lecturers are supportive, understanding and are the pave makers for a new generation of nurses. This is how a nursing degree should be."
By way of enrichment, for example, students have guided visits to the Birmingham Botanical Gardens to explore plants with medicinal properties, yoga and reflexology with a focus on mindfulness, sessions with therapy dogs to understand their therapeutic value, food sharing with dishes from the diverse range of cultural backgrounds among the students and even sessions at escape rooms to promote team working.
Helen Eldridge, Senior Lecturer for Mental Health and Learning Disabilities Nursing, said: "We are beyond thrilled to make the finals of the UK Student Nursing Times Awards, recognising our dedication to the most excellent quality of student experience possible, and the close relationship between lecturers, practice partners and students to ensure the very best standards in the teaching environment.  
"Our nursing programmes, which we launched at the height of Covid-19, are in their relative infancy, so to win would be incredible recognition. We have overcome and embraced huge challenges in the past three years and to see the very first cohort of students on our nursing programmes graduate this year and with such amazing experiences under their belt is a very proud moment for us.
"We are now training our fifth cohort of incredible nursing professionals of the future."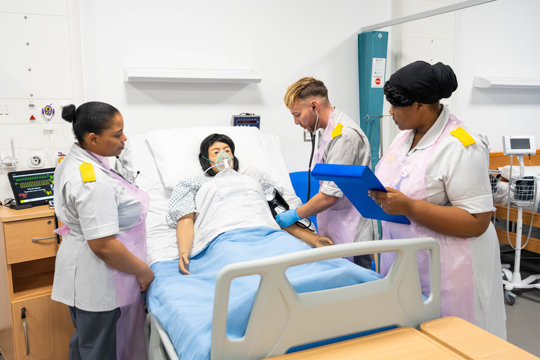 Students on our nursing courses undertake practical training in our Health Skills and Simulation Suite
The grand final of the Student Nursing Times Awards, which celebrate the best of the next generation of nurses and their educators, takes place on Friday 28 April in a glittering live ceremony at the JW Marriott Grosvenor House Hotel on London's Park Lane. 
The awards will be bringing together the nursing community to shine a light on the brightest talent making their way into the profession, highlighting excellence in all specialties of student nursing. The awards also provide the opportunity to congratulate the lecturers, practice supervisors, universities, trusts and private organisations providing the best support for student nurses during their studies.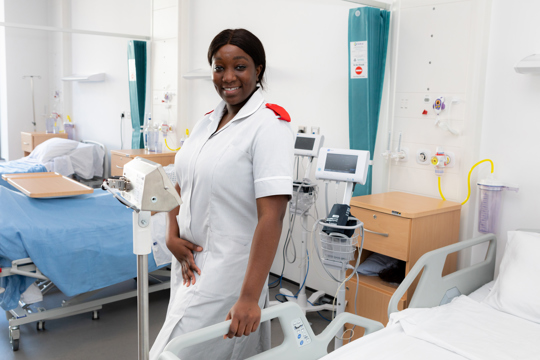 Our student nurses: Gabriella Drysdale-Reid
Gabriella, a former dental nurse who was spurred on to take the plunge and go into full nursing due to the pandemic, was part of the very first cohort of Nursing (Adult) BSc (Hons) students at the University and will complete her studies in July.
"Being in the first nursing cohort was nerve-racking as I didn't know what to expect. But I soon realised it would be a privilege.
"While out on placements with other local universities, my classmates and I have had many healthcare staff asking about our uni and saying they can see a difference in our students. 
"The University and lecturers are supportive, understanding and are the pave makers for a new generation of nurses. Classes are smaller, which allows more individualised teaching and builds a rapport between peers and staff. Not only do they ask for regular input and feedback, they action the suggestions and keep us part of the process."
Gabriella, whose placements have included a frailty assessment unit, respiratory unit at Good Hope Hospital, a student-led post-op surgical unit at Solihull Hospital and A&E at Good Hope and Heartlands, added: "This is how a nursing degree should be and it's fantastic to see the University make the finals of these awards. I'm very proud."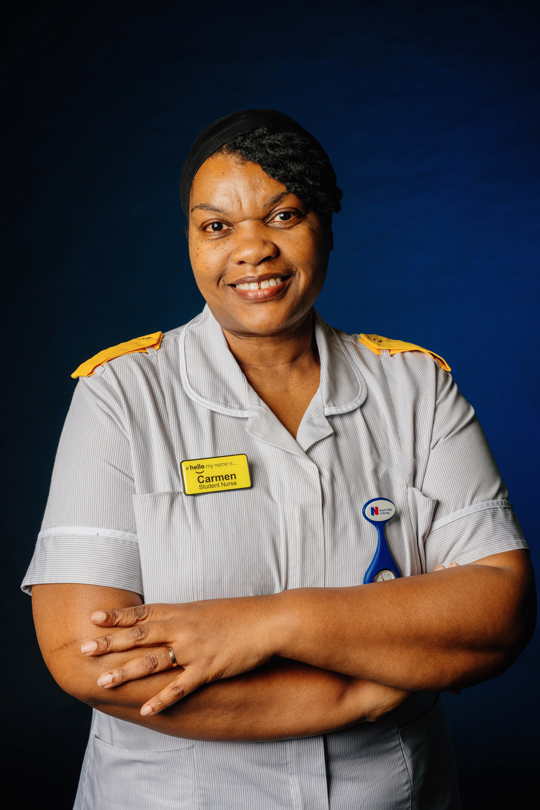 Our student nurses: Carmen Brooks
Carmen enrolled on the course as she wanted to change career path and had been nursing a close family friend.
"My kids are independent and I thought: this is my turn to do something for me," said Carmen, who wants to specialise in palliative care.
"I looked around and applied to several universities, but it was the facilities and staff at University College Birmingham that swung it for me.
"The facilities and equipment are incredible and wherever I have been on placement, nurses and doctors are always surprised about our knowledge, ability and confidence when using equipment and following correct procedures. The University has a really good reputation in the health sector.
"There are so many routes and areas where you can specialise and progress. I am so proud of myself. It's been tough, but the support here is great."
To make the shortlist, judges recognised:
Dedication to strive for the most excellent quality of student experience possible
Desire that students are not merely in attendance to learn theory and skills as a matter of a checklist, but a genuine desire from lecturing staff to invest in the students and take them on a journey of development and discovery of self-awareness to ensure they become the best version of themselves as a nursing professional of the future
Very inclusive approach on the nursing programme, with students coming from a spectrum of diverse backgrounds
Smaller sized cohorts – students are aware they will receive a intense level of input and at no point will be 'off the radar' - not allowing classes to exceed 60 students also means that class sizes for skills teaching does not exceed 30
Relaxed relationship students have with their personal tutors - they consider the staff to be approachable and recognise that they will receive a speedy response to any query or problem they present to the nurse lecturing team
Enrichment activities (two weeks a year) to help students with their personal and professional development.
As part of a wider collaboration, the University won Student Placement of the Year: Hospital at last year's Student Nursing Times Awards.
The innovative placement at surgical ward 12 at Solihull Hospital sees nursing students run real bays, giving them first-hand experience in running a ward and caring for patients as part of their clinical practice training. 
In addition, University College Birmingham won University of the Year and Best Student Support at the 2022 Whatuni Student Choice Awards. The nursing students were instrumental in voting for these awards.
In pictures: Our Health Skills and Simulation Suite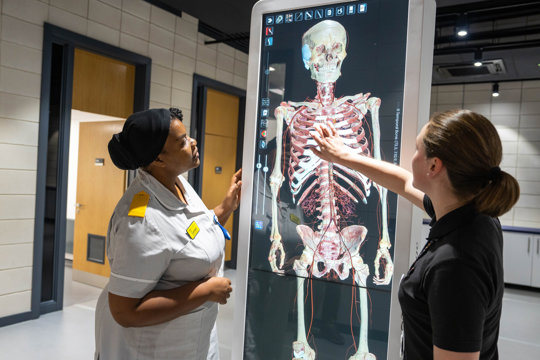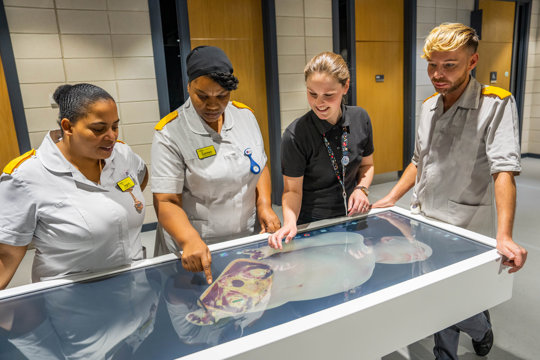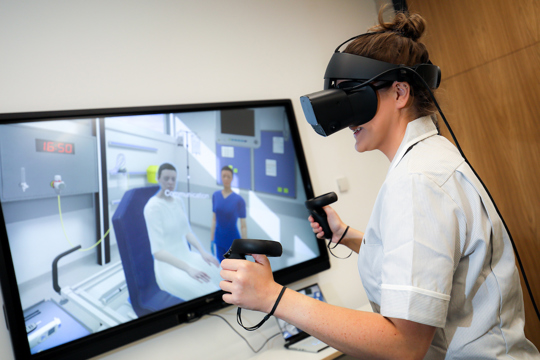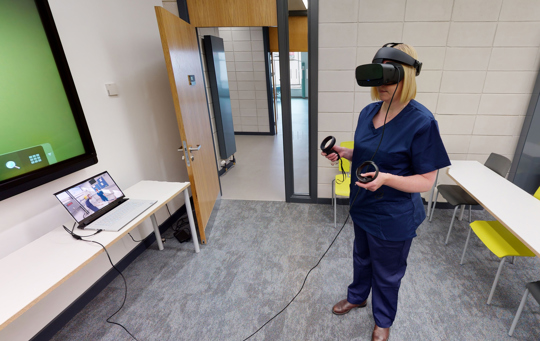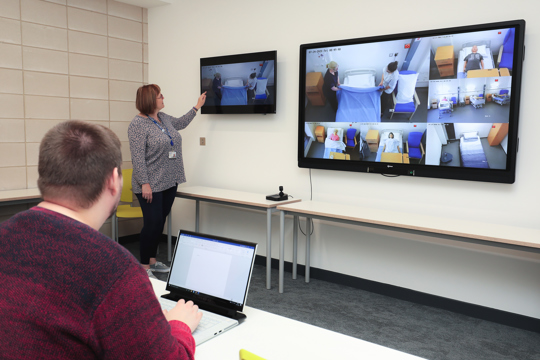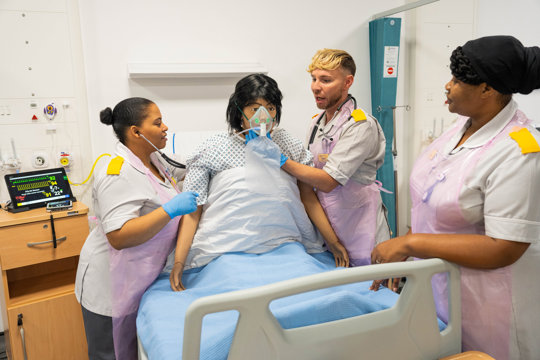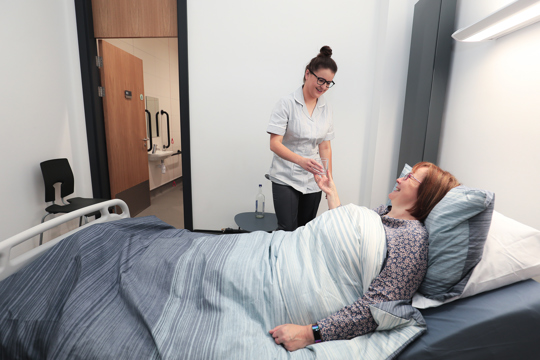 Investment in nursing training
To produce the best trained nurses in the UK, the University has invested £44 million as part of a wider £160 million investment into its nursing training facilities at its Moss House campus, giving students access to a cutting-edge Health Skills and Simulation Suite. 
This learning environment includes a purpose-built, six-bed hospital ward with simulation manikins and immersive learning through virtual reality technology.
University College Birmingham offers a range of industry-led college courses and Nursing and Midwifery Council-accredited degree courses, including a new mental health nursing degree.
Discover our nursing and healthcare courses by exploring our Course A-Z.
Check out our latest news stories