October 2021
Miles, marathons and more: Staff and students raise thousands with charity challenges
By Darren Campbell
Share post:
From racking up hundreds of thousands of steps to running 10K and even an ultra-marathon, University College Birmingham staff and students have been taking on a multitude of challenges to raise thousands for charity.
Throughout the summer break and into the new academic year, tutors and students from across the University have been pushing themselves through many different physical trials in order to support a wide variety of great causes.
Their efforts have earned money to help combat the likes of cancer, diabetes, dementia and motor neurone disease, as well as honouring family members, friends and others.
Here is a roundup of some of their recent fundraising feats:
September sixty
The end of September marked a champagne moment for sports lecturer Laura Hodgkiss after successfully chasing down a running target in support of Cancer Research UK.
Laura set herself the challenge of running sixty miles throughout the month, hitting the tarmac around Hednesford and Cannock Chase to keep adding to her total as the days and weeks passed, occasionally accompanied by her dog Flo.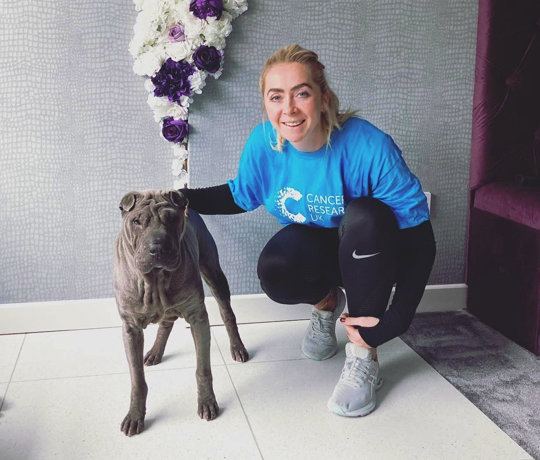 Reaching her target with three days to spare, Laura celebrated by enjoying one more victory run – before treating herself to a glass of champagne.
It was seeing the impact of cancer on the lives of people close to her that inspired Laura to back the battle against the disease.
"We lost a family member nearly four years ago to bowel cancer," she said.
"Since then me and my husband have tried to raise money for different cancer charities with various Movember and birthday fundraising efforts.
"More recently a good friend of mine, a young mum of two, was diagnosed with stage four bowel cancer during the initial lockdown period.
"In better news, she has had her three-month scan after treatment and the tumour has completely shrunk – I believe the word miracle has been used! Fingers crossed she is on the road to recovery."
Laura's efforts will go some way to supporting the recovery of others too, amassing more than £800 for Cancer Research UK so far.
Donations can still be made to Laura's JustGiving page here.
Tim takes on the 10K
Also inspired to take on a charity fundraiser for a family member was Tim Silk from the University's Centre for Academic Skills and English (CASE).
Tim entered the Worcester City 10K in September to raise money for the Juvenile Diabetes Research Foundation (JDRF) at the request of his niece Ellie, who was diagnosed with Type 1 diabetes three years ago aged 9.
Having run the race for the previous four years – including a 'virtual' race last year amid coronavirus restrictions – academic support tutor Tim completed his fifth attempt at the event in 1 hour 6 minutes, his second-fastest time.
And coupled with Ellie's own fundraiser for the charity – climbing up Snowdon – the duo have raised more than £1,300 in total for JDRF.
"Having the condition doesn't stop Ellie doing whatever she wants to do, and she continues to live life to the full, always with a smile on her face and with a positive outlook on life," said Tim.
"She is a living inspiration to everyone who knows her, and I could not be more proud to be her uncle."
Doing it for Doddie
For sports therapy lecturer Gareth Bate, his charity challenge is still yet to come – and it's a big one.
Next month will see Gareth and two friends run the Endurancelife Gower Ultra Marathon, featuring a 34.2 mile route along the South Wales coast.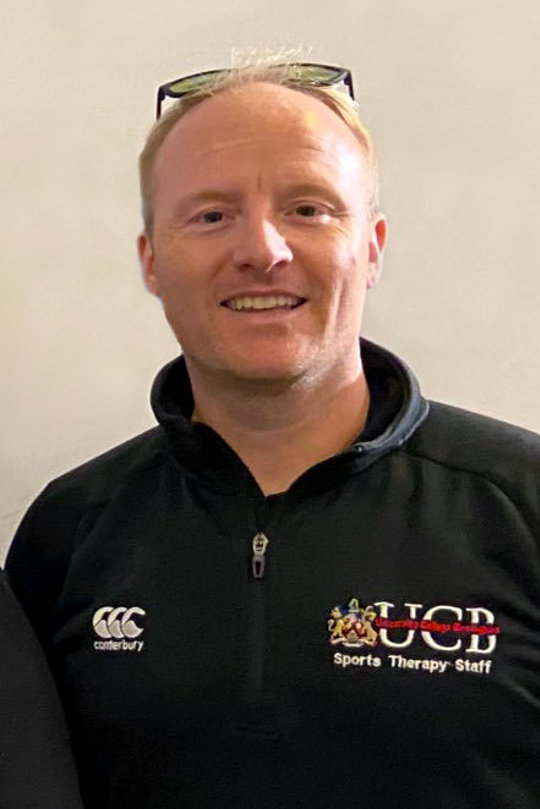 Having previously run a number of half-marathons, this will be his first-ever ultra marathon – defined as any footrace longer than the traditional 26.2-mile marathon distance.
And it's all in aid of the My Name'5 Doddie Foundation, a charity funding research and raising awareness of motor neurone disease (MND) launched by former Scotland rugby union player Doddie Weir OBE, who was himself diagnosed with MND four years ago.
"Doddie is an inspiration," said Gareth. "His drive, passion and inspiration to help fellow sufferers seek ways to further research has tempted me to take on this comparatively small challenge.
"I'm physically capable of doing so, and I can guarantee that people suffering from MND and their families would give anything to be able to undertake something like this, so that's been my motivation."
He has certainly needed a strong motivation too, having originally planned to take part in the race in November last year before it was postponed due to the Covid-19 pandemic, leading him to take on a different challenge which saw him run a whopping 465km over the course of a month.
After a break, he began preparing again for the Gower Ultra Marathon in January this year, and has in total racked up more than 1,300km in training.
With a little over a month to go until the big day, Gareth has already broken his original £1,000 fundraising target for the My Name'5 Doddie Foundation, and is keen to keep pulling in more donations, with additional fundraising activities being planned on campus in the meantime.
"All the funds raised will go to the sufferers and, equally importantly, their families," said Gareth. "This will help support them directly in their day-to-day lives, but also towards the research into what is currently an incurable disease."
To make a donation to Gareth's fundraiser, please visit his JustGiving page here.
Stepping up for dementia
Not everyone has been putting on their running shoes – even walking is a great way to back charitable causes.
That's exactly what hired@UCB employability tutor Johnny Robson did over the summer, teaming up with his family in the Step Up For Dementia fundraiser for the Alzheimer's Society.
Supporting the charity after sadly losing his mother to dementia earlier in the year, Johnny and five family members took on the challenge of each completing 850,000 steps over the course of three months starting in May.
And through a combination of daily walks, days out, dog-walking and chasing after his young daughter, Johnny was able to beat the target on the final day of July, amassing a total of 852,267 steps.
The family have so far raised over £830 for the Alzheimer's Society, with donations still being accepted.
"On behalf of my family, I'd just like to say a big thank you to all of my colleagues at University College Birmingham who very kindly donated to this great charity," said Johnny. "As a whole, you were actually the largest contributors and we are very grateful.
"Your money will go a long way towards fighting this horrible disease which has affected so many people."
If you would like to contribute to Johnny's fundraiser, please email j.robson@ucb.ac.uk.
London calling for Lauren and Laurelle
It's not just staff who have been raising money for charity in recent months – our students have also been getting in on the act.
Among them is Aesthetic Practitioner BA (Hons) student Lauren Pryer, who ran this year's London Marathon earlier this month to raise money for mobility charity Whizz-Kidz.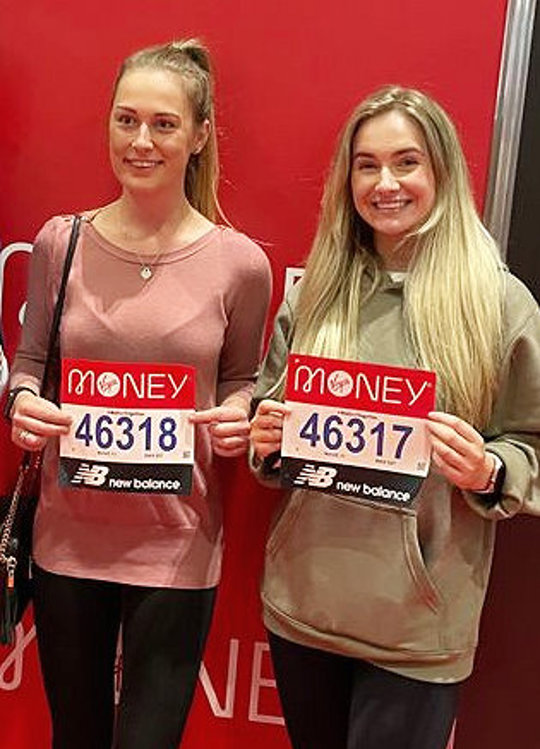 She was joined on her first-ever marathon by friend Laurelle Cox, a former hospitality student at University College Birmingham.
Laurelle finished the marathon in a time of 4 hours 14 minutes, while Lauren completed the race in 4 hours 33 minutes.
And between the two of them, they have so far managed to raise over £4,000 for Whizz-Kidz – more than £2,000 each.
"This has definitely been the most challenging but rewarding thing I have ever done!" said Lauren. "Not only running 26.2 miles, which is something I never thought I'd be able to do, but also raising over £2,000 for Whizz-Kidz in doing so.
"The money raised for Whizz-Kidz goes towards enabling disabled children and young people to lead fun, active and independent lives by providing vital mobility equipment, opportunities to meet and have fun, and training to help gain vital skills for the future."
Donations can still be made to Lauren's Virgin Money Giving page here.
Fundraising wasn't the only way in which University College Birmingham supported Whizz-Kidz at the marathon – sports therapy students at the University also played their part providing post-event treatment for the charity's runners.
A group of 35 students on the University's Sports Therapy BSc (Hons) and FdSc courses provided injury consultation and massages for runners from Whizz-Kidz along with four other charities, gaining valuable hands-on experience in the process. Find out more here.
Check out our latest news stories