February 2022
MasterChef champ makes "emotional" return to college to inspire next generation
By Melanie Hall
Share post:
Aunties, Asian food and attendance – trainee chefs got to learn a lot more about the new MasterChef: The Professionals champion during an "emotional" return trip to University College Birmingham, where he himself trained 12 years ago.  
Dan Lee was quizzed by Professional Cookery Level 3 students on his visit, leaving them with plenty of food for thought about their own careers.     
Thanawat Noophim got to ask Dan what it was like to return to Birmingham College of Food and see his old lecturers – and as a MasterChef winner to boot. 
"It feels amazing," said the 29-year-old, who won series 14 of BBC One's MasterChef: The Professionals just before Christmas and works as a private chef.
"I have worked around the world, with different cuisines and cultures, but the fundamental skills you learn here will take you forward"
"This is the place it all started for me.
"Before I came here, I didn't know I wanted to be a chef or anything. I came to an open day, which basically sparked the idea. I'm going into cooking.
"To come back after what I've done in my career so far and speak to the next group of chefs, to see you all coming through, it's really exciting. And a bit emotional, to be honest. I'm happy to be back." 
Student Tobias Edwards asked if he had any pearls of wisdom for them. Dan had some sage advice.  
"Have better attendance than me!" he said. "And listen as much as you can. The tutors and lecturers here are incredible and the knowledge they have between them is insane. Absorb this place like a sponge.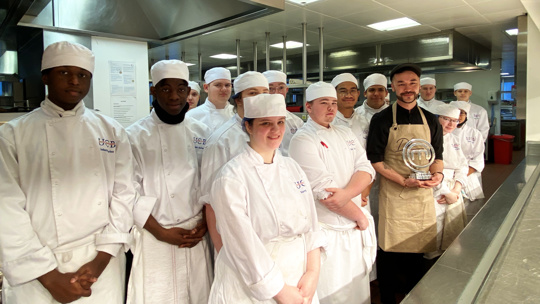 Dan met with student chefs in the kitchens at our Restaurant at Birmingham College of Food
"What you do at college prepares you for your career.
"I have worked around the world, with different cuisines and cultures, but the fundamental skills you learn here will take you forward. Take your classical French cooking skills. These can be transported across other cuisines.  
"And when you come out of here and even after you get your qualification, don't think you are done with learning. It's just the beginning of your journey." 
Dan grew up in Birmingham and was introduced to cooking at his auntie's Chinese takeaway, inspiring him to start his training at University College Birmingham. 
Spending much of the next decade in Singapore, he gathered culinary inspiration from many sources in the Far East and combined them with the influences of his upbringing in the UK, creating a style of modern European and Asian cuisine which proved hugely popular throughout his time in this year's MasterChef: The Professionals competition.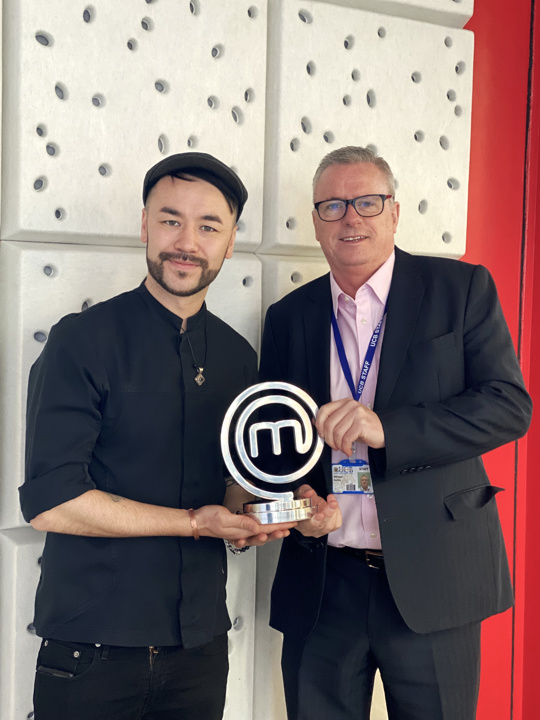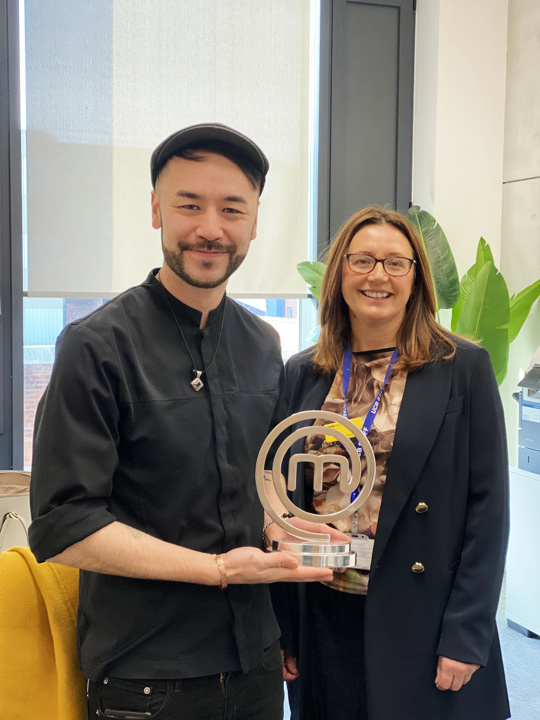 Dan with Vice-Chancellor and Principal Mike Harkin, and Executive Dean (Health, Sport and Food) Anne Coufopoulos
Asked by student Matthew Lilwall about the next chapter, Dan said MasterChef had given him a huge platform and he was now doing lots of foodie events and travelling. However, his dream was to build a culture around street food in the UK. 
"Not in terms of what we are doing in the UK at the moment, where a lot of it is overpriced," he said. "The core of street food is that it's food for the people. Low cost, but really good food.  
"Low cost food in this country is takeaways, deep fried food, fish and chips. It's all great, I love it, but there's not really any healthier options or alternatives. So I want to basically create a street food culture for everyone that's really diverse, inspired by what I have seen on my travels. That's my aim.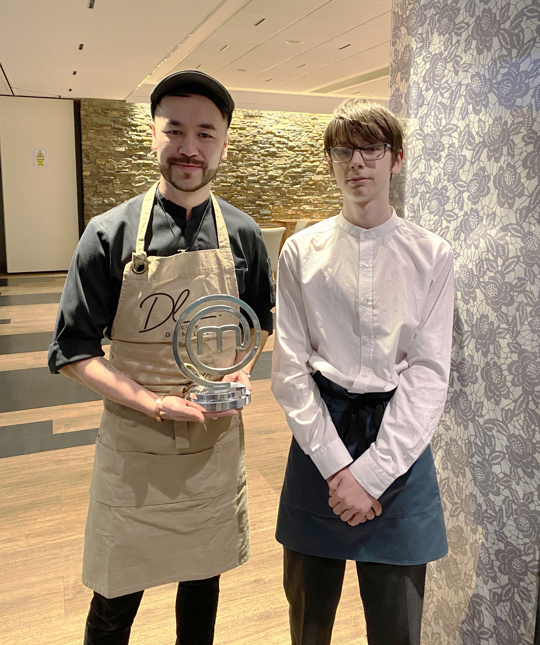 "I also want to keep expanding on my knowledge of Asian cuisine. I know what I like to cook and I want to keep learning." 
Returning from Singapore as the coronavirus pandemic took hold, Dan ended up working in a supermarket before applying for the hit BBC TV series – thereby following in the footsteps of a string of ex-University College Birmingham students to star in the show, including chef Leo Kattou of the city's Michelin-starred Simpson's Restaurant and 2011 MasterChef: The Professionals finalist Claire Hutchings, as well as fellow 2021 contestant Yasmine Selwood. 
Student Grace Evans asked who was his biggest inspiration. 
"I take inspiration from all chefs," said Dan. "Like my auntie. She's not a celebrity chef or anything, but she taught me a lot of what I know.
"I like chefs from Birmingham. Glynn Purnell, Kray Treadwell, Aktar Islam. Coming from the city, I see them as a huge inspiration for what they have done for the Birmingham food scene.
"In terms of general inspiration, I get it from everywhere. It could be at a Michelin-starred restaurant, it could be at a family meal. I'm always thinking, "how can I take something from this?"  
Kali Davidson, head of the University's Birmingham College of Food, said: "To have Dan here speaking candidly to students who are just setting out is amazing.  
"As the leading centre of excellence for chef training and culinary expertise, we look forward to seeing what all of our students go on to do in the future."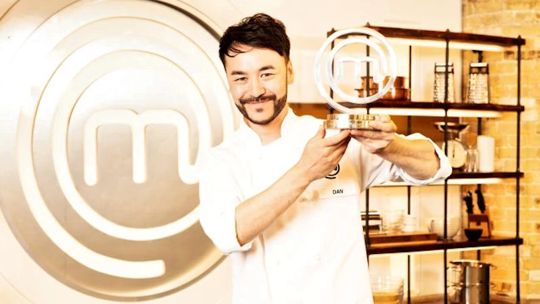 Dan's final flourish
Dan's winning menu for MasterChef's trio of judges, Gregg Wallace, Monica Galetti and Marcus Wareing, was fuelled by his Far Eastern influences. 
It kicked off with a starter based on the Singapore chilli crab, a Mantou deep-fried bao topped with crab, chilli oil, nashi pear, lime juice, salted egg yolk and Sichuan pepper, topped with a squid ink tuile, served with a soft shell crab tempura and a basil cream with crab and chilli oil. 
The starter was praised by judge Gregg as "an absolute knockout of a dish", and by Michelin-starred restaurant owner Marcus as a "sensational plate of food". 
Dan's main course featured a chicken breast stuffed with chicken thigh mince, sesame oil, spring onion, ginger and Thai pandan leaves; choy sum, a Chinese cabbage blanched in garlic, chilli and oyster sauce; a red chilli sambal sauce, chicken-infused steamed rice with garlic and ginger, and a chicken and pandan leaf broth. 
To finish, Dan prepared a dessert of smoked hay treacle tart filled with yuzu curd toasted breadcrumbs, pickled ginger, clotted cream ice cream, Japanese shiso leaves, shiso crumb and smoked hay butter tuiles – a dish which earned him praise for his pastry-making, flavour and East-meets-West style. 
University College Birmingham is renowned for providing specialist vocational training for students looking to enter the culinary industry, with world-class facilities and expert tuition provided on a range of college, undergraduate and postgraduate courses as well as apprenticeships. 
Discover our full range of courses within our Birmingham College of Food. 
Check out our latest news stories