June 2019
Kayaking star hails UCB sports after winning bronze at international canoe marathon
A sports student has praised University College Birmingham staff for their support after winning a medal in one of the world's toughest canoe races.
Ignacio Soler Fabre clinched the Senior Singles bronze in this year's Devizes to Westminster International Canoe Marathon, a 125-mile race which takes place over four days along rivers and canals between Wiltshire and London.
It was a stunning debut appearance in the race for the third year BA Sport and Fitness Studies student, who completed the course in a time of 17 hours, 17 minutes and 35 seconds.
"It was truly a surprise and I'm happy with the outcome," said Ignacio. "My goal was just to finish – I had never paddled for more than four hours straight, so for the first three days, I basically had to step up my personal best for my longest distance."
Completing the course fulfilled a long-standing ambition for the 24-year-old, who first started kayaking at the age of 10.
"The race truly is the experience of a lifetime," said Ignacio. "Back in 2011, I watched a few videos of this race on YouTube and I promised myself I would at least give it a go once in my life.
"Eight years later, I've ticked that box in my bucket list, but now I want to come back and do it again!"
The Devizes to Westminster International Canoe Marathon is an annual event held over the Easter weekend which sees a wide variety of canoeists and kayakers race from Devizes in Wiltshire along the Kennet and Avon Canal to Reading, continuing onto the River Thames before finishing just downstream of Westminster Bridge opposite the Houses of Parliament.
Ignacio revealed his extensive preparation for this mammoth endurance test was boosted significantly by support from the staff, students and facilities at UCB.
"My module lecturer, Kathrine Whelan, talked to me about getting into a strength and conditioning programme for my racing season in 2019, and I had to say yes," he explained.
"I got into the gym at The Maltings and did some weight training and from there, after a few assessments and screening sessions, I ended up building a solid team trying to sharpen all the possible trimmings in order to perform at my best."
From October last year, Ignacio attended regular strength and conditioning sessions with Sports Therapy lecturer Mark Newman, receiving further support from two first year Strength, Conditioning and Sports Nutrition students, Jeevan Kehel and Divya Kaur.
"Mark Newman has been a core part of this," said Ignacio. "He gets to know each athlete very well and communicates a lot with all of them. The way he uses his knowledge and expertise is certainly what sets Mark apart from other coaches in the industry."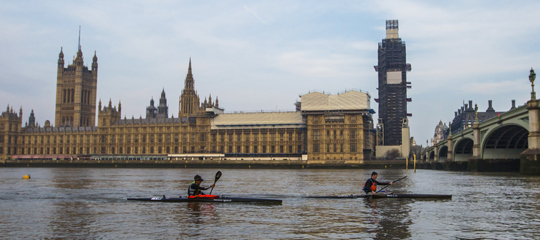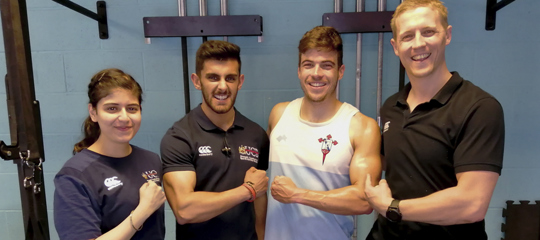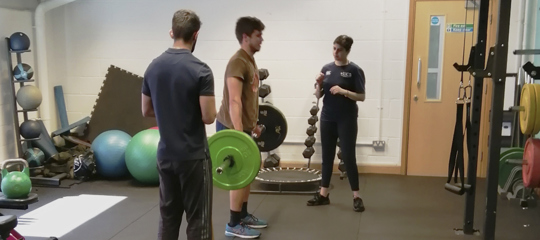 Ignacio also paid tribute to his Nutrition for Performance module lecturer, Matthew Holmes, who provided him with guidance on nutrition ahead of the event.
"I knocked on Matthew's door asking for some advice and tips on nutrition strategy for the race and he didn't hesitate to give me a hand," Ignacio explained.
"After a few questions, he had designed a thorough nutrition strategy that worked like a dream. The calorie intake, pre-race feeding and post-race recovery, the amount of fluids to be taken, the solid food I would take during each stage – it was all calculated to perfection."
Ignacio, who races with Solihull Canoe Club, revealed how his Sport and Fitness Studies course had also supported his racing efforts.
"It certainly has helped a lot," he said. "I get to understand a big part of the training, the reasons why one training method is suitable in a given period, how the contents are distributed throughout the periodisation and a long list of elements that are key to success.
"I've learned a lot, both as an athlete and a future professional in the field of sports science."
It is the latest highlight on Ignacio's racing CV, which also includes two appearances at the ICF Canoe Ocean Racing World Championships as well as a string of accolades in his native Spain.
In addition to his bronze medal at the Devizes to Westminster race, Ignacio also won the university trophy at the competition, having decided to represent UCB as a gesture of thanks for all the support he received from the University.
"I decided to enter the race under UCB's colours as it's a way to give something back for all I have received from the sports team," he said. "I'm extremely thankful for all the support I have been given, not only for the race itself, but also for the understanding of the lecturers with the busy schedule of racing I have.
"All in all, I owe UCB's sports team a lot, especially to Mark and Matthew. I can't thank them enough."
Praising Ignacio's accomplishments, Sports Therapy lecturer Mark Newman said: "Ignacio has trained very hard during his sessions with me and when working on his own. He has shown great dedication to his sport and has an ambition to push himself as far as he can physically go.
"I'm delighted for his recent success. Ignacio is a fantastic individual who has worked very hard over the year, and I am confident that his success will continue into his next races."
UCB has a range of state-of-the-art facilities for students on our sports courses, including a fully equipped gym, sports hall and human performance laboratory. The University also has use of the all-weather pitch at Bournville RFC's Avery Fields, as well as extensive facilities at our new Moss House campus including a 35-metre indoor running track.
Find out more about our range of sports courses and facilities within UCB's School of Sport and Creative Services here.